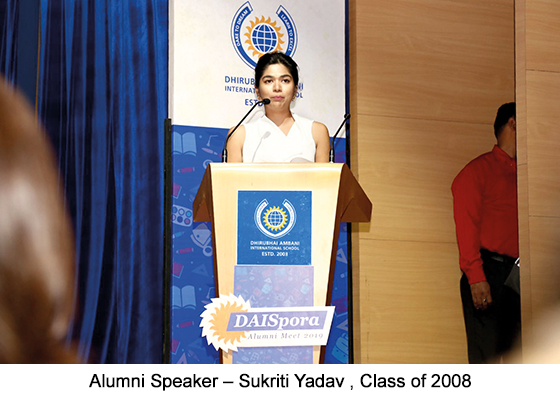 DAIS has always been home for me.
It's not just the place I studied but a place where I made my best friends, a place where my teachers and staff turned into my second parents, a place where i made a million memories and a place that made me the person I am today.
I was overcome with a million feelings coming back to DAIS- proud to see my alma mater where it is today, reminiscent of school days looking at all the familiar faces of all ex students, overjoyed to meet all my teachers but most of all, I was just happy to know that I'll always be connected to this school; happy to know that I am and always will be a part of the DAIS family.
- Gayatri Raheja
Coming back to school for DAISPORA and re-connecting with teachers, staff members, and friends who are very dear to me was a heartwarming experience. As soon as I stepped through the school gates, memories of classes, annual days, MUN conferences and our graduation ceremony flooded back. Although it had been over a year since I left for college, I felt as though I was still a student and that I was just visiting for an event. In fact, I found myself thinking about whether or not I had forgotten my ID card on my way to school, only to remember that I was an alumna.
Watching our teachers perform in the auditorium, dancing with them soon after the performance, meeting and interacting with other alumni of DAIS, and participating in tug-of-war with our Chairperson on the school field were some of the highlights of the event for me. Tug-of-war was always one of my favourite events on Sports Day, and I loved being able to experience digging my heels in the ground, clenching the rope till my hands were sore, and motivating each other as team members through the process again. It was also nice to meet with the security, housekeeping and canteen staff who facilitated our lives at DAIS behind the scenes. I feel truly privileged and grateful to be a part of the DAIS family. A big thank you to everyone who ideated and helped put this thoughtful and special experience together! We shall keenly look forward to the next DAISPORA and I know that my bond with DAIS will only grow stronger each time I step in.
- Ananya Vohra
To be back at school felt surreal. I walked down the familiar hallways to rooms in which I had met lifelong mentors, built lasting friendships, and made unforgettable memories. It was nostalgic no doubt, but even more special was meeting our school's faculty not as authority figures but as friends. I was moved by the effort our teachers had put into the play - extremely funny and thoroughly entertaining as they imitated us and the millions of excuses we'd make to escape responsibilities and defy school rules.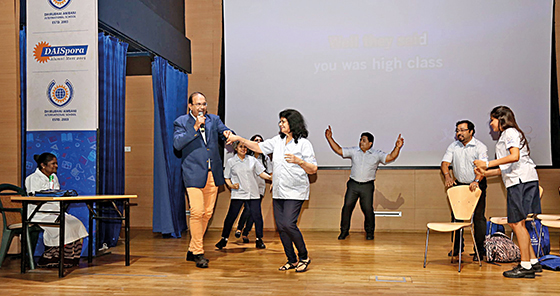 It was also amazing to see how lavish the set up was - the food spread not only included live dosa and pasta stations but also our favorite canteen specials! There was a live band performance playing peppy music from your contemporary hits to songs in Spanish and good old Bollywood.It was also very resourceful to have a networking booth where we could talk about what we were currently doing and connect with like-minded people. It was fun partaking in interactive activities where we could read and write our favorite memories from school on little DAIS t-shirt sticky notes. However, the most exciting segment for me was the raffle draw - because I won an iPhone X (Wooohooo!) - it was very sweet for school to give away these exciting prizes and coupon from iPhones, iPads to candle lit dinners for 2 at the Taj!
Be it our house spirit at the tug-of-war or Nita ma'am bringing us to tears while singing our school song... School will always, always be a place I hold close to my heart and I cannot wait for a chance to return to my second home.
- Devika Harlalka. Head Girl- Class of 2014