IGCSE Programme
The International General Certificate of Secondary Education (IGCSE) Programme - an evolving, globally relevant educational opportunity.
The IGCSE Programme is administered by the University Of Cambridge Assessment International Education (CAIE). The IGCSE Programme is recognized world-wide; with over 9000 schools in 160 countries offering the Cambridge qualifications. The IGCSE has always emphasized adding value within a national context whilst also contributing to internationalism. The focus is on safeguarding distinctive cultural identity through specific language and literature syllabi, whilst also encouraging an international outlook. Thus, the importance of an appropriate mix of global and local contexts is well recognized as an essential dimension of IGCSE.
IGCSE Key Features of the Programme
Provides an ideal foundation for higher-level courses such as the International Baccalaureate Diploma Programme, 'A' Levels and the North American APT (Advanced Placement Test);
Has worldwide recognition and is equivalent to the Certificate of Secondary Education from Indian education boards, General Certificate of Secondary Education, and 'O' Level;
Offers syllabi which reflect local societies within a global context, hence ensuring that students gain a wide perspective while recognizing and valuing their own environment;
Develops key learning, problem-solving and investigative skills by encouraging an active, critical and questioning approach to study;
Ensures a broad-based education, while encouraging a degree of choice.
IGCSE LEARNER ATTRIBUTES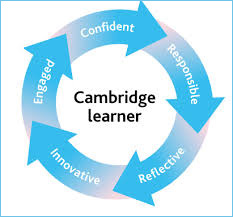 Confident in working with information and ideas - their own and those of others
Responsible for themselves, responsive to and respectful of others
Reflective as learners, developing their ability to learn
Innovative and equipped for new and future challenges
Engaged intellectually and socially, ready to make a difference
https://www.cambridgeinternational.org/why-choose-us/parents-and-students/in-class/the-cambridge-learner-attributes
The programme focuses on:
Deep knowledge and understanding of subject content
Applying knowledge to real life
Intellectual enquiry
Flexibility and responsiveness to change
Influencing outcomes
Cultural awareness.
The IGCSE Curriculum in DAIS
The IGCSE (International General Certificate of Secondary Education) Programme at DAIS, one of the leading IGCSE schools in Mumbai, follows the Cambridge curriculum provided by CAIE (Cambridge Assessment International Education). In the two-year IGCSE programme, students of Classes IX and X study a range of subjects that broaden their understanding and deepen their learning through varied methodologies. Students are encouraged to collaborate and use appropriate technology to enrich their learning and enhance their understanding of local, national, and global issues. Experiences within and outside the classroom make students problem solvers and mindful learners. An integral aim of the DAIS experience is to develop self-aware, sensitive learners with a strong sense of community. Students transition seamlessly into the IB Diploma or other pre- university programs.
Class 8, is a foundation year that focuses on building the skills and attributes integral towards preparing for the formal years (Class 9 and 10) of the IGCSE Programme. The class comprises of students moving from Class 7 in DAIS along with students who are new admissions to Class 8. Students study academic subjects that prepare them for the IGCSE programme, ranging from First Language English, Second Languages like Hindi, French and Spanish , Sciences, Humanities and Mathematics, along with optional subjects like Drama, Art and Computer Studies. It is complemented by the Macquarie University-designed, inter-disciplinary 'Big History' project offered in Class VIII, to develop critical thinking and research skills. Students will be required to study Marathi as a compulsory Third Language.
The following are the subject Choices for Classes IX and X.
Group 1- Languages (Compulsory)
Group 2 -Humanities & Social Sciences (Compulsory)
Group 3- Sciences (Any two/all three)
Group 4 Mathematics)
Group 5 -Professional & Creative, (Choose any one)
First Language English
World Literature
Global Perspectives
Physics and/or Chemistry and /or Biology
International Mathematics (compulsory)
Art & Design
Business Studies
Computer Science
Drama
Physical Education
A Foreign Language (French or Spanish) or a Second Language (Hindi)
Geography and/or History
Additional Mathematics (optional)
Students in Classes IX and X will normally select 10 subjects. They will all study First Language English and French, Spanish or Hindi from Group 1; World Literature and Global Perspectives (compulsory subjects) from Group 2 and International Mathematics from Group 4. If they choose all 3 Sciences (Physics, Chemistry, and Biology) from Group 3, they will choose one subject between History or Geography. They may choose 2 Sciences so that they are able to opt for both History and Geography. All students choose one subject from Group 5. While, normally, students will take 10 subjects in the IGCSE, in exceptional circumstances they will take 9 subjects. Additional Mathematics taught outside the school hours may be allowed as a 11th subject.
The IGCSE Assessment
Assessment techniques are based on Criterion referencing and go beyond just knowledge recall. It emphasizes
Accessibility to candidates of widely differing abilities.
Student's ability to use and apply knowledge appropriately,
Handling information and using it to solve problems.
Acquiring experimental and investigative skills.
What is Criterion referencing?
a student works to reach his/her highest standard,
a student is awarded a Grade based on the quality of his/her work irrespective of what others may have done,
getting top grades is within the reach of many.
Assessment techniques go beyond just knowledge recall and utilise those appropriate to the various subjects, such as oral and listening tests, experiments, project work, performance, and fieldwork as well as conventional written exams.
Developing the whole personality
Through a stimulating classroom environment and high levels of student engagement, the programme empowers students to play an active role in their learning. In doing so, the curriculum actively supports discussion-based learning and hands-on activities, and embeds innovative approaches to learning across all subjects. In addition, the co-curricular activities and service initiatives are integral to student life, nurturing self-aware individuals who are responsible towards themselves and the community. DAIS recognizes that education synthesises academic, emotional, social, personal and intellectual aspects of student's personalities through activities in class and outside and recognizes the integral role these play in understanding the social, natural and environmental world the students live in. The students engage in experiential learning beyond the classroom through school service activities, overseas exchange programs (like ISTA), subject specific educational trips, Model United Nations (MUN) and Round Square (RS). These encourage students to experience and appreciate other cultural contexts and broaden their world view. A range of activities ensure both physical and intellectual stimulations - ranging from SLA and Ski Camps to the focus on STEM related programmes and activities such as Robotics, Coding Club and Science Fairs. The aim is to build a self-aware individual who later stride the world with empathy, confidence as well as responsibility towards self and the larger community.
Co-Curricular Activites:
In addition, students must also choose from a range of sporting and non-sporting co-curricular activities. Such experiences help them to develop a well-rounded personality.
| Non Sporting Co Curricular | Sporting Co Curricular |
| --- | --- |
| Art | Judo |
| Dance | Basketball |
| Coding | Football |
| Mathematics Club | Table Tennis |
| Debate | Volleyball |
| Insignia (School Magazine) | Chess |
| Cookery | Cricket |
| Model United Nations | Taekwondo |
| Photography | |
| Robotics | |
| Music | |
| Reading Club | |
| Tuesdays- 3-4 PM | Fridays- 3-4 PM |
Student Care
The student is at the heart of everything we do, and we embrace the individuality of every learner by providing a nurturing and supportive learning environment.
The teacher student ratio supports the individual attention to each learner. The Student Care Department partners in the delivery of the curriculum to meet the learning needs of each student.
Social and emotional learning of students as well as growth of a positive personality is the focus of the PSHE (Physical Social Health Education). PSHE classes are held on a weekly basis addressing issues of health and wellbeing, relationships and understanding of the wide world. Students have access to Individual counselling services for those who require one on one emotional and social support.
The Student Care Department includes a Learning Support Team with well qualified professionals to guide and maximize the performance of students with special needs. This Team communicates with CAIE to facilitate the concessions granted by them in examination conditions to students with special needs thus ensuring a flexible and inclusive approach.
Cambridge Lower Secondary Checkpoint Class VIII
These diagnostic tests are held in Term II of Grade 8 and are marked by CAIE to provide schools with an external international benchmark for learner performance. Each learner receives a statement of achievement and a feedback report with details of the skill levels in English, Mathematics and Science. This provides valuable feedback on learner's strengths and weaknesses as they start the formal IGCSE Programme in Class 9.
College Counselling
Sessions held in Classes 9 and 10 with College Counselling Department builds awareness of courses, universities, and career pathways to help students plan their future academic goals in an informed manner. The school provides training on CIALFO, which is a platform that students and parents use to ease the process of university search and applications. PSAT and PACT Exams can be opted for in the first term of Grade 10 which help students to gauge their skills for standardized tests. The IGCSE students can access College Counselling of the School for any consultation including choice of subjects in the IB or any other High School Program that they will opt for.
School Timing