Christmas Spirit at DAIS
"Jingle bells..jingle bells…!"
Christmas arrived early at DAIS. The yuletide spirit of the festive Christmas season was ushered in at DAIS with Christmas carols welcoming students into the school, every morning of the week leading to the occasion. Some of our students sang carols in French and Spanish, not limiting themselves and moving beyond language boundaries.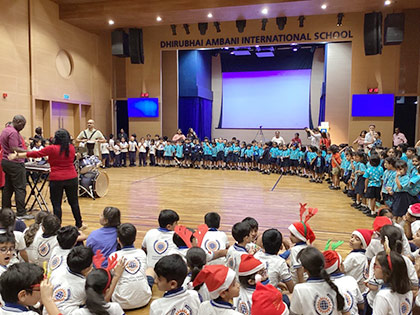 The Christmas decorations at the school amplified the mood and brought a cheery smile to everyone's face. The emotions were infectious and passed along the corridors and across grades.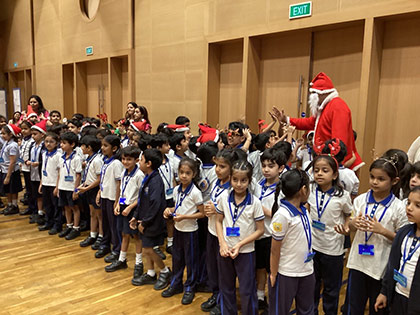 Our Primary Christmas programme began with the primary school assembling in the auditorium. Amidst lilting music, the students performed a medley of Christmas songs and carols, swaying to the beat and rhythm. The verve and enthusiasm displayed by the children were mesmerizing. As the carols continued, there was a surprise visit by Santa, all the way from the North Pole. He sang and danced with the children and wished them a Merry Christmas and a Happy New Year.
"Christmas isn't a season, it's a feeling."
The young children realized that they have a lot to be thankful for. The true spirit of sharing and giving was reiterated at every class level, when students spoke about their experiences of sharing what they have, with those who are less fortunate. Some students suggested starting a new family tradition, whereas others looked forward to making and distributing sweet treats.
"It's the most wonderful time of the year!" said some of our kids. Elaborating further, they said that they were anxiously waiting for the holiday season, to spend quality time with family and friends, receive gifts, and dig their teeth into some yummy delights.
Clearly, Christmas and the holiday season mean a lot to our young learners and we at the school motivate them to put on their kindness hats, offer a helping hand, and be grateful for what they have.
DAIS wishes you and your families A Merry Christmas and a Happy New Year!