Core Activity Assembly 2019-2020
7th February 2020
As a culmination of the core activity sessions, the school put up a whole-school assembly, to showcase the abundance of talent and aptitude amongst our students. There were an array of performances that enthralled the audience and kept them wanting more.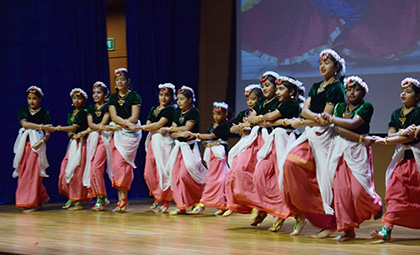 First up was the Secondary Indian Dance Core Group- presenting the Ganesh Vandana. Ganesha or Ganapati is the Vighnaharta, or remover of all obstacles, hence a dance dedicated to him is always an auspicious start to any programme, and was the first of our programme too.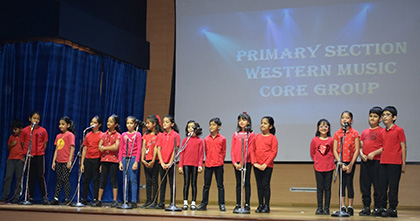 This was followed by the Secondary Indian Music Core Group. The students sang new Bollywood hit songs, which struck the right note with the audience, as they applauded along.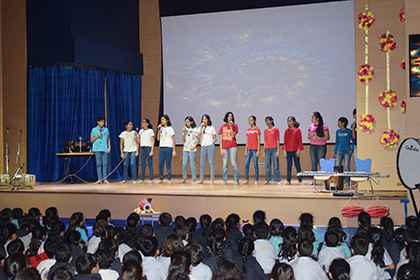 The Primary Dance Core Group presented a folk dance of Nepal. It was an invigorating and delightful number that kept the audience's feet tapping. Thereafter the Primary Western Music Core (Vocals) Group sang, "Can't stop the feeling "which is an upbeat disco-pop number by the American singer-songwriter, Justin Timberlake. This was followed by 'When can I see you again," which is a dance-pop and synth-pop single recorded by Owl City for the Walt Disney film Wreck-It Ralph. "You're always gonna find your way back home" was the last song, which was a country pop, rock song performed by Miley Cyrus.
The Secondary Western Music Core (Vocals) Group presented two songs beginning with "This is me" belonging to the genre of pop music. The next performance was another popular song, 'Wings' by the British girl group Little Mix, from their debut studio album DNA.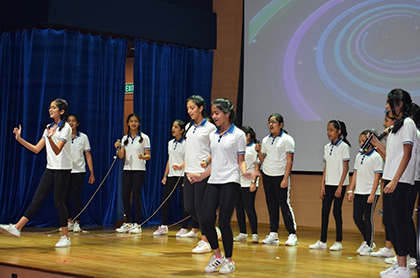 The Primary Indian Music Core Group presented a mashup of old and new Bollywood songs, for everyone's listening pleasure.
The Secondary Indian Dance Core Group performed the Nritta Dance, in which the dancers explored space and time through music. The children's grace and synchronization left the audience breathless.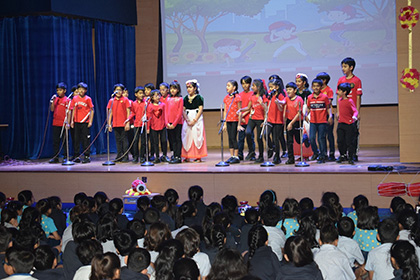 The band performances this year were an instant hit and when the Primary Western Music Band Core Group played two songs 'Allegro', a classical composition by Alexander Robert Reinagle and 'When the Saints Go Marching' which belongs to the Spiritual genre, the audience responded with a resounding applause.
And so, ended a fun –filled morning of songs and dances, putting everyone into a buoyant mood and rearing to go for the day!