DAIS Salutes INDIA
It is a proud moment for every Indian as we approach our 75th Independence Day on August 15, 2021. Being on the digital platform did not deter our students and teachers, who resorted to digital expression to demonstrate their patriotic fervour.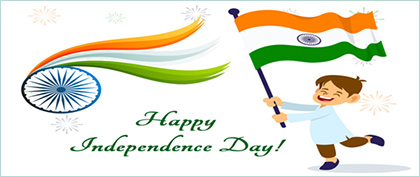 The week-long virtual celebration had an abundance of dance, drama, art, craft, music and oral recitations, to channelize our students' creativity. Our learners were challenged with quizzes and other online games, to exhibit their knowledge of our country's struggle for freedom, its history and our national heroes. Through these activities we endeavour to instil in our children pride and honour for our nation and inspire them to stand united. We encourage our 'GenNext' and uphold our values of democracy and secularism, and to become responsible global citizens.
Students expressed the concept of freedom and unity in different languages and in a variety of creative ways, making oral presentations, videos, collages, and some interesting art and craft activities, all in the virtual space.
We had a visitor all the way from the North Pole, making an appearance in every Primary school class. Yes, Santa Claus made time for our children and narrated stories about caring, sharing and giving, which is the true essence of Christmas. His presence brought boundless joy to our little ones and made it a 'December to Remember'.The classroom activities culminated into the hoisting of the National Flag at school, in the presence of a small faculty group, on 15th August. This was followed by some perceptive talks by our school Head Girl and Head Boy, and a reflection on the importance of the occasion by our enthusiastic Cub-captains. Our students also presented a recorded medley of songs and dance performances for the occasion and our senior classes competed in a dance competition.
Celebrating this special day together is a way of honouring the unity in our diverse society and celebrating its vibrant culture.