Metanoia:
Discover and Express yourself through the Arts
On 10th and 11th May 2021, DAIS hosted a student-led, teacher-mentored event named 'METANOIA: Discover and Express yourself through the Arts.' The event hosted 120 students aged 11-13 year old students from 17 schools from the South Asia and Gulf region, along with a 20 student delegation from DAIS. The goal of the event was to introduce the concept of self-expression to the delegates in an engaging manner through two keynote speeches, baraza sessions and workshops in five art forms - Dance, Drama, Art, Writing, and Music. Over 85 DAIS students from grades 9-12 comprised the Metanoia team, planning and executing the event under the guidance of Ms Manisha Nanda and Ms Pratima Sridhar.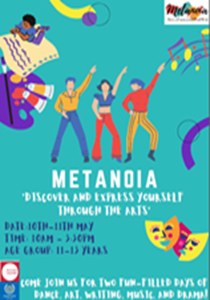 Our keynote speakers - Ms. Janavi Folmsbee and Mr. Ranveer Allahbadia, also DAIS alumni, inspired our delegates with their iterations of self-expression and set the tone for the event. Mr. Ranveer Allahbadia, the force behind BeerBiceps, started his journey with a YouTube channel. He shared his inspirations with the delegates, along with how he uses his position to express himself. Ms. Janavi Folmsbee, a contemporary artist, spoke about her inspirations, from scuba diving to the work of Jane Goodall. Janavi described her journey of self-expression - fighting the expectations for her to adopt a career that didn't resonate with her passions. The pictures and stories she shared of her art pieces were truly special.
Our Inspiring keynotes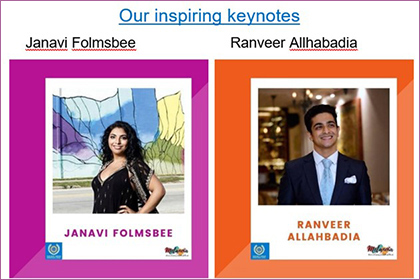 The Baraza sessions helped delegates interact and discover more about themselves. They involved fun games and conversations regarding the concept of metanoia and self-expression through the arts. No session ended without profound reflections on the keynote speeches and workshops, and discussions about post-event outcomes for delegates to hone their skills.
Fun Barazas!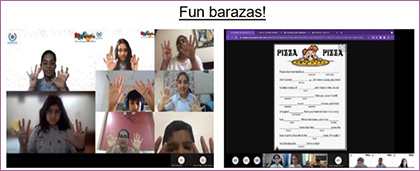 The core of Metanoia lay in five workshops of various art forms, which taught delegates creative techniques and how they could be applied to express themselves - all in an engaging, interactive manner
Grooving to our favourite Songs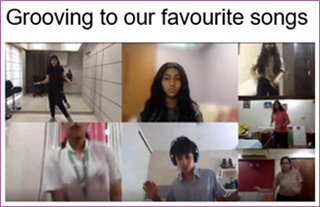 In the Dance sessions, 3 dances were taught, covering the Bollywood, Contemporary and Hip-Hop styles, with small challenges for each style such as using a prop or dancing at half-speed. In another activity, a song was played with a theme or character given to them to improvise and create their own dance steps. This turned out to be a truly enjoyable activity where the delegates learnt to use different parts of their body as well as their space to express themselves.
Music across genres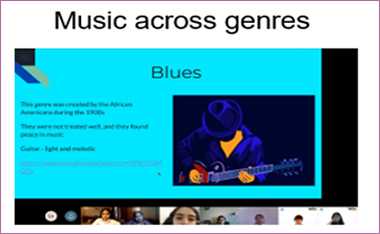 The Music sessions were filled with engaging activities and discussions. Delegates enjoyed icebreaker activities - choosing favourite songs/artists and combining the cup song with virtual pianos. They used this session to express themselves through instrumental and vocal performances, displaying their talent while having fun.
Self-Expression in Drama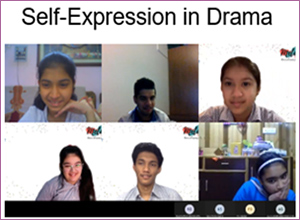 In the Drama workshops, students could lose their inhibitions, expressing themselves through performance. In improvisations activities, they were made to creatively think on their feet to create short skits. Moreover, they were challenged by the Gibberish Speaking Activity, wherein they communicated ideas without using language, relying solely on abstract sounds and facial expressions.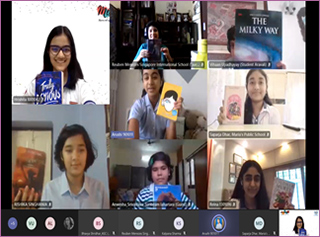 The Writing workshop, 'Think with your pens, not your head' encouraged the participants to do just that, and showed them how to express themselves through the medium of writing. Activities such as alphabetical adlibs, poetry writing based on emotions, as well as recreating traditional stories using new perspectives or cultures challenged the participants to step out of their comfort zones and produce some astounding pieces. By the end of this workshop, all participants began to look at writing as a marvellous way to express themselves freely.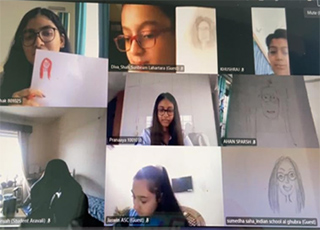 The Art sessions involved discussions about delegates' artistic passions, followed by students drawing the first thing they associated with words called out. Next, they created art with anything except paints, one making a flying boat, another a rabbit on a cloud. They enjoyed the workshop, which enhanced their exposure to the art world.
During the duration of two days, the event provided a two-way avenue for both leaders as well as the delegates to communicate ideas, emotions and expressions and come to a better understanding about what self-expression is and how it can be implemented every day in our lives. This was reiterated at the end of the event with cultural performances by several delegates participating in Metanoia.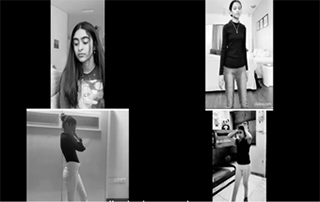 Hence, with the discovery of a multitude of talents, transmission of ideas and reflection about thought-provoking insights and activities, the event had truly become a success in bringing about a transformative change in the lives of the participants and embodying the true spirit of Metanoia.
Some thoughts by the delegates and leaders of Metanoia:
Metanoia was a great experience for me, I learnt to express myself in ways that I could not before. I didn't want it to end so fast! I learnt new things in all the different types of art. Thank you to everyone who put their efforts into Metanoia. - Priymishree, DAIS delegate
This event was an amazing experience, I got to learn so many new things from the workshops, I got to interact with people from different places/schools. Even the Key-note speeches were so inspiring and I got to learn so much from them! I am so happy to have been part of this event. It taught me to view our school motto "dare to dream, learn to excel" in a completely different perspective, And I will cherish this experience. - Nethra Anand, DAIS delegate
Rajveer Batra, DAIS Leader
Being able to plan an event of this magnitude was something I'd always dreamt of doing. It gives me so much happiness and pride that DAIS Metanoia brought so many people together on an online platform. It was hard work, but I'd do it all again as I learnt so much. Nothing would've been possible without Dhaniti, Ananya, Dev, Ms. Manisha, Ms. Pratima and the 80 Metanoia planning volunteers who stood right by my side. We are proud of each and everyone one of them.- Rajveer Batra RSSCC
Being a part of Metanoia and being able to bring it to life was one of the most amazing experiences. I learned so much about what goes into creating an event on such a scale - the endless checklists, long meetings and extensive documents. However, it was all worth it in the end. The feedback from the delegates and others involved was one of the most rewarding results! - Dhaniti Parekh, DAIS leader
Planning and executing Metanoia was a great learning experience for me, not only in conducting such an event at a large scale, but also in exploring myself and my form of expression. I learnt a lot from our two keynote speakers as well as the delegates who shared such interesting and insightful thoughts during the activities. Metanoia truly brought a transformative change in me as well as all those involved in the event. - Ananya Mittal, DAIS leader