RS Postcard
'Postcard' from Realschule Gut Warnbergin School, Germany
On the 8th of July, five students from DAIS participated in the Round Square activity 'Postcard', hosted by the Realschule Gut Warnbergin School in Munich, wherein students indulged in an interactive 'Zoom Barraza' session. The goal of this activity was to bring students from all over the world together to discuss their experiences and perspectives on virtual learning.
The much-awaited Round Square Postcard started off with ripples of energy and mirth. The organizers started this much anticipated event with an interactive game keeping all participants engrossed. The activity required each participant to display an object or a symbol connected with the question. The questions were generic and were extremely relatable to all participants, enabling them to understand and get to know each other better as they began their gripping discussion. It was fascinating to know that teenagers around the globe had similar opinions, preferences and experiences and it did, in fact, help the delegates feel more comfortable and find their sense of belonging amidst the otherwise unfamiliar environment.
The hosts then proceeded to show the delegates a presentation filled with incredible, student-written texts portraying the true picture of online school, where students described their new home-school environment, their own way of learning, and most importantly shared how the digital school had helped them continue learning in these trying times. Every participant was impatiently waiting for their school's turn, and more importantly, their chance to voice their attitude towards digital school. The presentation by the hosts uncovered the opinions of all the participants, and it was fascinating to see how everyone's personal thoughts through divergent experiences united to capture the spirit of digital learning.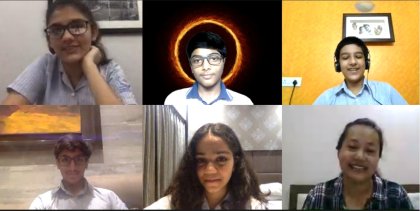 The next activity planned out for them was 'The Breakout rooms', wherein, the delegates split into smaller groups to discuss the topic at hand. The cordial environment created by the host school, lead to fruitful discussions about online learning. Understanding the thoughts and emotions of students from various backgrounds, gave the delegates a new insight into how the world has coped with this pandemic, specifically in the field of education. The postcard did, in fact, promote the Round Square Ideal of 'Internationalism' and its 'One-World' motto helping them form a united front during these unfortunate times.
Though the Postcard activity was based around Internationalism, they collectively learnt that students across the globe are unanimous in their appreciation of Online Learning. Although many of them struggled initially, they were grateful for the opportunity in their own little way. They learnt that though they felt lonely, during these unprecedented times, their voices were heard too and that others across the globe felt exactly the way they did!
DAIS Student Delegates: Diya Shah, Abhiviraj Goel, Abhinav Dangwal, Zahra Kachwala and Suryansha Seth
DAIS Adult Delegates: Ms. Juri Burman and Ms. Manisha Nanda