RS Postcard
'Postcard' from Sunbeam Suncity School and Hostel
On the 7th of July 2021, five DAIS students from grade 6 shared inspirational stories about local heroes or people who have made a positive impact as part of the Round Square Postcard event, hosted by Sunbeam Suncity (School & Hostel) in Varanasi with the theme "Footprints in the Sand. A person can affect eternity." Around 100 students aged 11-13 from schoolsn in London, Frankfurt, Johannesburg, Nairobi, Dodoma, Yerevan, Bangkok, Beijing, Singapore, Tokyo, Adelaide, Alice Springs, Brisbane, Sydney, Auckland and India participated.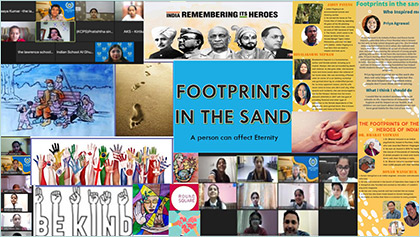 The experience of the 5 DAIS delegates started off with a warm welcome from the host school, Sunbeam Suncity. The event began with an eye-opening video by the host school on inspirational leaders who have made a difference and how small actions can affect eternity. This was an interesting and engaging video for the delegates as they learned more about so many heroes. The video highlighted inspirational quotes and stories of some of our unsung, local heroes like Jadav Payeng and Rajendra Singh.
Soon enough, the delegates of all the schools participating were divided into Baraza groups. In these groups the delegates interacted with students from all over the world. They had an icebreaker session where they introduced themselves. Then after each student shared a unique and different story about their local heroes. As they interacted with each other they learnt how small acts of kindness can make this world a better place. Some students even shared stories from their families or an event they had witnessed, which portrayed that anyone can make a difference. More also, all the students had an enjoyable time, learnt about the other students and made new friends. As they resumed the main call, the students of Sunbeam Suncity shared farewells, heart-warming praises, and thanked the delegates for making it a memorable and exciting experience.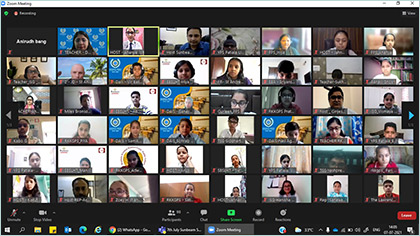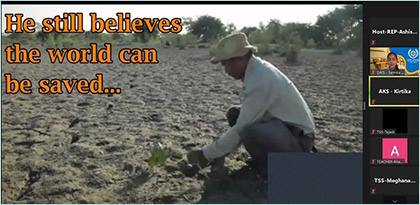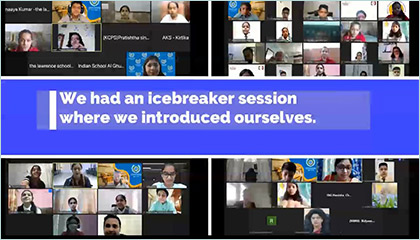 This Round Square Postcard was an enriching experience for all the delegates as they learnt about different local heroes. It helped the delegates realise that even small acts go a long way just as a few drops of water help to fill the ocean. This was truly an experience to cherish.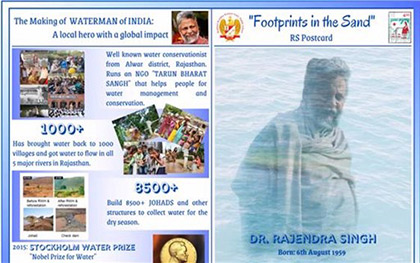 Reflections:
"It was an enriching experience! I enjoyed interacting with students from across the globe and making new friends. This postcard helped me realise that even small acts go a long way just as a few drops of water help to fill the ocean. This is an experience to cherish and I can't wait to have an opportunity like this again.
Samika Khanna, 6B
"The post card was amazing and we learnt a lot about many leaders around the globe."
Neil Agrawal, 6B
"It was an inspiring experience, I really enjoyed speaking and interacting with students from different schools and learning from their opinion."
Vir Bakshi, 6A
"The experience of meeting children of different schools and country's was amazing. I got to learn about different cultures, local heroes and the different kind of children in this world are amazing. I really would like to have such an experience again."
Sohrab Daver, 6B
"It was really an exciting to meet students from all over world. As we heard so many stories we learnt about everyone's background and what kind of people they were. It was an enthralling experience, which I can't wait to do again."
Sanaya Shetty, 6A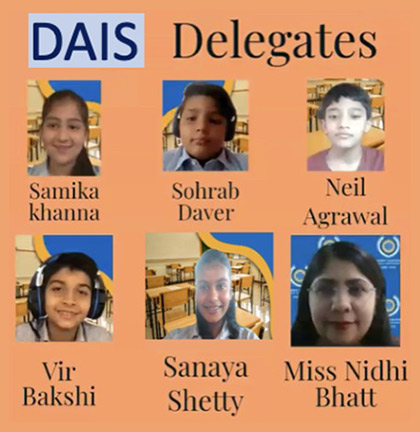 DAIS Student Delegates: Sanaya Shetty, Neil Agrawal, Vir Bakshi, Sohrab Daver, Samika Khanna
DAIS Teacher Delegate: Ms.Nidhi Bhatt