Samaanta - A Gender Equality Symposium
The initiative: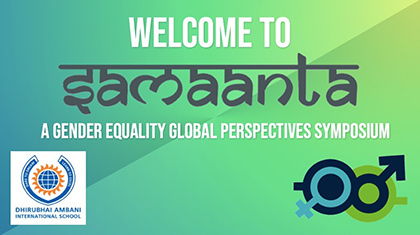 With our second lockdown and the subsequent cancellation of exams, we found ourselves with more time than we knew what to do with. This gave us an opportunity to observe the world around us, and through this we realized that the problem of gender inequality was more pressing now than ever. This realization sparked discussions amongst us, and as we shared views, experiences, and ideas, we decided that we wanted to do something to make our world more equal. Thus, 'Samaanta' was born.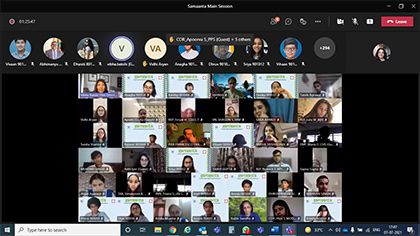 Through Samaanta, we wanted to get participants actively thinking about the problem of gender inequality and more importantly, reflect on our role in resolving it. Aligned with the goal of resolving to make a difference together, Samaanta became a gender equality global perspectives symposium that aimed to create a change in our own attitude and inspire those around us to support gender equality. The virtual symposium was led by students from Grade 10 and 11 and welcomed 215 student delegates of 36 schools worldwide.
Exploring Diversity: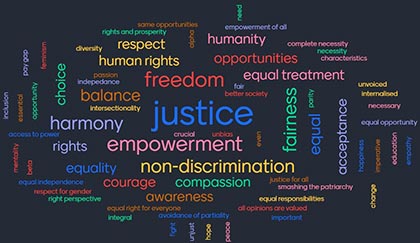 Samaanta also aimed at exploring the diverse perspectives of gender inequality from around the world, in addition to our own Indian perspective. Therefore, along with our keynote on the Indian viewpoint of gender inequality, we also had cultural presentations by international delegations from Bangladesh, Chile, Dubai, Japan, Jordan, Peru and South Africa, who shared global perspectives on the issue with us. The session was planned to open with a keynote speech followed by presentations on gender issues in different cultures, creating breakout rooms for baraza discussions, and a collective reflection session on the final outcome as a way forward.
Keynote Speech: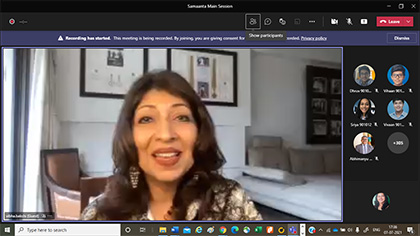 The event began with Keynote Speaker Ms Vibha Bakshi, an award-winning film director and producer whose films are changing the narrative on gender inequality. She shared her story of making her films, Daughters of Mother India and Sonrise, and provided the delegates with an Indian perspective on gender injustice. We also saw glimpses of her films, which presented accounts of the severity of gender crimes in various parts of India. Through her speech, Ms Bakshi stressed on the importance of getting men and boys involved in the conversation of gender inequality, and our role in breaking stereotypes. The speech and subsequent question and answers session sparked eye-opening discussions in baraza rooms. Every delegate was inspired by Ms Bakshi and her work, making it the perfect way to start our symposium.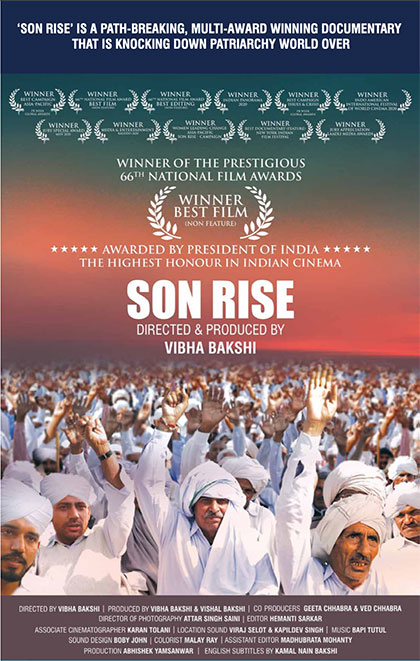 International Perspective:
An important goal of Samaanta, was to explore diverse cultural perspectives, and understand how gender inequality manifested differently worldover. So, after the keynote that presented the Indian perspective, it was time to get an international perspective on gender inequality. We spent the next 45 minutes engaged in the presentations and videos of our international delegations from Chile, South Africa, Peru, Jordan, Bangladesh, Japan and Dubai. In their presentations, they explored the causes, implications, and existing solutions for gender inequality in their own countries. Through the presentations, we were able to draw parallels between different cultures and understand how gender inequality changed from country to country. For example in Japan women often don't play an active role in politics, while in UAE, women hold 15% of academic and technical jobs, and in Chile there is an asymmetrical distribution between men and women, of roles in the judiciary. The perspectives also recognised the work being done to bridge this gender gap such as laws against inequality in Chile and UAE. The international students' initiatives such as fund-raising so women have better access to healthcare, the creation of clubs and committees that encourage dialogue, collection drives for sanitary pads for underprivileged children, and peaceful marches against gender based violence were heartening to look at! These cultural perspectives provided invaluable insight that helped delegates understand gender inequality as a global problem and demonstrated that everyone wants a more equal world, and is willing to work toward it.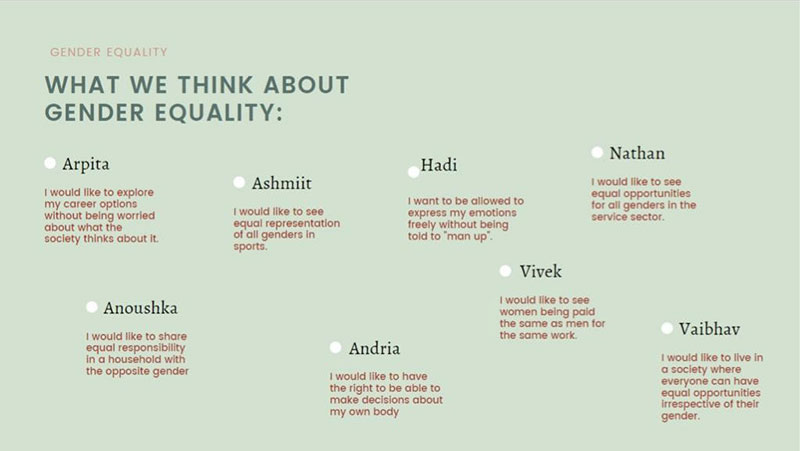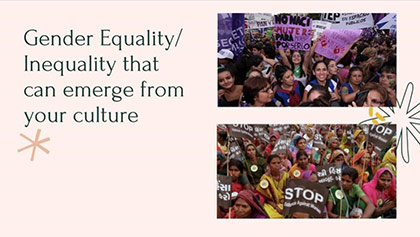 Link to the presentations of the International Perspectives
Baraza Groups: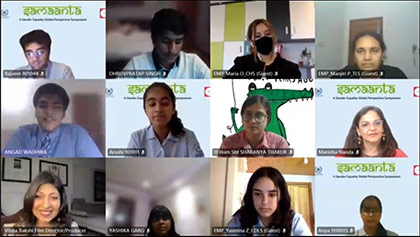 Delegates were divided into smaller groups through breakout rooms for their baraza sessions, where they engaged in inspiring discussions about the keynote, cultural presentations, and possible solutions for gender inequality. These discussions often featured anecdotes from the delegates' personal experiences such as stereotypes they are subject to or see at home and in school. This allowed us to view the issue from a series of different perspectives and so understand gender inequality better before looking for ways to resolve it. Additionally, clips from various popular films, which either demonstrated a gender stereotype or broke one, were shown in barza rooms. These short videos acted as a stimulus for discussion and helped enrich the conversation by pushing delegates to recognise both explicit and subtle instances of gender inequality around them. Towards the end of the baraza discussion, delegates were encouraged to come up with solutions that they could implement in their daily life to assist the cause of gender equality. Delegates' proposals ranged from education and empowerment to changing mindsets and breaking stereotypes. These ideas were then consolidated on a poster in the form of a pledge, quote or poem as an outcome.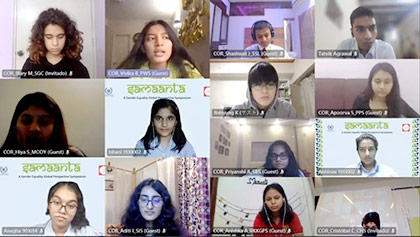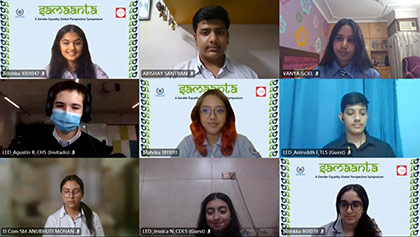 The outcomes from the barazas became both a culmination of all our discussions and our promises for the future. The pledges on our posters serve as a reminder to take this movement forward in our own communities. Little by little we will soon bring change.
Samaanta Outcome Flipbook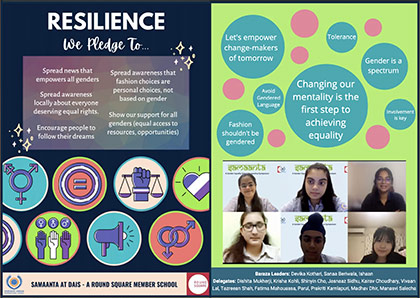 Reflections from the Samaanta Core Team:
Samaanta and the process of organizing it has been an incredible experience. It showed me the work it takes to plan an event, consolidated skills like communication, teamwork and organization, and allowed me to engage directly with the theme of gender inequality. Working with encouraging teachers, an exceptional planning team and baraza leaders made Samaanta an engaging learning experience. I am both grateful and proud to have been part of Samaanta. - Anagha Srinivasan
I think the symposium was a great success and a good experience for me. I could see the delegates wanting to open up about their experiences and opinions about gender inequality. I'm glad we could give them an opportunity. The process of planning the event struck a balance between fun and work, allowing me to be readily involved throughout. It was a great learning experience that taught me a lot both about gender inequality and otherwise. I am happy that I was part of Samaanta! - Annsh Navle
Being a part of Samaanta and being able to plan an event of such a large magnitude was an extremely amazing experience for me. The endless calls and discussions that went into fine-tuning each detail were hard, but so much fun, and gave me the opportunity to understand the planning that goes into creating an event at such a large scale. I'm so grateful to have got the chance to work with such a brilliant planning team, baraza leaders and the most supportive teachers, without whom this symposium would not have been possible. The positive feedback we received at the end was so rewarding to see! - Devika Kothari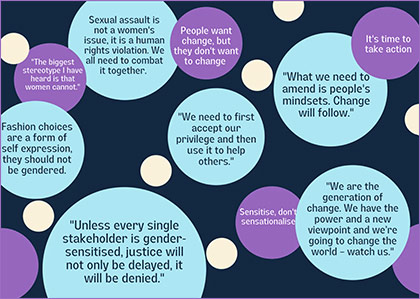 Working to put Samaanta together helped me realise my organisation and ability to manage work... We faced several technical and timing issues on the day and yet we were able to improvise and adapt. In the end, having heard the discussions we helped stimulate, I am proud to have been a part of the movement of Samaanta. - Dhruv Bhalla
Organizing Samaanta was an extremely enriching experience. It gave me first hand insight into the issue of gender inequality and various people's perspectives on it. I learned a lot about the theme, as well as how to manage events. - Kshitig Seth
Samaanta was a great experience where we got to explore gender equality from different experiences. I am so grateful to have gotten the opportunity to help organise the event and be a part of the leading team! - Saisha Gupta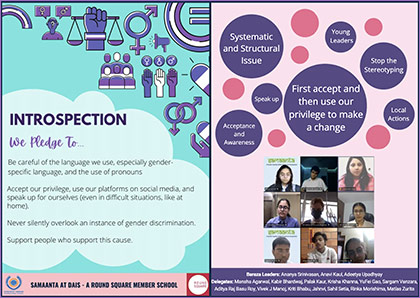 Planning Samaanta was nothing short of a life changing experience - watching so many young leaders fight for change was truly inspiring. It allowed me to look at the topic from lenses I had never considered before, and only made me want to fight for gender equality more. - Sriya Bodapati
Samaanta was a very fun learning experience. Not only did I learn how to run and direct events, but I also learnt about gender inequalities from the perspectives of students from all around the world. - Vihaan Mangat
I was thoroughly proud of how Samaanta turned out. Everyone took back a learning that we weren't even expecting. From keeping delegates entertained in the beginning to cutting and adding time to Barazas, the event wasn't short of problems, but how we dealt with it as a team was commendable. - Vivaan Turakhia
Student Leaders:
Grade 10: Anagha Srinivasan, Annsh Navle, Devika Kothari, Dhruv Bhalla, Kshitig Seth, Saisha Gupta, Sriya Bodapati, Vihaan Mangat and Vivaan Turakhia. Grade 11: Ananya Mittal, Dev Mehta, Dhaniti Parekh, Stuti Daga and Rajveer Batra.
Teachers:
Ms. Manisha Nanda and Ms. Pratima Sridhar.