A Tryst with Culture
India is blessed with diversity in religion, culture, tradition, heritage, lifestyle, and people. Together we celebrate several festivals that bring joy and happiness to our lives. To incorporate cultural awareness into the classroom curriculum, our young learners are learning to create their own identity within an international community. The month of August is brimming with festivities, providing the platform for cultural awareness and celebration. Building on this idea, the students at the Primary school of DAIS made authentic connections to their local culture, on the occasions of Raksha Bandhan, Moharram, Independence Day, Navroze or Parsee New Year, and Krishna Janmashtami. Inquiring into each of these festivals, the students developed their own understandings of identity and relationships and explored what it means to be tolerant and accept individual differences.
The teachers narrated and enacted stories that signify the importance of the festivals, delving into celebrations, cuisines, beliefs, and rituals. Students compared the similarities and differences between the customs and traditions followed by different communities. Activities and authentic engagements were organized, providing opportunities for children to question and express their curiosity and explore.
For Independence Day, our early learners made the tricolour, which they displayed with joy and honour, saluting the flag and singing the national anthem. Pride and patriotism reverberated through the hallways of the school.

Raksha Bandhan was celebrated by making 'rakhis' and enacting the ritual of the sister tying a 'rakhi' around her brother's wrist, praying for his good health and prosperity. The little brothers promised in return to always protect their siblings and showered them with gifts.

Parsee New Year or Navroze was yet another occasion to investigate traditions and celebrate diversity. The students saw a visual representation and a staged performance of the age-old story about the mixing of milk and sugar at the court of the Hindu king Jadi Rana in 7th century AD. The story signifies a promise to enrich the local community and sweeten the lives of the host population.

The birth of Lord Krishna (Janmashtami) was celebrated across the primary school with activities centred around inquiry, play and creativity. Questions were used as conversation starters, which encouraged independent thinking and resulted in powerful learning moments. The children created their own crowns, made the 'dahi handi', and danced to songs that highlighted the playfulness and simplicity of the deity.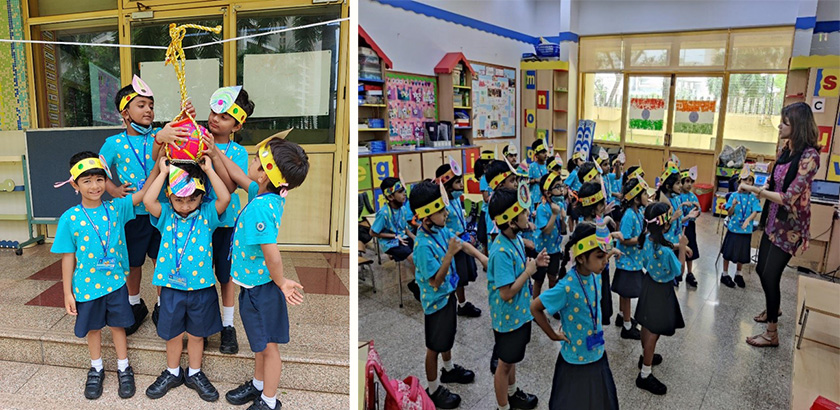 The celebration of the festivals brought the learners closer to our culture and encouraged them to inquire, think, play and work together. The social interaction between the students served as a key factor in learning to speak and communicate effectively. Festivals, like life, are gifts that need to be celebrated.