Round Square International Service Project
Post-Project Student Report – RSIS Cambodia 2014
STAFF:
Project Leader: Sonia Christian, Dainfern College | Deputy Project Leader: Huw Jones, Inter Community School | Accompanying Adult: Vicki Hutchinson, St. Philips College | Country Manager: Bunlay | Camp Manager: Han
STUDENT PARTICIPANTS
Santiago Concha, Anglo Columbiano
Nathan Kirkby, St. Philips College
Lydia Hemson, Bunbury Cathedral Grammar School
Lachlan Saunders, St. Philips College
Marisha Agarwal, Dhirubhai Ambani International School
Virgil Sum, Markham College
Ella De Nicola, St. Cyprian's School
Alex Lee, Ballarat Grammar
Finn Wiesner, Stiftung Louisenlund
Hannah Sanders, Westminster School
Carl Illies, Stiftung Louisenlund
Sarah Ross, St. Clements School
Jerome Brutus, St. Georges Grammar School
Emilie Anne Cavers Morin, St, Clements School
Linda Kamau, Brookhouse School
Louis Sloper, Trinity Anglican School
Nasir Khan, Mayo College
Arjun Singh, Daly College
Shreyan Goyal, Mayo College
PROJECT OVERVIEW
Dec 5 - Dec 6: TRAVELLING TO CAMBODIA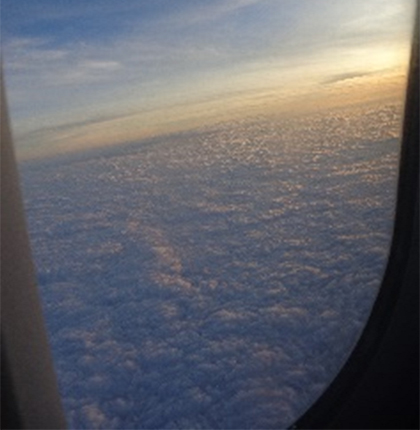 I reached Chhatrapati Shivaji International Airport 3 hours early so as to explore Terminal 2 which is said to be iconic. There was a lot of hugging and crying and phone calls to friends and family before going into the airport. I went to check-in where they put me on stand by for being a minor un-accompanied traveller. While I was waiting, I took time to explore the airport which was all glass and glittery and screams fancy. The ceilings and floors were so intricately crafted. After I was cleared, I went to security and then immigration. I prepared a mini-speech for immigration but no questions were asked. After that, I checked my boarding gate on the screen and then explored the shops at the airport.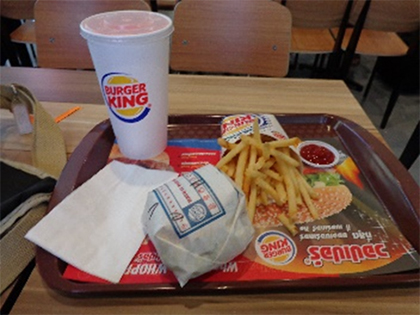 I then went to my boarding gate which was one level under me which was a very confusing path. I bought coffee for myself and then boarded the flight. After landing in Suvarnabhoomi Airport, I had to follow the signs to the transfer counter where I had to go through security once more. Since I had a 5-hour layover, I first had breakfast at Burger King and then walked till gate F of the airport, exploring the shops. I then boarded my flight to Phnom Penh which was a 55-minute journey. The flight was pretty empty. I landed at the airport where I had to fill a few forms, go through immigration, collect my baggage and I met with Sonia who was holding up a Round Square sign.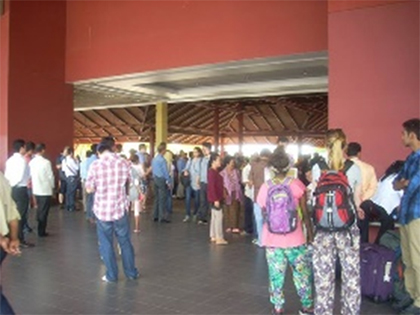 We then sat at a nearby coffee shop where we waited for the others. Apparently, one group had already arrived and we were the second slot. Jordan and Virgil were the next to come. I spoke to them and then Ella came. While Ella and Jordan were talking, Virgil and I went with the Round Square sign to pick up Finn and Carl. We then took a bus to the hotel. I was roomed with Ella as I had already chatted with her on Facebook before the trip.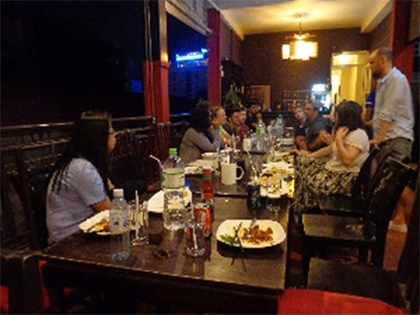 At the hotel, we went to our rooms and then met everyone at dinner. We went out to a restaurant where our budget was $6 and if we ordered drinks then, we had to pay for them. We did a lot of talking at the table. We then went to sleep.
Dec 7 – Dec 8: ORIENTATION AT PHNOM PENH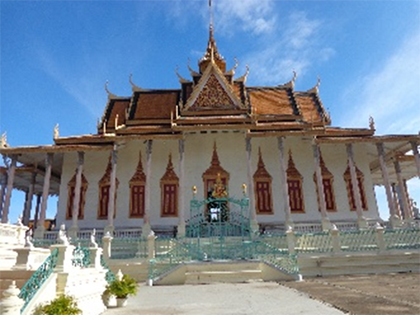 Over these two days, we toured the capital city of Cambodia – Phnom Penh. We went to the killing fields on an audio guide and to Toul Seng to learn about the history of Cambodia which was very disturbing. We were lucky to meet with a survivor of the Khmer Rouge. We also visited the Royal Palace and went to the market for shopping where I bought my Christmas outfit.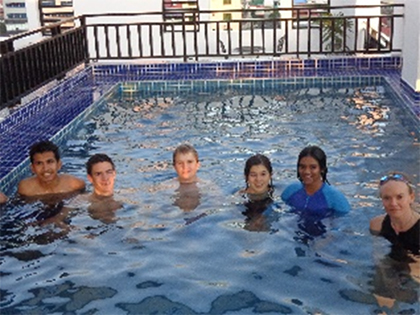 I made many more friends over these two days and even became close to the other 3 Indian students who were on the trip – Arjun (who I knew before the trip), Nasir and Shreyan. We also had a pool at the hotel, so we went for swims at the pool. The view from the terrace was spectacular.
Dec 9 – 13: WORK PHASE AT CAMP BENG PAE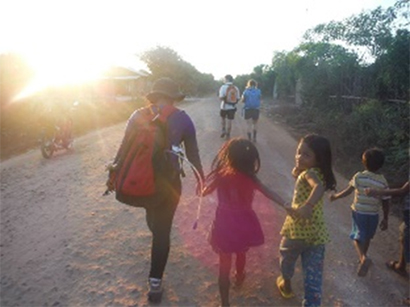 We got on a bus to Camp Beng Pae which was a 4-hour long journey. We sang, slept and chatted on the bus. The camp was in a village. We stayed in dorms and had a compost toilet. There were 5 showers which had ice-cold water. We also had a chance to cook in the kitchen and we could also wash our clothes. We were also split into three dish-washing groups. Our group was #Group 1 – Santiago, Linda, Lydia, Emilie, Nathan, Shreyan and Me. We had to clean up after dinner.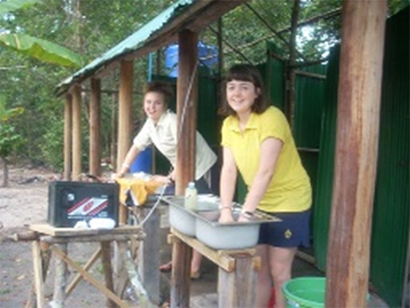 It was a lot of fun cleaning up because of Santiago's singing, Nathan's voice overs and Shreyan's inspections. The camp site was the school which was a 15-minute walk from the camp. We received flowers from the children whenever we would come back from working. It was very touching. At the school, we built a fence, set up a drainage system and re-painted the walls.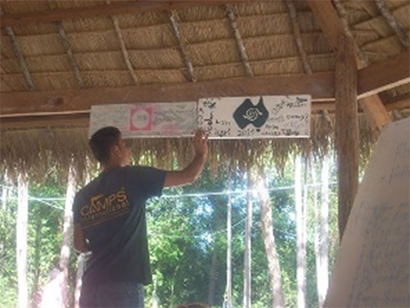 It was hard work digging holes, transporting the heavy logs, fixing pipes, sanding and painting the walls. I ended up ripping my gloves at the end of the work phase. Every day, we would work in two shifts – morning and post-lunch. It was too hot to work in the afternoon. That was our rest time where we would take showers and talk to everyone.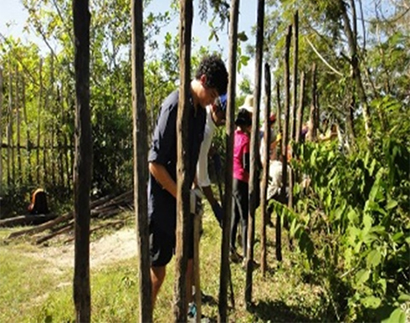 After the second shift, the children would come back to the school where we would play with them. The guys would play football while we girls would play other games with the kids. We even learnt a few games from the kids which was a lot of fun too.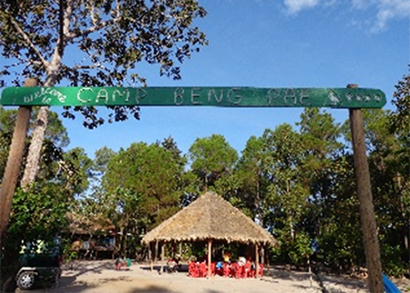 On one of the days we went to the bridge which needed restoration as it gets eroded every monsoon. That was draining as we were working under the blistering hot sun. I was really happy when all the work was done. It was very satisfying and made me feel very good when the school's principal came to thank us. We also gave the kids toys and stationery and their smiles really touched me.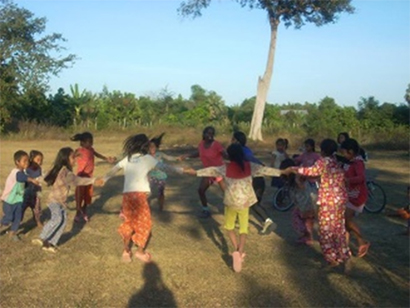 On the last day at camp, we had a bonfire and all the kids came to say bye to all of us. We learnt the traditional Khmer dance steps and we were dancing around the fire. I went with a few of my friends to go star gazing. There is a path to an open clearing where we sat down and enjoyed the stars. We even saw a few shooting stars.
Dec 12: TRANFER TO CAMP BENG MEALEA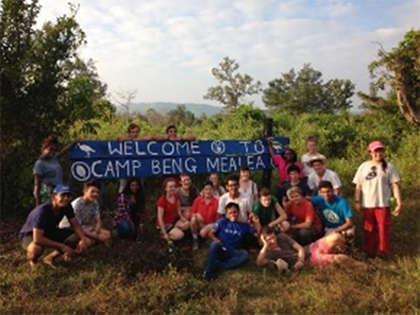 We took a bus and went to Camp Beng Mealea. We only spent one night there as we were going to hike to the top of Kulen Mountain from there. This camp was on the highway and was slightly bigger than the previous camp. Here, the dorms were bigger and there were 8 showers – 4 for the boys, and 4 for the girls. There were 8 compost toilets too and there were basins and a concrete kitchen. We walked to the school which was also a 15-minute walk from the camp. We were briefed as to what our task was. We then went back to the camp, played UNO, had dinner and went to sleep. We had to pack our trekking bags and lock our bigger bags which were going to the Siem Reap hotel.
Dec 13 – Dec 15: MID-PROJECT HIKE & HOTEL STAY
We started our hike from Camp Beng Mealea. We trekked through long grass, the community forest, and steep rocks all the way to the top of the mountain where we spent the night at the monastery. We pitched tents and hammocks under a monk's house. We played games and chatted till it was time to sleep. The next day, we trekked through the forest on a flat path to another monastery – Wat Phreah Kral. We rested for a while after lunch and then went on a mini-trek to see the bat caves and the elephant pond – Srah Damrej. Alex (my best friend) and I were leaders for that day.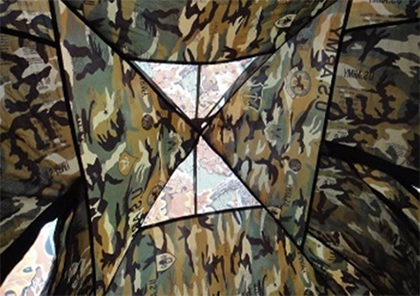 Each day, the leaders would elect two students to be leaders for the day who would be told the day's plan and we would have to answer any questions the group has about the day. We also had to wake up ½ hour earlier to make sure all the equipment was there for the day. We stayed inside the Buddhist temple this time.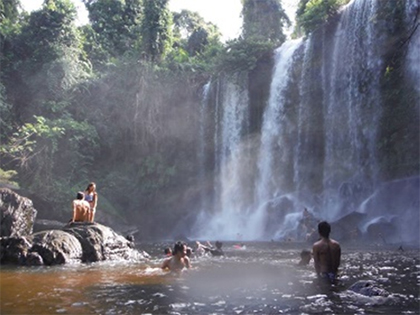 We played team-games which was a lot of fun in our dish-washing groups. Our group and Group 3 were tied, so group 2 had to give 2 points to either group, and they gave it to the other group, although we were the better and faster team. We played games like 20 items, 2 truths 1 lie and the best Royal D advertisement (local electrolyte company).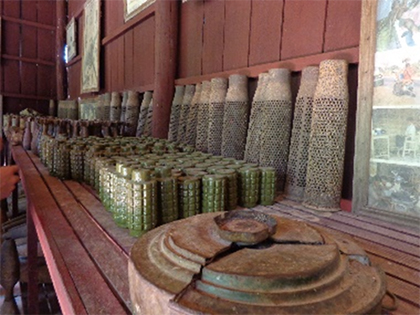 We watched sunrise and sunset and it was very beautiful, atop mount Kulen. The next day, we trekked back downhill to catch the bus to the hotel. Before leaving, we received a cold-water blessing from the monk. On the way back down, we had lunch by the river of a thousand Linga's. After lunch, we went to the base of the waterfall for a swim. We then trekked down through the forest and then several steps to the bus. We then went to the hotel where we switched roommates for the third time. I was finally roomed with Alex. The plan was to stay one night at the hotel and then drive back to the camp. Instead, we stayed at the hotel for two nights. We went to the night market where I did a little bit of shopping and had a non-rice dinner which was very tasty.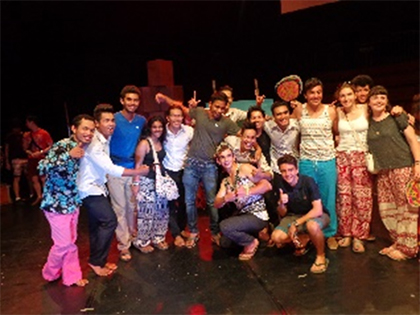 This hotel was much bigger than the previous one. Our room had a balcony too. The hotel had computers so the line was very long to check our mails and Facebook. The next day, we went to the silk farm and to the market again. We also went to an acrobatic circus which was very cool. The next day we were driving back to camp. We stopped at the war museum where our tour guide was a victim of the Khmer Rouge who had been injured very badly. We saw all the machines and artillery at the museum. We then had ice cream from a vendor near the museum and then went back to camp. We stopped at a restaurant for lunch. There was a stall where spiders, crickets and cockroaches were being sold. Some people did eat them and their reactions were priceless.
Dec 17 – Dec 23 WORK PHASE AT CAMP BENG MEALEA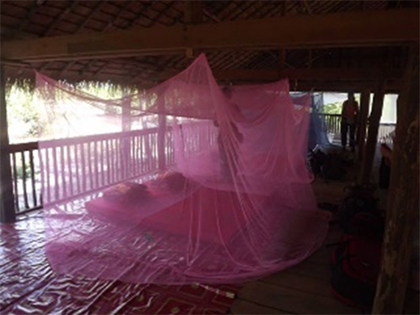 After reaching the camp, we were given an hour to unpack and freshen up. We were then split up into two groups to work in the jungle garden. In my group, we were clearing up the forest while the other group was digging pits. In the evening, both groups were very productive. We all then played volleyball. After that we all raced for the showers.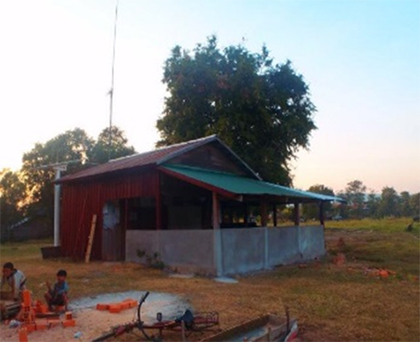 We rotated our dishwashing groups, so now our group would clean up after breakfast. I also got a chance to roast chicken with Vicki which was a very nice experience. We had dinner and then played games like UNO, Wolf in the Village and we even picked out our chits for the Mystery Murder game.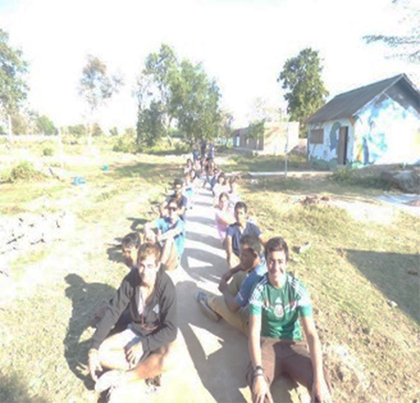 It was really funny to see how everyone tried to stay in big groups so as to avoid being killed. I died pretty early in the game. The next day we got back to our dishwashing groups to work at the Community Centre, School and Jungle Garden. The teams swapped worksites so everyone would have a chance to do all aspects of the project work. This continued for the next couple days.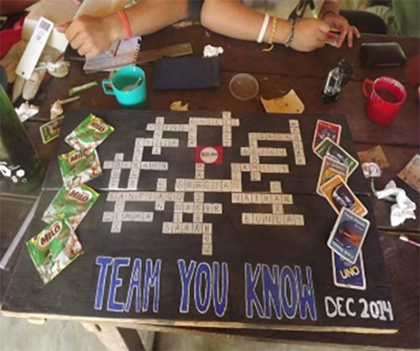 Each day, two people would move one to one group, so finally at the end, we were all back in our original groups. At the community centre, we had to build and plaster the walls. We also had to paint the exteriors and build a seating arrangement. At the jungle garden, we had to do weeding and plant trees and plants for the locals to extract their medicines and food.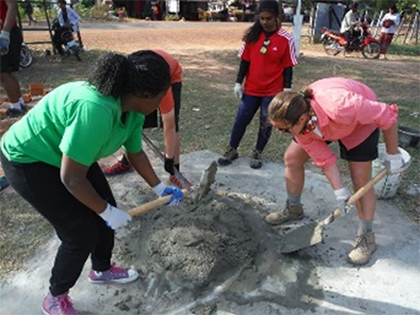 At the school we had to plaster the walls of the teacher accommodation and build the path to the library, toilet and teacher accommodation. We also had to install the drainage system in the school.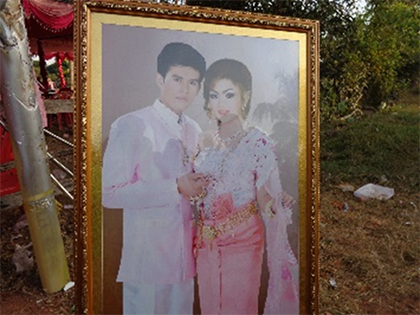 Here, the kids were much older and we would work till it would get dark, so we didn't spend much time with the kids. Instead, we would play on the monkey bars with our groups and it was a lot of fun, although very childish. Sonia's birthday was on the 18th so we planned a surprise for her. We contacted Bunlay who arranged a cake for her from Siem Reap and it was a really good cake.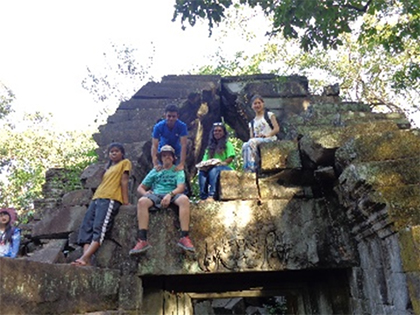 We also decorated the camp area and had sparklers and silly string. She was almost in tears! At the second camp, I became an expert at mixing cement with my partner Nathan. I also learnt how to use hoes and spades and the elephant foot which we named George. Louis, Ella and I had to go to the hospital mid-project but we came back the next day. Sunday was our off-day where we visited an old Hindu temple which was spectacular as it was destroyed by nature. On our way back to the camp, we gate-crashed 2 Cambodian wedding which was very nice.
Dec 24 – Dec 27 TRANSFER TO SIEM REAP HOTEL & BACK TO INDIA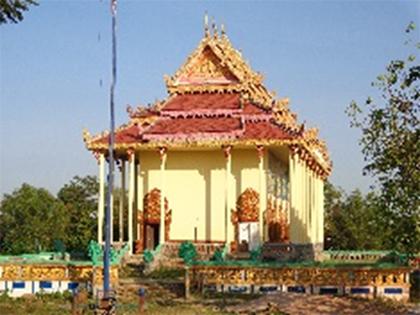 We worked till lunch in the jungle garden, nailed our plaque on the wall, higher than the others and then went to the pagoda near the camp where we received a cold water blessing before hopping onto the bus to Siem Reap which was a 1 ½ hour journey.
On the way to the hotel, we went to the floating village for sunset. We went on a ferry and then Arjun, Jordan, Nathan and I (we four always stuck together) went up on the deck with our life jackets for a better view of the floating village. It was very nice as we even got to see crocodiles and snakes at the souvenir shop.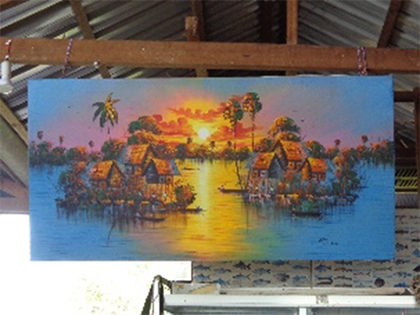 We then took rest at the hotel. After unpacking and freshening up Sonia gave us all our phones back for Christmas. I actually forgot what my phone looked like and I think I was the most happiest to get my phone. But then I was sad as I had 1000+ messages on WhatsApp which was quite annoying to go through.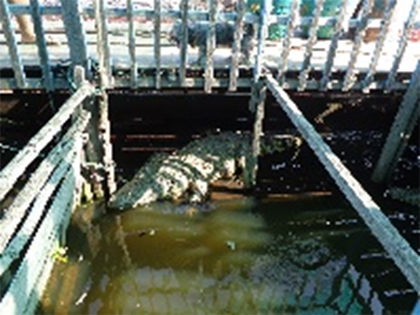 We then got onto the bus to Angkor Wat for sunrise where we had to trek up a hill for 40 minutes, but it was worth it. We bought coconuts after coming down and then went back to the hotel.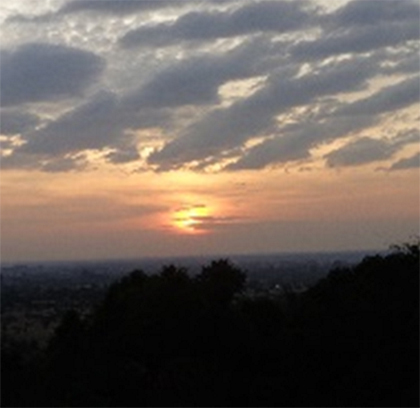 We then had 5 minutes to freshen up at the hotel and get back on the bus for Christmas Eve dinner. This dinner was also non-rice and it was candle-lit which made it very hot yet very beautiful at the same time.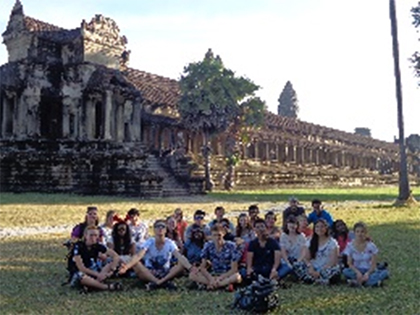 I spent the whole night chatting with Alex. The next day was Christmas day. I woke up to Alex's alarm playing a Christmas carol. We had to be out at 4:30 in the morning to catch sunrise at Angkor Wat.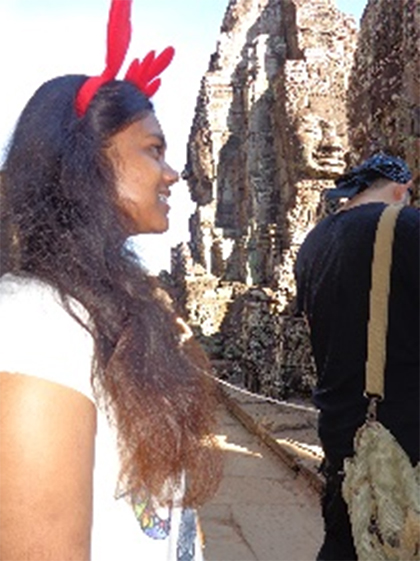 It was too dark to see anything in the morning and only the leaders had torches so we all walked very close to each other as there was water on either side of the path. We then spent the whole day at Angkor Wat. We even saw Bayon Temple and the Tomb Raider tree. Linda lost her phone there.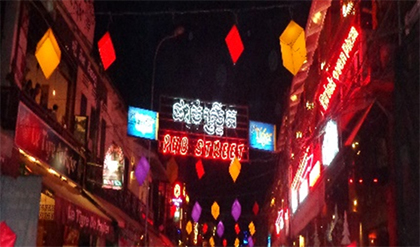 We then went back to the hotel to rest. I was taken to the hospital again and we took Linda with us to file a missing report at the Police station which was next to Angkor Wat. People got massages and manicures at the hotel.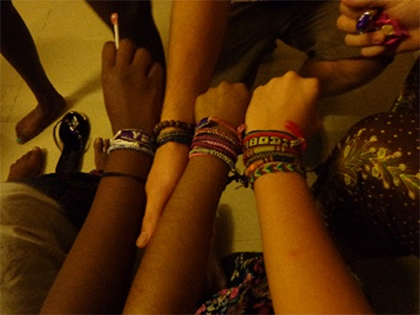 After coming back, we all got dressed up for Christmas dinner where all the girls wore dresses. Everyone looked very nice. We played Secret Santa and then went to Pub Street at Angelina Jolie's restaurant – Red Piano. On Christmas day we did not have any budget for food and drinks so we went all out.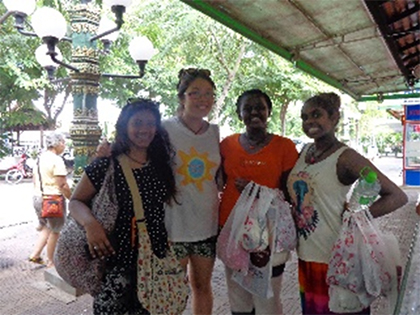 Linda and I shared food and I shared desert with Alex. We then begged to go dancing at an empty club which was a lot of fun. After going back to the hotel, we had a party in our room, since ours was the only one with a balcony. We had food fights, pillow fights and blasted the speakers.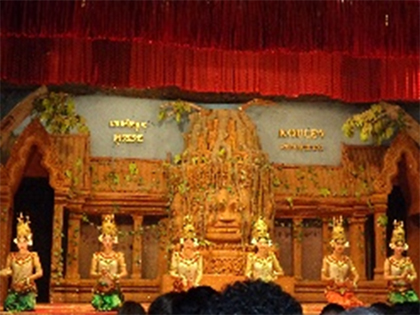 Then when everyone else left, Arjun and Jordan from the room next door came to our room (Alex and I) and we kept talking till 1.00 in the morning as the next day was devoted to only shopping. The last day with my new family was spent shopping at both the old and new market.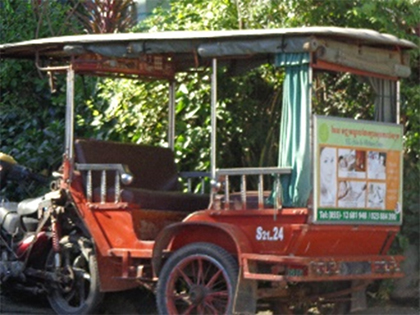 I hadn't bought many gifts for my friends and family so I grabbed this opportunity and spent $210 hopping from one market to the other. In the last half an hour, Gemma, Virgil, Linda, Alex and I went to get manicures and fish spa's which was a lot of fun. We also got matching necklaces. Nathan lost the bracelet competition against me.
We then went back to the hotel Everyone went swimming while I had to go the hospital for the third time. I spent $77 on the hospital visits. After coming back, we had to leave for dinner which was a buffet dinner. We took tuk-tuks. I was in a tuk-tuk with Jerome, Lydia, Sonia and Arjun. It was a very thrilling journey to the restaurant. After dinner we watched the Apsara dance performance which was very graceful. We then had to fill up reflection forms, were given Round Square badges and I ended up crying a lot as it was time to say goodbye.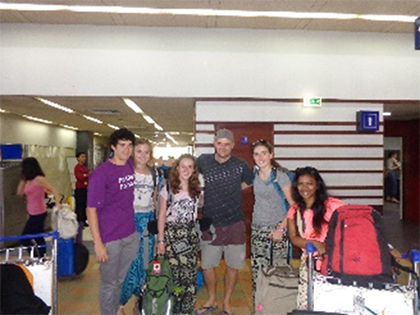 Everyone went to their rooms, but I was still upset so I went to my friends rooms and helped them packed. I woke up early the next day to say bye to everyone. I planned to meet Shreyan and Nasir at the airport since they had a 10-hour layover. I was leaving in the 5th slot of students with Emilie, Sarah, Jerome, Lydia and Huw. My flight was delayed by ½ hour so I got time to shop at the limited shops at Siem Reap airport. When I reached Suvarnabhoomi airport, I spent 2 hours looking for my friends. Luckily, I found Shreyan before leaving. We chatted till it was time for me to board my flight. He came with me till my gate as they had stopped me to check my passport and visas. It was a bit scary. After saying bye to him, I made one quick call to my parents to tell them that my flight was going to be delayed due to a thunderstorm. It was raining like crazy and there was thunder and lighting. After landing in Mumbai I was surprised as my grandfather came to meet me!!!