Round Square International Conference
Waves of Change - Boca Raton, Florida
During the first week of October 2013, Round Square schools from all over the world enjoyed a phenomenal experience at 'Waves of Change' held at Saint Andrews School, Boca Raton, Florida. Through Waves of Change, social entrepreneurs at the conference shared their inspiring narratives and how they had introduced waves of change in their own societies -big and small. This year's conference not only focused on helping the participants be proactive agents of change but also introduced the delegates to the stunning natural beauty and watery landscapes of Boca Raton. This theme helped us come up with innovative solutions, empower our entrepreneurial spirits and plan sustainable collaborative action.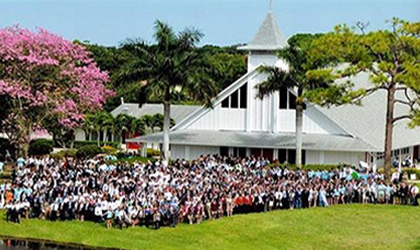 Once the conference was officially declared open, the Round Square board awarded the Kurt Hahn Prize and the Honorary Member Awards and Recognition to the well deserving candidates. The New Global Member Schools had a good induction session which was followed by our first keynote speaker, Adam Braun. Adam Braun is the founder of Pencils of Promise, an organization that sets goals to build a certain number of schools in developing nations and raises funds for the same with the help of students like us. However, Adam Braun's speech was anything but promotional. He began rather unconventionally, by telling us how incredibly successful he was at university. What inspired us most was the way he spoke to us about his life when he was in his early 20s. He confessed that just like many of us, all he wanted, initially, was to make money and live in luxury, something that he was more than capable of at that time in his life. However, before taking the final decision about his future course of action, he went on a sea journey. Epiphany hit him in the form of a wave over 10 feet tall, which he and his crew miraculously survived. He said he didn't know what it was yet, but he knew he lived for a purpose. That was what really inspired us – how unsure and hesitant he was – a lot like most of us, and how he changed his life and that of the people around him.
It began with a child telling him that the one thing he wanted most was a pencil, so he could study. Adam Braun's spirit and enthusiasm were so high that by the end of the year he had built 100 schools even though he had started out with nothing. Another miracle, that no one thought would have been possible. And his entire address was dedicated to showing and convincing us that every one of us was capable of performing such miracles.
The conference was subdivided into four parts: one focused on business and entrepreneurship workshops and the other three on the RS pillars of environment, action and service. After the conference, the conference Riika: Social Entrepreneurialism 101 Panel was hosted by Lucas Metropulos, a 20 year old recent St. Andrews graduate, along with a few other alumni and young social entrepreneurs.
The conference Riika: Social Entrepreneurialism 101 Panel was followed by IV workshops: The Entrepreneur's Toolbox, which included alumni who had forged new roads as business entrepreneurs in various fields.
Over the next few days, the delegates were divided into three groups: environment, service and adventure. Each day, one group would venture out to complete one activity.
A day spent close to nature would entail a presentation on Florida's wildlife and a trip to the infamous Everglades, where delegates got to experience an enthralling airboat ride through the waters of the Everglades. The Everglades, one of the world's most diverse Ecosystems, is a world renowned Wetland of great importance. It is home to a vast array of wildlife! Just as we started cutting through the cool wind on an airboat that was going to take us around the everglades, we spotted an alligator! The airboat driver generously gave us a gist of the history and flora and fauna of this extremely beautiful wetland. Every once in a while, one needs to be close to nature, and it couldn't get any better than being a tourist at the Everglades!
An adventure day at Tigertail and Quietwaters included various activities such as canoeing, a boat (made by delegates) race amongst Barazas and then a relaxing evening at the beach! On service day, delegates offered their help in all the ways they could to Habitat For Humanity or other such NGOs and Clean Up services. We were required to help clear and tackle parasitic creatures and plants that were encroaching on Boca's woods and mangroves. The process was tricky and required much physical labor; however, by the end of the day we had made a significant contribution to the ecosystem. We required several skills like teamwork, coordination and determination to achieve this and it was interesting working with the immense variety of people.

During these days, three more Key Note speakers, Jessica Jackley, Crag and Marc Keilburger, also addressed the conference, at various points. Jessica Jackley is no ordinary woman. She now looks over her own micro-lending non-profit organization, KIVA. Her organization essentially allows donors to donate a minimum of $25 to innovative start-ups in different parts of the world. This smart and sustainable solution has allowed these start-ups to flourish and has boosted the spirit of innovation, growth and prosperity across borders. What is even more fascinating to know is that she derives her inspiration for this organization from her religious upbringing, reflecting once again, that the most seemingly insignificant moments of insight and reflection can potentially be responsible for setting waves of change across the world.

The next morning, we walked into the auditorium at St. Andrews to find another keynote address waiting for us. This was the one address, the one speech, which made us laugh and cry at the same time. None of us cared about the usual matters, like being embarrassed or mocked at; we cried without any inhibitions, and people from all around the world cried with us. Craig and Marc Kielburger founded their organization, Free the Children, when they were 12 years old and didn't really understand what it meant to be part of a huge movement with the gravity of the one they created. What sparked their imagination was a newspaper article about a boy of their own age who had suffered at the hands of extremists. It affected them deeply. Starting with a group called "The Twelve Twelve-Year Olds", their organization evolved into Free the Children.

Marc Kielburger shared an anecdote regarding his work at a hospital at Thailand and how he panicked at the amount of death surrounding him. He realized that he would have to face death everyday if he was to continue volunteering in that hospital. The only thing that held him back was the child, who begged him to wait for all the children's collective birthday, something they celebrated because they didn't know when their individual birthdays were. That was when he realized how powerful children can be, and how necessary it was to save them. This spiraled into working in war-torn African countries and telling the children's stories to people like us. Then came the huge international sensation called 'We Day'. Craig and Marc Kielburger haven't stopped yet, they continue to innovate and inspire all of us to work towards the theme of the conference – creating 'Waves of Change'. Nothing we say now can summarize how moving that speech was. I don't know what it was, whether the energy of the Kielburger brothers or the power of what they were suggesting. All I can say is that by the end of it, there was such an immense motivation among all of us to make a change in some small way, our own way, to act.

The closing ceremony saw vibrant performances and introductions were shared with the delegates by the schools hosting next year's Round Square International Conferences: Sanskar Valley School in Bhopal, India and Kings Academy in Jordan, Middle East. The flag ceremonies were performed and the last Key Note Speaker of the conference, Dr. Peter H. Diamandis, addressed the crowd. Dr. Peter Diamandis leads an interesting life. Ranging from innovative space craft and lunar space modules to finding a more convenient and cheaper way to diagnose patients with almost all sicknesses, this man's foundation, the X-Prize foundation, has provided monetary incentive to companies and individuals across the world to find innovative solutions to mankind's toughest problems and adventures. With incredible confidence and optimism, Dr. Diamandis made an enthralling presentation about the technological and scientific future of the world before the delegates of the conference, who were left with tons of food for thought.