Primary Children's day Celebrations
"Children are the flowers of the most beautiful garden in the world" is what DAIS believes.
Our Children's Day celebrations focus primarily on children and their enjoyment. This year, the Primary section organized a 'Puppet Theatre' for the students. In preparation for this event, the children designed and made their own puppets in their Art classes. They created different kinds of puppets, including hand puppets, stick puppets and bag puppets. They also scripted and directed their own skits, using their puppets. The final performances were showcased on Children's Day, in a Puppet Theatre, created in the school auditorium. Every class performed their skits and each class had chosen a different, yet relevant theme, which carried either a social or a value-based message.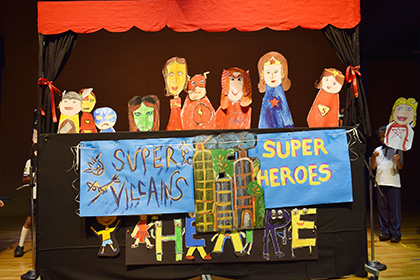 It was a joyful learning experience for our little storytellers. The children's eyes were brimming with excitement and delight, as they either watched or performed for their peers. There was laughter and amazement in the auditorium as a jungle story unfolded before them. The mood soon changed to one of bewilderment and shock, when one class revealed the statistics of plastic found in our ocean waters. But the squeals and the laughter of the students was proof of the joy and fun they experienced during the puppet shows.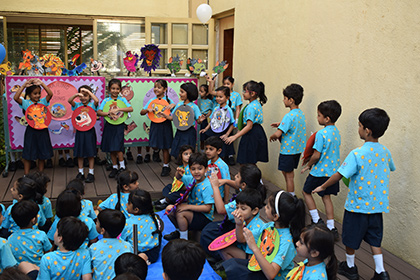 The children were reminded yet again that it is a privilege to be a kid, and childhood is the best time of one's life.
"HAPPY CHILDREN'S DAY TO ALL!"