Robotics 2021
Team Elev8 at the FIRST Robotics Competition 2022
This year's FRC Challenge was called "Rapid React." Amongst other things teams had to build and program a robot that could shoot balls into a 10 feet hub, both autonomously and via driver controls, and hang their robot on a metal pole ranging from heights of 4 - 8 feet . The game lasts for 2 and a half minutes, the more balls you can shoot and the higher you can make your robot hang, the more points you gain.
From the 23rd to 26th of March, we, #7539 Team Elev8 participated in the Sacramento Regionals and from the 30th of March to the 2nd of April, we participated in the Central Valley Regionals. Both the competitions were unique in their own regard, and were fantastic learning experiences. Sacramento has historically been one of the most competitive FRC regionals with there being 3 past World Champions among other very experienced teams. Central Valley was an opportunity for us to network with newer teams like ourselves while also interacting with some of the older teams. Most of the teams were from California itself and we were proud to be the only team from India.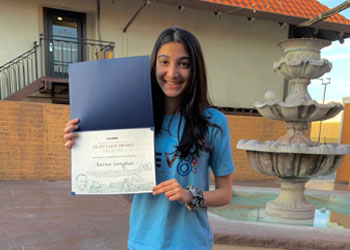 In both competitions, Elev8 was able to make its mark on the first practice day itself. We were able to win multiple matches, displaying our consistent 2-ball autonomous and fantastic hangar that could reliably get to the traversal rung. In Central Valley, our vision and image processing allowed us to accurately shoot balls into the upper hub in the driver controlled period as well. In the following two competition days, we were able to win multiple matches, as we formed alliances with other teams. Eventually we ended up becoming captains of the 6th and 7th seeded alliances at Sacramento and Central Valley respectively.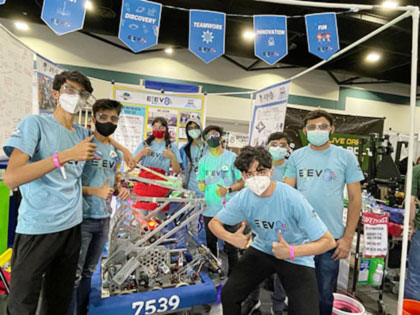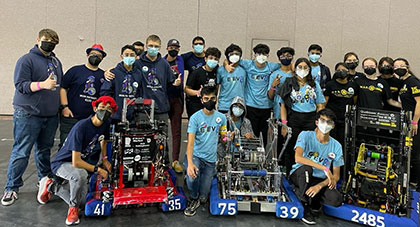 The highlight of the Sacramento Regional was that our Safety Captain, Kyra Roy, received the Safety Star Award for being exemplary at ensuring safety not only within our team but also ensuring that other teams were keeping safe. At Central Valley we won the Entrepreneurship Award that celebrates their entrepreneurial spirit and comprehensive business plan that displays the vital planning and business skills to ensure a self-sustaining program. Aarna Sanghai, co-captain of the team, won the Dean's List Finalist Award at the FRC Central Valley Regional. This award recognizes the individual efforts, leadership and dedication of FIRST's most outstanding secondary school students. She will now be representing India at the FIRST Championship in Houston.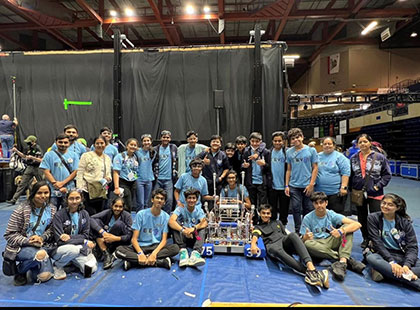 The FIRST Robotics Competition is a great opportunity for students to apply STEM concepts in a competitive and fun environment. Through the process, we were exposed to an entirely different world of innovation and learnt a lot about what we need to work on as we progress into the 2022-2023 season.
Team Elev8 in the off-season 2021-22
She Empowers STEM:
Since inception, Team Elev8 has been heavily involved in the upliftment of girls in STEM. We have been actively involved with training and mentoring girls, helping them learn about STEM and robotics through our flagship programme, She Empowers STEM.
We started by reaching out to girls across the country, speaking to them about the importance of STEM and what STEM can add to their lives. We were able to encourage many new girls to join our skill-building programmes, helping them learn vital 21st century skills. Then, we brought these girls together to form 4 new all-girls teams for various FIRST competitions including FTC and FGC. Some of these teams comprise of girls from NGOs who have no background in technology or engineering.
Team Elev8 also hosted TrailBlazHER, an all-girls innovation challenge, where girls were encouraged to come up with innovative projects to solve real-world issues. Around 400 girls from across the country participated. We also conducted panel discussions and webinars and webinars with these girls to provide them with their stepping stones into robotics and FIRST.
Moreover, for the past year we have been the regional partners for FIRST Ladies, an organisation geared towards promoting FIRST among girls. As part of this, we have written blog posts that go up on their website and plan to conduct hackathons and design challenges.
In March 2022, when we went to California, for the FRC regional competition, as ambassadors of FIRST Ladies, we helped boost girls' self-esteem by getting each of them to speak about one of their strengths.
We have been able to impact the lives of hundreds of girls across the world and hope to continue to do the same in the future!
Robotics Deconstructed: Through this program we were able to start 9 new FTC/FRC teams. We had 14 student mentors from Team Elev8 teaching the WPI Programming Course, the Java Fundamentals course and the Computer Aided Design (CAD) course. We were pleased to see the enthusiasm of the students and were motivated further by the large number of participants. With over 130 participants in the programming courses and over 90 participants in the CAD course we conducted 230+ sessions. Overall, we were able to reach out to 1000+ parents, mentors and students over 11 webinars!
WPI deconstructed: Students learned how to create advanced robot control functions using the WPI Software Library.
Java Fundamentals: We taught students Object Oriented programming in Java, and how to use their skills to make programs with real world applications.
CAD Deconstructed: We taught the students how to go about using CAD software Fusion 360 to conceptualize, design, implement, and analyse the various parts and mechanisms of industrial grade robots. Starting from scratch, at the end of the course students were able to convert 2D sketches to 3D objects, create joints, apply appearances to models and change their materials, and use simulations to test out designs. Whether students were interested in engineering, biotechnology, automobile design or even computer graphics, CAD allowed them to channel their interests and creativity effectively.