Round Square Regional Leadership Program
DOON SCHOOL
3rd Round Square Regional Leadership Program Report
Date: 8th to 12th October, 2014
Venue: The Doon School
Delegates: Annika Chauhan, Siddhanth Lath, Zaksh Manekshana, Dilan Mashru, Gayatri Meswani, Shanaia Munim, Aryamaan Singhania, Twisha Shah, Tanisha Shroff, Sidharth Vasudev
Accompanying Teachers:  Mrs. Kunjan Patel and Mr. Niranjan Bose.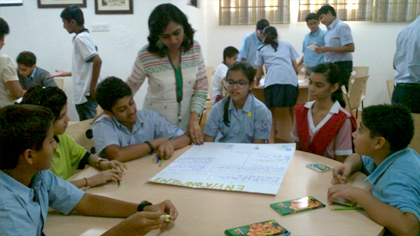 Wednesday, 8th October - At 7:00AM ten chosen delegates began an 8 hour journey from Mumbai to Dehradun, with of course, a pit-stop at KFC. After a long and bumpy two-hour ride from the Dehradun Airport to Hotel Ratan Palace where we were staying on the first 2 nights, we reached and had a well-deserved meal at the Doon School after which we headed back, hung out a bit and went to bed all charged and expectant of the few days to come.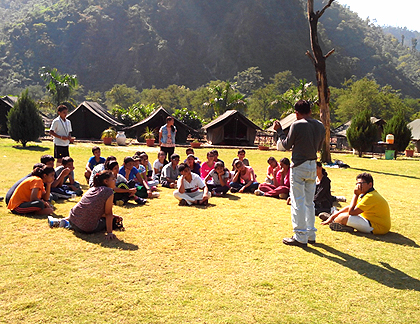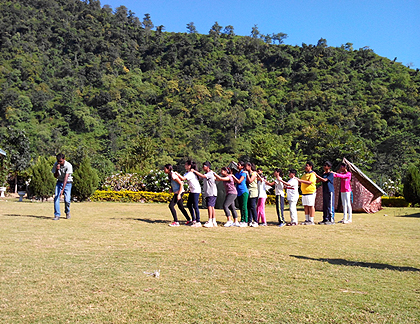 Thursday, 9th October - Breakfast with the Doscos was fun, after which we went to the Forest Research Institute with Aman and Amal (our favourite doscos) who guided us around the city that day. After the FRI and a failed cultural programme practice, we went to a Buddhist Temple where we had a very nice and peaceful time. After having lunch at the Doon School our conference officially began and we had our orientation and a small activity about the 'IDEALS.' After some Ice-Breakers we went on a tour of the campus and then headed back to the Hotel to get changed. We had dinner at a banquet hall in Dehradun and then mingled with all the other delegates. It was refreshing to know about all the different cultures and backgrounds that these delegates came from and we were truly surprised by how many of the delegates went to boarding schools. We danced with the others and thoroughly enjoyed ourselves. After going home we packed up and got ready for bed knowing that the actual work began the next morning when we headed for the Mal Devta Camp.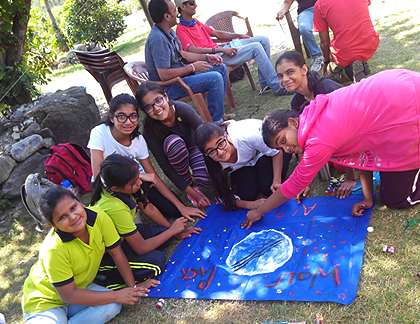 Friday, 10th October – After an early Doon School style breakfast we packed our bags and headed to the Mal Devta Camp. After a 45 minute ride across the gravel roads of Dehradun, we reached and put our luggage in our tents. Since the whole camp was about leadership, we made three teams, the Wolf Pack, Allegiant and The Tigger-Tigers. In the end, obviously, The Tigger-Tigers emerged victorious. Each had to, make a flag, think of a motto and think of a logo. After that, we participated in various leadership-building activities. These activities increased our team spirit, and we also interacted with the children from other schools. We formed bonds with our team-mates too. We then took a break for refreshments. We then went for a lengthy but adventurous trek. We went and saw caves full of stalactites and stalagmites. We came back to the campsite. The evenings manage to get very chilly so that night we had a camp fire night. That night we played charades against each team. We were tired after the trek that in no time we were in bed.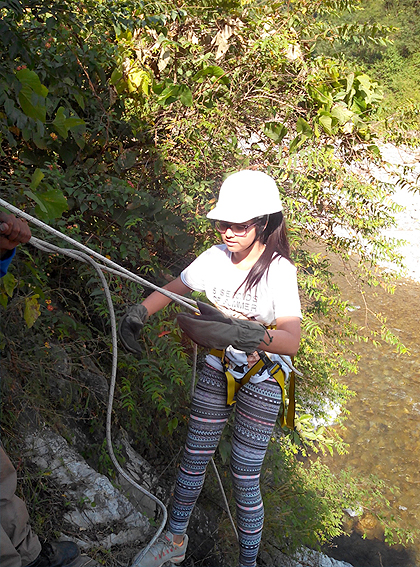 Saturday, 11th October- We woke up early that morning and after our morning energizers we were divided into two groups. The first group went for mountain rappelling which was a few kilometers hike away from the camp site. The other group did the flying fox which was river crossing. This activity was at the campsite itself. At rappelling we learnt the safety procedures and a few of us were made safety monitors. These safety monitors made sure that all the safety gear was worn properly by the students about to rappel. This was a learning experience for everyone and we were able to exhibit our leadership qualities while doing this. In the flying fox activities we went through similar procedure. We were attached to a rope which went across the river using a tandem pulley. It required a lot of strength and was physically taxing however the encouragements of our fellow delegates willed us to keep pushing ahead. Upon completing their activities, the groups switched. After having a really well deserved meal, we headed to the main tent or the Parachute as we called it and discussed in what manner leadership was displayed by everyone. With heavy hearts we then packed our bags and headed towards the busses that took us back to Dehradun knowing that this trip would be in our minds forever. Upon reaching Dehradun we checked into the Lalit Hotel and freshened up a bit. After one last dinner with all of our friends from all over India, we called it a day and headed for a good night's sleep.
Sunday, 12th October – After having a very relaxed and laid-back breakfast at the hotel, we packed up and headed to the Pacific Mall in Dehradun where we shopped and ate and played arcade games and got so caught up in having fun that we reached the bus 15 minutes late for our 2-hour journey back to Dehradun Airport and reached the gates 5 minutes before the Check-In Counter closed. After we all went through security, which took no small amount of time, we discovered that our flight was late by half-an –hour. JOY. We finally boarded the flight at 4:15 and after four straight hours of television and remembering our experiences, we landed in Bombay, sad to be saying good-bye to us all, scared at the amount of school work we'd have to make up and overjoyed at the thought of going home. This was undoubtedly one of the best experience of our lives.