Round Square International Conference
Indian High School: Dubai
20th to 24th December 2015
Schools from every corner of India and the Gulf joined arms at the Indian High School located in one of the world's leading cities; Dubai to take part in the Senior Round Square Conference. The theme of the conference was, "DYNAMOS," aka Dynamic Youthful Noticeable Ambitious Magnificent Organized Scholars. At first this struck me as an unusual theme for a Round Square conference but the wittiness and the open ended-ness of the theme only struck me later. The conference revolved around two of the six main pillars of Round Square: Leadership and Adventure and how they go hand in had to form the term 'LeadVenture'.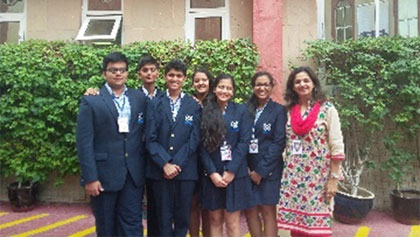 It would seem unfair if I do not begin this write up by recognizing the efforts of the Indian High School for planning such an action-packed itinerary and for making my stay far beyond memorable. The itinerary was tuned in accordance with the two pillars of round square leadership and adventure. In order to bring out the hidden leader in each one of us we attended three keynote sessions from renowned speakers, one of whom was the CEO of the Indian High School itself. Through these keynote sessions these leaders, in their respective categories gleamed their knowledge onto us. They spoke about the different types of leaders, different circumstances under which a leader must act and most importantly how to become a good leader. These teachings were later put to test in Barraza sessions where the delegates discussed pressing global issues such as climate change and participated in other activities that further instilled the qualities of teamwork and leadership in me. Through these avid and fruitful discussions discussions I learnt invaluable life lessons that came to me as an eye opener.
Moving on to adventure; what better place to explore the pillar of adventure than Dubai. There was a plethora of activities that had been organized for us ranging from the desert safari to the city tour. Four days is feels like an extremely short time to explore a place such as Dubai, but we did it all. The desert safari allowed the delegates to immerse themselves in the true picturesque nature of the Gulf region, I am deeply thankful for having been given the opportunity to indulge in this truly enGulfing ride. We also visited iconic locations in Dubai such as the the Burj Khalifa and the Dubai Mall or as some like to call it the, "DoBuy" Mall. The most enriching experience however was the trek at Al Wadi. I can say with confidence that every participant would have enjoyed this trek to the fullest.
Lastly I would just like to thank everybody who transformed this conference into unforgettable experience for me. This conference has given me so many invaluable that I will never forget and it has also taught me so many things that I will strive to inculcate in myself. After having attended this conference I truly feel like a more 'dynamic' individual. -Sabhya Chhabria
Reflections - Urshita Vaishnav
To say that the regional round square at Dubai was one of the best experiences would be a major understatement. A round square conference has always been of interest to me, the mere concept of being plunged into a room full of strangers and leaving with an assortment of friends from different places and different background is simply intriguing. To even think that one can begin to trust another in simply the span of four days is rather mind boggling to even imagine, but that's exactly what round square is, and that is exactly what I experienced. From the reckless desert Safari to the hectic visits to the mall everything culminated into one memory that I will cherish. Apart from our budding friendships and day excursions this conference was one of the most fruitful ones I have personally been to. From our fiery debate in the Barraza sessions to the genuinely informative talks on leadership I was honestly well informed about the qualities a leader must have and the qualities one shouldn't. I cannot possibly emphasise both the utility and the joy of this conference. This was one opportunity I am grateful to have gotten and I will cherish those four days forever.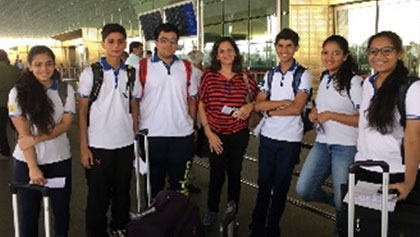 Reflections - Nisha Srivastava.
Day 1 - 20th December 2015
We had an early start. We reached the international airport at about 10am. While we waited for each other to come, our parents spoke to each other and our teacher, Miss Manisha. The flight to Dubai felt short due to the movies we all saw, nonetheless it was pleasant. As soon as we landed, we impatiently and excitedly changed the local time on our phone to the time in Dubai. On reaching the school, we were all really amazed by the campus and hospitality of the teachers and students there. We were given snacks along with a special Round Square bag which contained a t-shirt for us, a pen, a writing pad and of course, the wifi password! This was followed by an entertaining ice-breaking session where we were divided in to 10 groups. Each group was given a box full of objects with which we had to create an advertisement. This helped us open up and get to know people from other schools. The day ended with an enjoyable dinner.
Day 2nd – 21st December 2015
The day began with all students proudly walking down the corridors in their school uniforms, getting ready for the opening ceremony and our very first key note speaker. The opening ceremony began with the introduction of the schools present. Each school had one representative holding their school flag. After this, the students of the host school, The Indian High School, gave incredible performances, which radiated of both, Indian and Middle Eastern culture. After this, we heard our very first Keynote speaker. Mr. Pradip Kumar was a brilliant speaker. He made his talk very interactive. Since the theme of this conference was Leadership and Adventure, he spoke about the importance of leadership, what makes a good leader, and more. As soon as his talk was over, we went in to our first Barazza session. My barazza group was a lot of fun. Everyone had so much to say. I have always appreciated public speaking activities. So, this helped me improve on that. After the barazza, we went for a desert safari. We were warned about the sand dunes and how we may puke due to motion sickness but luckily, none of us did. A dinner and a few performances by the people over there followed this.
Day 3rd – 22nd December 2015
We went to the City Centre in the morning. At the mall, we did the 'Sky Trail', which consisted of zip-lining related activities, and we did bowling. If time permitted, we were allowed to browse through the mall. After we came back, we were given a wonderful surprise. Each school got to plant one tree in the school's vicinity. This helped in improving our teamwork! We had lunch. This was followed by another spectacular Keynote speaker. His name was Mr. Amit Kumar. He was the teacher representative of The Assam Valley School, Assam. Since he was a teacher himself, we could relate to a lot of what he said. He also showed us interesting videos. By the end of his talk, a lot of us were motivated to strive and do well in the future. We had our barazza session after this in which, we had heated debates on statements set by the teacher. We came to a lot of conclusions, and as usual, everyone spoke. In the evening, we set out for the city tour and shopping in the mall. We saw the Burjh Khalifa, took loads of pictures. While walking to mall, we saw the renowned fountain show which was mesmerizing.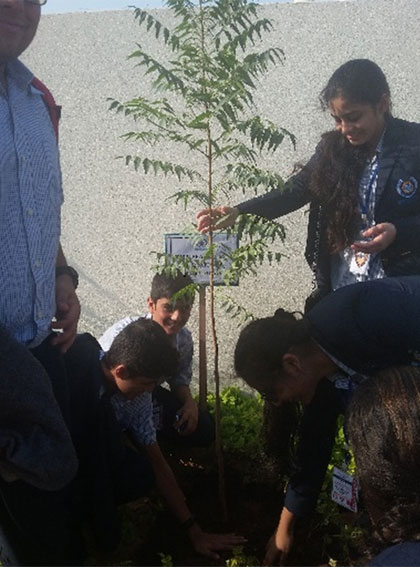 Reflections: Arya Kadakia
On the 20th of December, six of us from Grade 10 flew to Dubai for the Regional Round Square Conference: 'DYNAMOS' in the Indian High School. While most of us were already seasoned Round Square participants, we were quite eager to spend four days in the melting pot of both, ultramodern luxury as well as deep-rooted traditions.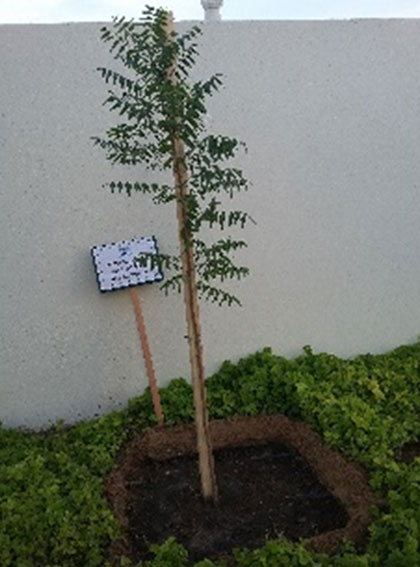 The Indian High School dorms had the feel of a home away from home. Comfortable accommodations, hospitable staff and delectable Indian treats greeted us at our arrival. We were soon ushered into the auditorium for an insightful introductory video which was followed by the ice-breaking session. Delegates were split into different group in which they had to undertake entertaining activities together and after an exhausting dance-off, delegates returned to paint plates with images embodying the spirit of Dubai before heading back to their rooms.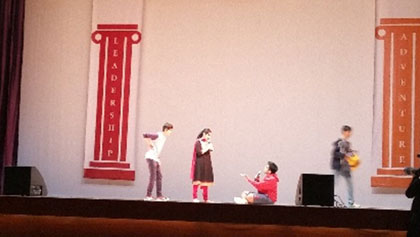 The formal opening ceremony in the main campus boasted the proud flag bearers of the schools and concluded with a leadership talk. After the Conference picture, we soon headed to our respective barazza sessions. The renowned barazzas held conducive debate on the topic of leadership. We indulged deep into its meaning and ways to implement it in various social scenarios. We returned to the dorms and were surprised with the opportunity to grow our own saplings with our school names emblazoned on a signpost adjacent to it. The final activity of the day was a desert safari wherein we surfed the dunes in our school SUVs with full knowledge of the strict repercussions of being queasy! The encore of the safari was a traditional performance in the heart of the desert and an array of authentic dishes.
The third day began with a visit to a mall for the Sky Trail, an obstacle course twenty feet in the air! This was followed by an exciting bowling match and an opportunity to further mingle with our fellow delegates. We returned to the school for another inspiring, not to mention interactive, leadership talk and a team-building barazza session. In the evening we got the opportunity to marvel at the famous sites of Dubai in a city tour. We ended the tour with the magnificent Burj Khalifa fountain show and the chance to shop in Dubai Mall! Finally understanding the meaning of 'shop till you drop', we returned to the dorms exhausted.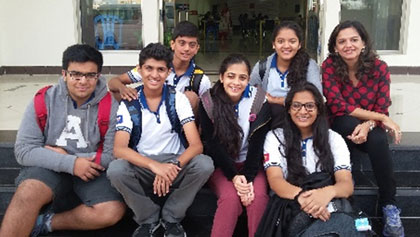 Day fourth began with a trek in the Al Wadi mountain range. Scaling the mountain till its peak, we were offered captivating views of our surroundings. We returned to the main campus for an interactive session with the CEO of the school and made presentations explaining our interpretations of 'well-being'. It was finally time for our cultural. School performances ranged right from traditional dances to the latest pop songs. Our school delegates decided to portray an anecdote from Mr. Dhirubhai Ambani's life in the form of a skit. The penultimate activity was a miniature boot camp in which schools competed against each other. We ended the day with a dance party and indulged in a feast laid out on the field. As we danced below the pristine Emirates sky, we finally came to realise that this journey of ours had come to an end. Hurriedly exchanging Facebook profiles and Instagram ids, we said farewell to our friends who had been strangers just four days ago. As one of the teachers rightfully stated, we had transformed from different school delegates into one family. Connected by our mutual love and respect for the Round Square IDEALS, we had gotten the opportunity to channel our appreciation through this conference. In this brief time, we built strong friendships, learnt invaluable lessons and made unforgettable memories.