Round Square Conference Bangalore
Genesis Global School, Noida
On the 29th of May 2016, a group of us DAIS delegates, thirsty for knowledge embarked on a new journey, which led us to Genesis Global School in Noida, to attend a Round Square Conference, for 5 days. There were seventeen other schools, represented by delegates of our age group. The theme of the conference was 'Empowerment, Spark the light, ignite the dream.' We expected this conference be informative and enjoyable, a new experience for all of us and hence we were very excited about it.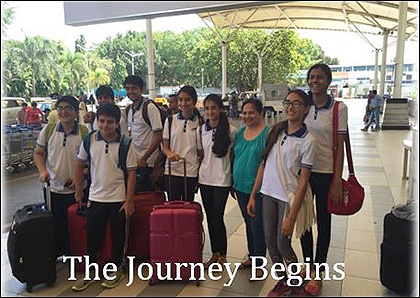 The activities were based on different themes. One of the most fun activities was the first night's dinner. We were unaware that we would be randomly put into a group and each group would dine separately, higher, middle and lower class. We were all served different meal depending on which class we sorted in. It was astonishing to see everyone's reaction to this, where different groups had different views.
The most informative were the sessions by the Keynote speakers and the Barazas (means 'Discussion') that followed. Apart from all the fun and game part in these sessions, we discussed some uprising issues related to the environment. These keynote sessions and the consecutive Barazas made us aware of the current problems faced by our county. They sharpened our critical thinking skills as during these sessions we had to come up with impromptu ideas and suggestions to lead the discussion in the group.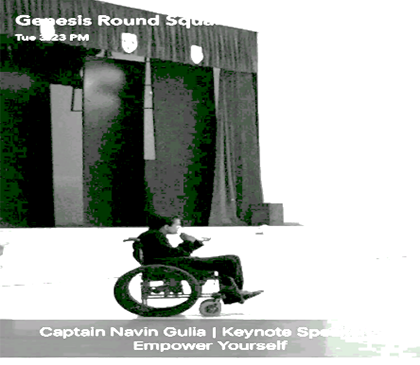 The service activities were conducted at a village called 'Gheja', where we got to interact with the underprivileged children. Their school had a basketball court, which we helped decorate. What an amazing experience, to have touched so many lives, by just doing something small like decorating the court.
The adventure activities revolved around the ideals of adventure as well as leadership. There were many games and activities including rock climbing, balancing etc. This required not only physical strength, but also teamwork and cooperation. We went for this activity thinking about only its aspect of adventure, however we were left thinking about the multiple skills that were garnered during this experience.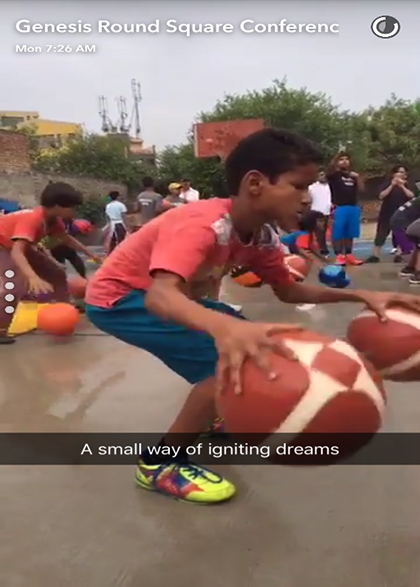 We also visited the Parliament Museum, an interactive museum that brought alive the democratic heritage of India in the form of an interactive story. There was a life size version of the Sanchi Stupa and an exhibit that reconstructed the iconic Dandi March lead by Mahatma Gandhi, which helped all of us participate and live those moments. One of the most special experiences, was reliving Jawaharlal Nehru's historic speech, a lifetime experience of its kind.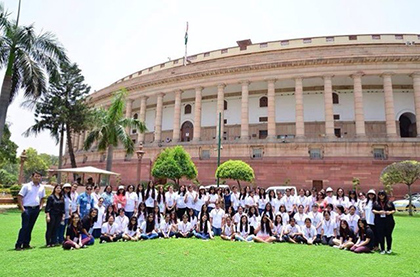 The concluding phase of the conference was the cultural performances by the different schools. We presented our skit related to the conference theme very innovatively and it was appreciated by one and all.
During this trip we learnt and enjoyed more than we had expected. We made many new friends and it was really a thrill for us as we experienced hostel life. We were sad to leave at the end of the conference but without a doubt this definitely was the best trip of our lives.
Reflections

For me, my WOW factor was getting to experience a little of what life was like in the Third World, which enlightened me to the struggles that other less fortunate people face. – Sachi Maskara

Over the 4 days of our conference, I learnt the most from the baraza sessions.
Not only did I get to interact with many kinds of people, but also learn a lot from their different point of views. Many important topics related to empowerment were covered. – Paree Rohera

I have to say one of the most exhilarating parts of the conference was meeting other delegates from other schools of different ages and backgrounds. Although our conference ended, we are still in touch with the wonderful new friends we made. – Zara Shroff

'This conference has been so memorable! The baraza sessions were the best part for me where we all discussed empowerment, took part in debates and interacted with one another and made life-long friends'.– Kiara Bose Roy

I loved the Baraza discussions and games and thoroughly enjoyed myself at Genesis Global School. - Yuvan Chugh

The wow factor of the conference was the baraza sessions where we got to learn so many new things and interact with so many new people – Yash Kothari

I feel that the best part of the trip was that we were completely independent. We got stay in our own rooms and the campus was amazing – Siddharth Makharia

For me, the best part of this trip were the speeches of the keynote speakers. I expected them to be boring but they were fun as they included jokes as well as many pointers on how to be a better individual. – Hriday Chhabria