Round Square Conference Jodhpur
Rajmata Krishna Kumari Girls' Public School
The RKK Round square conference was an excellent experience for all of us who attended it. It was a great opportunity for us to learn how different schools work. It was amazing staying in dorms with about 50 other girls who I did not even know. This trip planted a small seed of courage in a very shy girl. I met so many new people and made great friends over this trip as well. My confidence level is also boosted up. Moreover, i enjoyed my conference experience, whether it was the zumba dance practices, Barraza sessions, the informative keynote speaker sessions, ice breaking sessions and much more! Although, I had the most fun in all the activities we did like the PAINT HOLI! It was truly amusing. All my fellow companions had fun drenching themselves in a burst of colors. The hospitality of the RKKGPS family was really nice and they welcomed us as if we were a part of them. The food served too was delicious and i loved it. All the students were so sweet to us! I really did not want to leave at the end. On the last night, we all shared our numbers so that we could stay in touch. I thank the DAIS community and the Round Square for giving me such a great opportunity for portraying my talents. I especially thank Miss Lorraine for taking care of me throughout this trip and teaching me new values.
I also thank Miss Manisha for seeing my talents in the first place, and i would love to go on such a trip again.
Day 1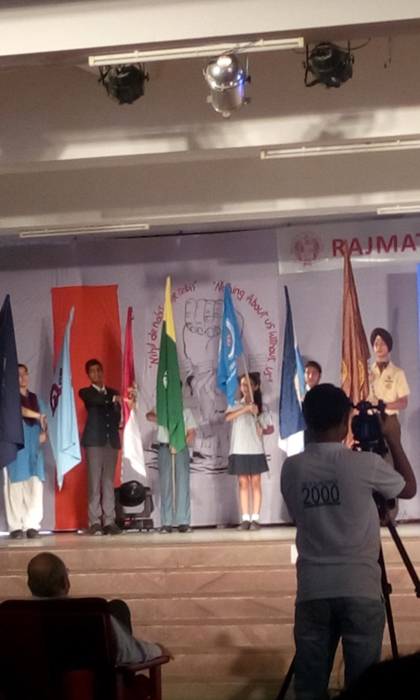 On the first day we arrived at Jodhpur and settled in our dorms. We then interacted with the other delegates. The home delegates made us feel welcome and at home. They were very hospitable too. It was great to have some company at that time. We also strolled around in the campus, with the RKKGPS girls, who showed us around. The campus was huge! It was also really pretty and well-maintained. At night, right before dinner, we had an ice breaking session where we met the delegates and played games. Dinner was just fabulous. We were served with an array of south Indian food which was delicious! The Round square team then sent us back to the dorms as we had an early start.
Day 2
We were woken up at 5 am to go for the famous zumba lessons all the girls had been talking about. We learnt many new dance steps and enjoyed the 1 hour of constant sweat. The whole experience was really interesting and woke us for the entire day. We then went back to the dorm to freshen up, as we had a long day ahead of us. Our day started off with a lovely breakfast.
After breakfast, we assembled in the auditorium for the flag bearing session. It was the opening ceremony which signified the start of the whole conference in which each of the 24 schools participating sent out a student to bear the schools honor by carrying the school flag. Our school was represented by Raashi.
After a short break, we had informative speech by the keynote speaker. I gained a lot of new knowledge about democracy. We were then divided into our baraza groups and our topic was democracy. Post lunch, we went for the artistic activities where we painted masks with different flags of the various countries. I painted the flag of New Zealand. Then we went to paint the "special surprise" which was a large masterpiece of Late A.P.J. Abdul Kalam.
Right after dinner we were taking to a large, open room where we were given the liberty to splash paint all over each other! What fun we had! Drenched in paint, we staggered outside, about to head to our dorms, when we heard an announcement that we were going to bathe under the water sprinklers of the lawn with the DJ's music! It was truly the best thing I could ever ask for. We then freshened up and before I knew, I was fast asleep on my bunk.
Day 3
Instead of the usual, we were woken up half an hour earlier, as we had to go sightseeing to a famous fort. We were also supposed to go for a cultural walk along the rural side of the city. After a quick snack, we left in the bus for the fort. We got to know how the Jodhpur forces were armed, their attack strategies and much more. We also bought several souvenirs from the gift shop there.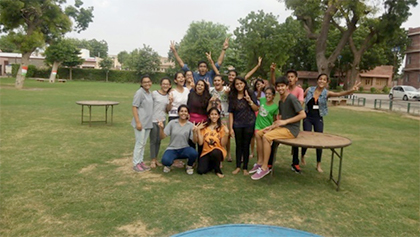 After lunch and again assembled in the auditorium for another session of the keynote speaker. But this time, we had a special guest within us. The king and queen of Jodhpur had specially come here to meet us, the delegates! It was such a good opportunity! I was truly delighted and honored. After the felicitation of the royal couple, we watched a mime put up by the RKKGPS family. Followed by that, came the keynote speaker's speech, which was very enlightening. After that, we were divided into our baraza groups (again, like before). We discussed many current affairs related to democracy. After the brief session of discussion we had two hours of free time to practice our cultural presentation. It was quite interesting and fun filled. We had a lot fun doing it! Our spirits were refreshed when we attended the jam night. It was the coolest thing we had done yet.
Day 4
Today we had to present our cultural presentations. We mostly had a free day, except for the zumba session in the morning. Right after lunch all the delegates got together and clicked many pictures. It was amazing to make so many friends! We had a friendly basketball match. We cheered loudly and enthusiastically for each and every player.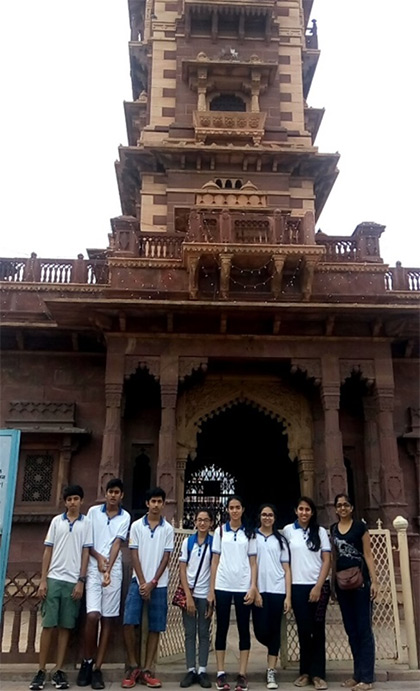 At night, we watched all the other presentations and performed ours as well.
Followed by that, came the closing ceremony which officially declared the Round Square Conference held by the Rajmata Krishna Kumari Girls High School. For a brief half an hour, we all flooded the dorms with pools of tears as we were going to miss each other so much!! After saying all our goodbyes, we finally managed to grab some sleep before our journey the next day.
Day 5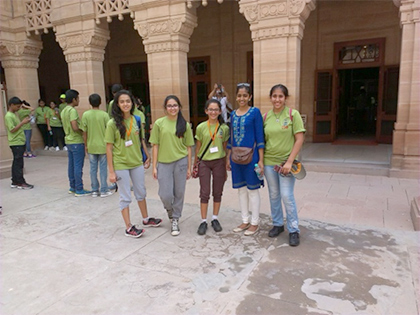 Today we could FINALLY sleep till late! We slept peacefully till 8 with was utterly blissful. As soon as I woke up, I got to get my suitcase packed, which looked like a hurricane had just passed overhead! We thanked the principal and said goodbye, as we boarded the bus to the airport. As I boarded the flight, there were a hundred memories swirling in my head of this wonderful trip I had just been on. I really do hope I could go on such a wonderful trip again.