Round Square Conference
Rajmata Krishna Kumari Girl's Public School
Theme: Latitude avec l'altitude 12th Aug to 16th Aug, 2016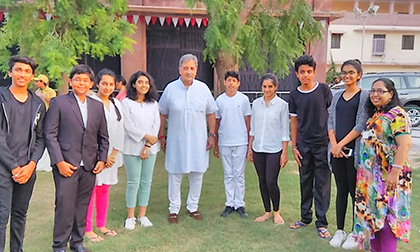 The skills the eight of us have developed, the friends we found, the experiences we had and the memories we made within these four days can barely be summed up. We were welcomed warmly to the school by our escorts on the first day. Little did we know that in time, we'd be leaving these gates as changed people. The conference began with imprinting our palms on the conference wall and admiring the beautiful campus. Finishing our meals, making some friends and getting accustomed to the big dorms were followed by a fun ice-breaking session. We were all made to play team-building activities and interactive exercises to encourage us to move out of our comfort zones and make new friends.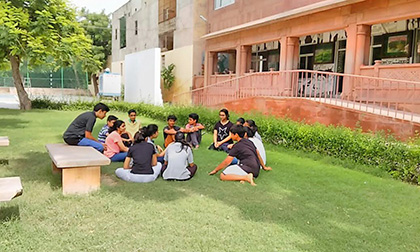 The first day began with a 5:50 AM wakeup call and more than an hour-long of an energetic, outdoor Zumba session. It definitely made sure that we were awake as ever! A hectic shower routine (with over 30 girls sharing 3 bathrooms) introduced us to the excitingly difficult 'boarding school life'. This was followed by the opening ceremony, an inspiring performance by the host school and the conference photo. The cameraman's desperate calls for us to smile won't be forgotten anytime soon. The keynote speaker, Mr. Pradeep Upadhyaya, a motivational speaker, considered to be one of India's leading minds spoke about effective communication, lateral thinking and several other aspects of leadership. Heated Barraza sessions debating on the traits of an accountable leader ended with a relaxing fun game which seemed to be a specialty of their school (Oui-Oui!) We were later divided into different groups and asked to direct a street play, design brochures and draw posters on any pressing topics that affected our country. Strong opinions on topics such as farmer suicide and corruption were expressed.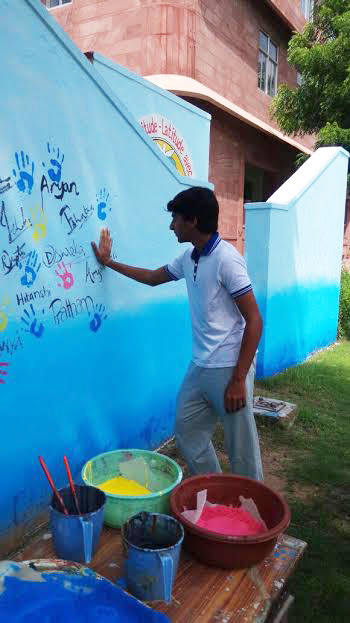 Before we knew it, our second day had already begun. Another Zumba session and chaotic shower routines were followed by yet another key-note speech by Mr. Upadhyay, this time highlighting vulnerability and true strength through contemporary movies and books. Another Barraza session on specific world leaders, their similarities, their differences and eventually our role in the future of leadership was discussed. Half the day seemed to flash past us as we came closer to the heritage walk. We explored Jodhpur's Umaid Bhavan Palace and Mehrangarh Fort only to learn more about the city of Marwar as it was centuries ago. We returned only to find the most fun Jam night planned for us and the most delicious food prepared for after. All of this was enough to let us forget our weariness from the throbbing Jodhpur sun. And so, for the next few hours, we enjoyed a night we wished had never ended.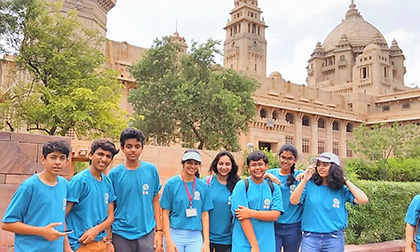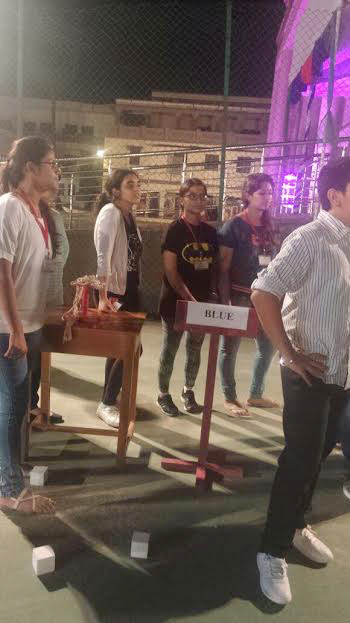 The next day, the 15th of August began with our Independence Day celebrations and the flag hoisting. This was followed by a leadership quiz conducted between delegates from different schools. Some free time, the mesmerizing cultural performances, the closing speech, the closing ceremony, and then came the tears. It finally hit us that this conference had come to an end. Luckily for us, we had another day to spend exploring the city and its markets with the friends we had made from the Vivek High School of Chandigarh. This day and the following night, seemed to never end and yet, ended too fast. And so, the following day, as popularly said in the conference, 'we did not say goodbye, we bade farewell and we promised to see other again, someday.'
-Report compiled by Hitanshi Badani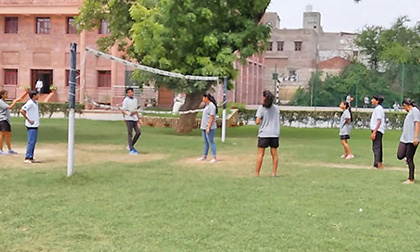 Reflections:
The experience at the Rajmata Krishna Kumari Girls Public School was unique as ever. Good times come and go but these memories will last forever and I hope that one day we all meet somewhere for another purpose and relive those moments just another time. -Manav Mody
We thought it would be like any other ordinary class trip, not knowing we would return back home with abundant knowledge, thousands of memories and lots of new lifelong friendships. The hosts were warm and welcoming. I hope I get a chance to attend many more Round Square conferences and learn a lot more. -Krishni Jumani
This conference was a package of 4 days of endless memories, sleepless nights, tears caused by laughing and unforgettable friendships. As a boy, born and brought up in a metropolitan city like Bombay, this was definitely an experience I wouldn't want to miss out on. -Aryan Bahl
This conference didn't only teach me the true meaning of leadership and learning but also to have fun at the same. I can say that this was one of the best experiences I have ever had in my life. -Aryamaan Dholakia
This was my first Round Square conference and at first was worried if the people would be nice, would they like me? But once I went there and got to know them, all my 'fears' were gone. All of them were very approachable and friendly. I had a better time than I had ever expected. -Pratham Mehta
Different cultures, different people, different ideas were brought under one roof and put together. Every school had its own very special contribution. This conference was undoubtedly unforgettable, it has not only enriched my experiences but also gifted me many memories and given me the chance to meet many wonderful people. -Muskaan Ghai
Bidding adieu to our friends from all across India and exchanging our contact details too made us learn how hard farewells were. We will surely miss the school, the city, our friends and our experiences as we come back to reality however these experiences shape our minds as leaders of tomorrow. -Ananya Chhabria
What leaders can lead without their experiences and past wisdom and anecdotes and acquaintances helping them learn, take risks and make decisions? And whether we know it or not, this conference has gifted us all of those. -Hitanshi Badani
DAIS DELEGATES:
HITANSHI BADANI, MANAV MODY, ARYAMAAN DHOLAKIA, MUSKAAN GHAI, KRISHNI JUMANI, PRATHAM MEHTA, ANANYA CHHABRIA, ARYAN BAHL
ACCOMPANYING TEACHER: MS. KAJAL MANGLANI