Young Round Square Conference
The Daly College, Indore
'Somewhere Over The Rainbow, Dreaming Of A Beautiful World'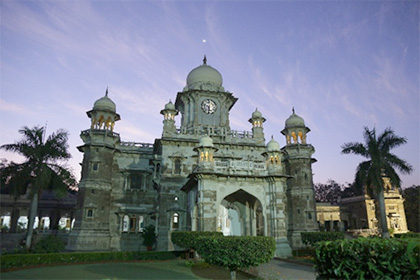 From the 4th to the 10th of January 2016, eight of us accompanied by our teacher Miss Pratima Sridhar represented DAIS at the YRS Conference at The Daly College, Indore.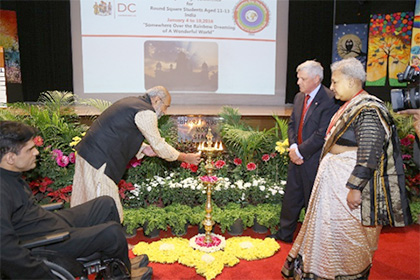 Day-1 (4th Jan 2016)
- Representatives of Daly College (the DC Team, as they called themselves) welcomed us at the Indore airport and we were taken to our respective dorms. After lunch at the B.U.M. Club on the campus, we registered ourselves at the Darbar Hall and collected our conference T-shirts and a goody bag. The team DC got us familiar with the vast 115 acres of campus with an interesting race. This was followed by a wonderful soft opening ceremony with music, dance and followed by a multi-cuisine dinner. Soon after, we had "lights out" at 9:30pm.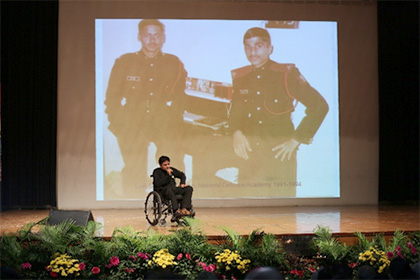 Day-2 (5th Jan 2016)
- The dorm master awakened us at 6:00 am and we reached the Auditorium at 8:30 am for the formal Opening Ceremony. The Host school performed a cultural ritual of folk dances after which we had the Flag Bearing session. Next, we had an inspirational speech by our first keynote speaker,
Captain Navin Gulia
. An army officer paralysed from the waist down due to an injury, Captain Gulia was unable to realise his dream of becoming a General. He, therefore, began helping poor street children to realise their dreams. He has already sponsored many of them through his organization "ADAA" (Apni Duniya Apnaa Ashiyaana). Our first Barazza included sharing our views and thoughts on Captain Navin Gulia's speech. After a quick lunch, we had a visual and performing art workshop where we had many activities like block printing, learning the theme song, Warli art and dance. After tea at 4:00 pm, we had a service activity with sports for the underprivileged students and we handed them the gifts. We also played games like the 'Jalebi Race' was simply unforgettable! Finally, we practiced for our cultural evening and after dinner at 7:30, spent time with our new friends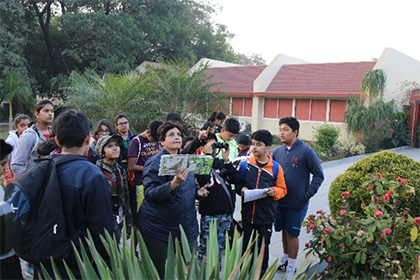 Day-3 (6th Jan 2016)
- We woke up at 5:30 a.m. and assembled for our first session of bird watching by 6:30 a.m. DC Campus boasts of around 183 species of different birds of which we were able to spot the yellow wagtail, rock pigeon, white breasted kingfisher, swans, purple sunbird and peacocks. Post breakfast, we assembled in the auditorium to listen to our 2
nd
keynote speaker,
Mr. Dyu D'cunha
. He led us to our next activity '
Colour Connect
', with a brief, but very impressive session on teamwork. We were divided into groups, given canvasses and paints with a picture to replicate. Our individual group works were combined to form one large single painting. A practical lesson in team work, indeed! In our second Barazza group session, we reflected on our performance in the teamwork and awarded each other star stickers on the basis of leadership, creativity, teamwork etc. After a delicious meal and some rest we took on the 'Warrior dash', in which we had to work in a team, collect a clue and use it to figure out the next task. Both the 'warrior dash' and 'colour connect' helped us to understand team work and make new friendships while having fun simultaneously. We ended the day on a high note as we were dancing around the roaring bonfire. Thus, it was a fun filled and exciting day while learning the important lessons of team work.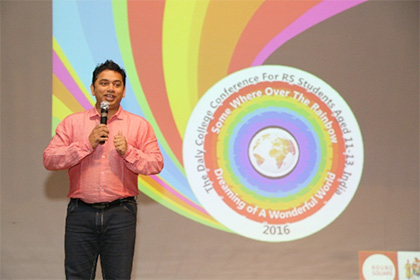 Day-4 (7th Jan 2016)
- Our keynote speaker of the day, Mr Ribhu Vohra, is the founder of the company Wasteless. He said that around 95% of world's trash is dumped in landfills, 4% is recycled and 1% is used as compost. Companies have recently started using a method called "green-washing" where they make it appear as if their product is eco-friendly when it actually is not. Mr Vohra taught us how to identify when a product is green-washed. A Barazza group session trailed Mr Vora's keynote address. In the environmental activities that followed, we played a fascinating card game called 'Pick-it-up' in which we learnt about different materials and how they can be recycled. Lunch was short, followed by a visual and performing arts workshop. Later, a multicultural evening was organised where every school represented at the YRS performed. The performance by the DAIS delegates rocked! We rounded off the evening with a dance where a DJ provided some scintillating music. A multi-cuisine dinner preceded the usual "lights out"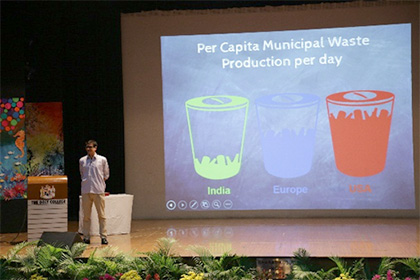 Day-5 (8th Jan 2016)
- We left for Mandu, the City Of historical interest, at 7am. After 2 hours of travel, we reached the foot of the Palace Of Mandu. The story goes that when Baz Bahadur, the king, had gone hunting in the woods, he heard a voice singing. On investigation, he discovered it was Rani Rupmati. He invited her to live with him. She accepted on the condition that she should always be able to see the river Narmada. So the Palace Of Mandu was built for her on the banks of river Narmada. The story ends tragically. An envious army general attacked the palace. Baz Bahadur fled and Rani Rupmati consumed poison and died. After a delicious lunch, we continued our journey by visiting a series of palaces devoted to Rupmati. We also visited the Great Hoshang Shah's tomb and walked the secret underground pathways, which were actually dungeons. After the visits, we were divided into groups and we chose among the activities planned like, writing an article, a poem, sketching etc. A long 2-hour journey carried us back to the Daly College in time for dinner. We used our free time to set up an arts and crafts workshop and rehearse for the closing ceremony.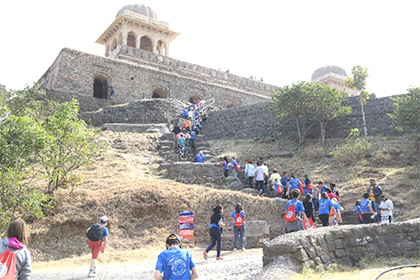 Day-6 (9th Jan 2016)
- Bird watching, Yoga and meditation, closing ceremony and the Indian Carnival were the activities lined up for us on 9th January 2016. By the third session of bird watching we had seen more than 30 rare and spectacular birds. After breakfast, at around 10:30 we went to the Dhirubhai Ambani Auditorium, to witness the closing ceremony. The conference statement was shared. The logo of the conference was crafted on stage using the key words from each baraza group to make the word 'VIBGYOR'. The delegates displayed their talents from the workshops attended during the conference. Whether it was the 'Bhangra Dance', 'Theme song – Over the Rainbow performed or 'Story telling', the delegates amazed everyone with their stupendous performances. Mr. Guy McLean then declared the ceremony closed. Post lunch and personal time to pack, we went for the Indian Carnival! The small entrance to the carnival opened into a jaw-dropping vast field that housed stalls, rides, food pavilions and tiny handmade huts that were designated photo spots. Small, scattered bonfires lit up the evening. There were stalls selling pottery, trinkets, keychains, bangles, painting, earrings and many such items. A stall boasted merchandise like clocks, wreathes and picture frames.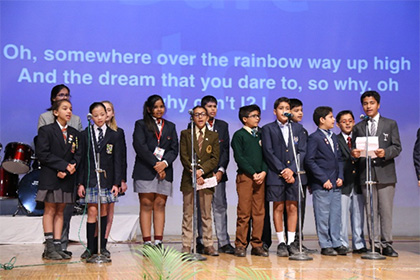 Incredibly, these were made from – COWDUNG! This stall owner could teach a thing or two to the proponents of "Reduce- Recycle-Reuse" mantra. We enjoyed the horse rides, carriages and camel rides. Not unexpectedly, food stalls were over-flowing with the hungry hordes. A solitary chaiwala (tea seller) was running out of the small earthen pots he used for cups! The evening was rounded-off by a delightful magic show, followed by a traditional dance show from the dancers from West Bengal. The grand finale depicted the story of Lords Brahma, Vishnu and Shiva.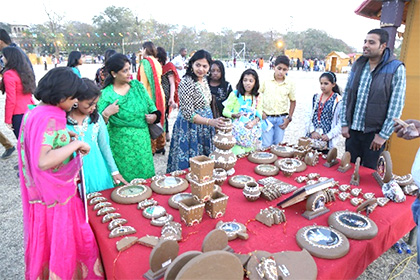 Day-7 (10th Jan 2016)
- After spending almost a week expanding our knowledge and widening our horizons at the humongous campus of Daly College at Indore, we bid farewell and returned home. The "Young Round Square Conference" had presented us with a new, entertaining way of learning. It truly was a memorable experience!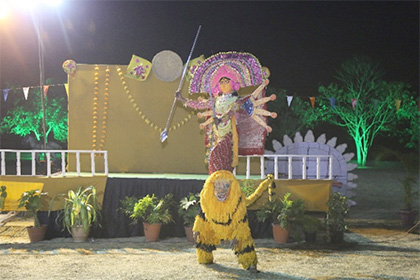 OUR REFLECTIONS
Aayushi Nainan – It was a great experience and I enjoyed learning and making new friends.
The best moments for me were to see so many birds, the talent among students and the chat sessions with my room mates in the dorm. - Arzoo Usgaonkar.
I loved everything at the conference and I made many global friends and have learnt a lot. – Akaesha Tandon.
Aarna Dalal– A thrilling experience, the best part was making so many new friends.
An amazing experience, full of learning, new friends and an unforgettable experience. - Ahaan Bhansali.
I cherish every moment of the conference especially the ones where I made so many friends. An unforgettable experience. – Armaan Shaha.
Shay Khanchandani – Walking around the vast lush green campus with my new friends was an amazing experience. This experience has helped me become aware of the world around and also made me a more reflective person.
Dev Mehta – The conference has taught me to be more organised. I made many new friends and it helped me develop more confidence.
By The Delegation representing DAIS at The Daly College, Indore.