Young Round Square Conference
The Emerald Heights International School
'Legislate, liberate and lead' - June 7-11 2015
On 7th June, 2015, seven of us from DAIS went to The Emerald Heights International School, Indore for a YRS conference. We were received with a warm welcome, followed by an ice breaking session introducing us to our new friends. The team games such as 'rubber chicken', 'human football' and 'going to the island' helped break the ice between the participants.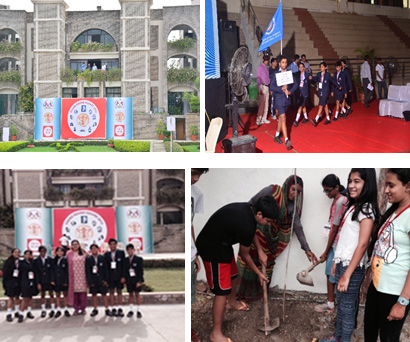 The next day was the opening ceremony followed by the flag bearing ceremony. This was followed by an orientation by keynote speaker, Mr.  Keshav Gupta. Our barazza groups included
Public Speaking
(Thatcher),
Theatre
(Shakespeare),
Bal Panchayat
(Gandhi) and
Parliament
(Mandela). This was followed by sessions by two more keynotespeakers, a theatre session by Krish Bedi and Social Problems by Shourya Upadhyaya. The day ended with an excting time at  Nakhrali Dhani, a Rajasthani fair followed by traditional Rajasthani meal.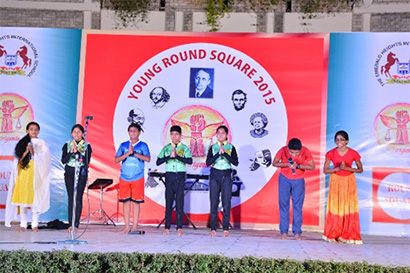 On day two, students planted trees in a large field located within campus. After another address by Keshav Gupta on Panchayats, students visited a local Panchayat in a village to understand its functioning. The evening started with an cultural ceremony followed by the DJ night.
Day 3 - We visited a school for the hearing impaired, learnt sign language as we interacted as a part of community service. We performed a role play on the Parliament. We debated during a baraza session about getting a school/ hospital being built in a rural area. We painted on a 15 meter piece of paper in the session on Expressions of feelings using colours. Every barazza group performed a play after which the conference was officially closed. This was followed by a formal dinner with the principal. Our trip to Indore was very eventful with the highpoints being interacting with the hearing impaired, a truly enriching experience; getting the feel of a dormitory and making friends for a life time.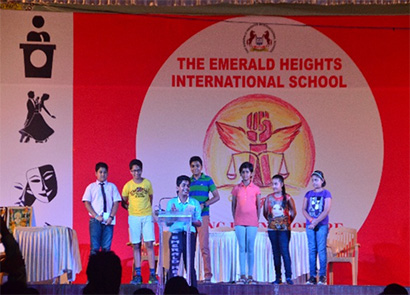 By DAIS delegation - Eesha Bodapati, Aman Acharya, Adit Kadakia, Insha Lakhani, Jispa Doshi, Prarthna Chabria, Krish Thakur.