Round Square International Conference
At the Bengaluru International School
"Being Green" was the conference theme. Students were divided into different groups and the activities shaving balloons, walkpast, dancing etc. There was a session on Organic farming and making the best out of waste. Students were first shown the daily dump pit and given valuable information about the necessary agents to be added to the waste and the required methods to be followed in order to assist proper decomposition. This was followed by a visit to the kitchen garden maintained by the students of BIS.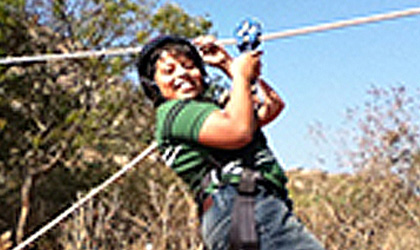 Students were then broken up into smaller groups and each group made their own little vegetable patch. The learning about the right proportion of soils mixed, quantity of water, aerating the soil etc were indeed invaluable. The art activity was based on making the best out of waste. Students made beautiful murals by using waste materials such broken discs, bangles, pebbles, chart paper, cans, etc. Beautiful outlines of underwater world, hot air balloon and a tree were filled in with the waste materials to make the wonderful murals.
On the 3rd day students paid a visit to a hotel called 'Our Native Village'. It was very informative and students learnt about how this place was built to be environment-friendly. 'Our Native Village', produces zero pollution, and uses a minimal amount of electricity and synthetic materials. There are no air conditioners or fans as the rooms are made of mud bricks which act as a coolant for the rooms. Each room has a traditional painting made with organic materials. Even the shampoo bottles and soap dishes here are made of clay. 'Our Native Village' has replicas of ancient carvings or 'Hero Stones' from the 4th century to the 16th century. These stones were placed on battle fields since the 4th century. The swimming pool there is the cleanest pool in Karnataka, and, surprisingly, has no chemicals and is cleaned biologically.