Senior Round Square Conference
Maharani Gayatri Devi Girls' School (Jaipur)
This report presents some of the memorable experiences at the Senior Round Square Conference hosted by the Maharani Gayatri Devi Girls' School in Jaipur from 17th November 2013 to 21st November 2013. 7 Students of Grades 9 and 10 from DAIS attended the conference
'Going Beyond'
which focused on the ability of every individual to make a difference in society.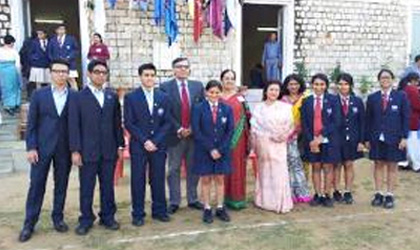 On the eve of the conference, an ice breaking session gave an opportunity for the delegates to interact and know each other better. The inaugural session began with the keynote address by Mr Sandip Dutt who spoke on 'Life as a Journey from Me to We.' Later, the delegates were taken to Jaigarh fort, located on the outskirts of the city where hydrology experts explained the excellent water conservation and harvesting system in the fort. The first session of Barazza was held at the fort where the delegates brainstormed on ways by which individuals could make a difference to society. The day concluded with the light and sound show at the Aamer fort which was extremely fascinating.
On the second day, the delegates were divided as per their Barazza groups and each group was taken to various service and environmental initiatives. Ms Andrea trains the economically challenged village students in rural Rajasthan in Hockey and also runs a school for them. The delegates were overwhelmed by the dedication of the volunteers. The other visits on the day were to a blue pottery unit, a block printing factory and the bird sanctuary on the Mansagar lake. In the evening, the delegates were treated to authentic Rajasthani cuisine at Chokhhi Dhani.
Day three of the conference began with a trek to a Jain temple on the outskirts of Jaipur followed by adventure activities such as rock climbing and rappelling. In the evening, the delegates put up a cultural evening displaying their talents in singing, dance and acting. On the final day the delegates came up with the conference statement followed by a wall collage by the delegates.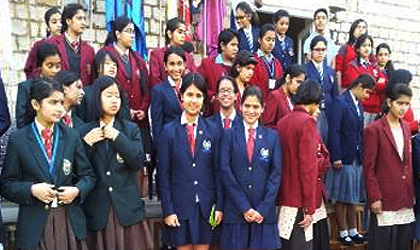 Interacting with students from 13 schools and making long-lasting friendships was the most rewarding experience for the delegates. Kudos for the hosts to conduct such a wonderful show!