Round Square International Service
(RSIS) Project–Ladakh theme Lessons From The Community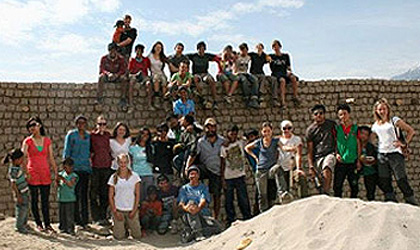 The philosophy of DAIS reflects the core of the IB curriculum: learning through community involvement. Such lessons enable direct experience of the world we live in and this leads to valuable lessons that develop a more sensitive and calibrated understanding of the world.Two students from DAIS – ShivamJumani and Purav Shah – were part of the RS International Service Project (RSIS) at the Lamdon Model School in the village of Thiksey, Ladakh. The first lesson was from the campsite itself – a stark contrast from the affluent lifestyle they are used to back home. Accommodation was in tents and the bathroom on the riverbank was literally a hole in the ground! They were responsible for their laundry too.
Round Square has been associated with the Lamdon Model for years. Last year when the RSIS service team built two dormitories for the school. This year, the RSIS team built two storerooms for the school, where they could store their stationery and food grains for the children living in the dormitories. Two lavatories with two cubicles each – for men and women --was built for the school's students and teachers.
The team also got a chance to interact with the students of the Lamdon Model School. They learnt that limiting circumstances cannot curb talent or creativity: the Lamdon kids' talent was obvious when the Service team taught them various things including perspective and shadows, stone art and creative writing. They also played many games with them like cricket, football and khokho which was awesome fun. The Service team and the Lamdon students painted the scenery of Ladakh on a huge cloth which was then framed in the school's dining room.
The most challenging part of the entire project was the five-day trek right to altitudes of over 5000 metres!
"There is more in you than you think" are the words of Kurt Hahn, the inspirational founder of Round Square. This is exactly what each one of them at this project realized. Everyone has the potential to do much more than they expect and this can only be realized when provided with an opportunity to do so.