Round Square Conference Trivandrum
Theme: Beacon of Hope
Dates of conference: 30th August 2014 to 4th September 2014
Day 1: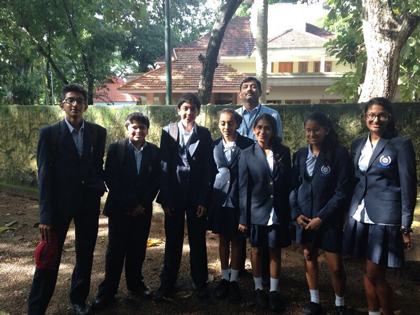 We were all very excited and looking forward to the day when we were leaving for Trivandrum. Finally that day arrived and on Saturday, 30 August 2014 we left for Trivandrum. We boarded a bus with two other schools, The British School and Pine Grove. We reached the host school, Trivandrum International School at six. They had put up various cultural programs for us which included a melodious song played by four skilled veena players, a beautiful dance in the styles of both Bharatnatyam and Kathakali, an amazing western dance and a simply stunning singing performance. Finally we checked into our rooms and slept not before realizing that we were actually in Kerala.
Day 2: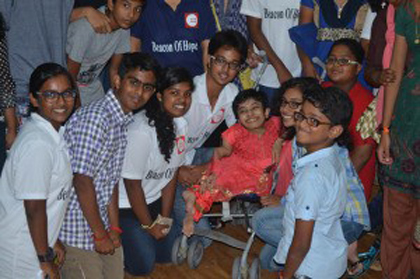 We were sorted into groups according to the colours designated to us. Colours groups Blue and Red worked together and groups Green and Yellow worked together. Blue and Red went to the Ambedkar house that was an old age home and school for the mentally challenged, while Green and Yellow went to the Cheshire house. Students interacted with the inmates of the place. They also worked at weeding the ground and planting tapioca saplings. After this strenuous activity was completed, students enthusiastically learnt to spade the ground under an expert trainer.
The Ambedkar home was very close to where we were staying. There we white-washed and painted walls. We also carried out little masonry jobs. We learnt a great deal about the functioning of the house and realized how hard the life for mentally weak people is. We came to know for a fact that their mental and physical ages were completely different.
Meanwhile at the Cheshire home, groups Yellow and Green had a very touching experience as they interacted with all the patients and heard about their lives. One such touching incident involved a man called Sameer who was in his late twenties. He had not been able to complete his degree in computers as he was disabled waist down after a bike accident. However, the great thing is that he has not given up and due to all the effort put in by the Cheshire home, he will be able to walk in a couple of years. We also had an interaction session with the old people of the home and learnt about their lives. There was a couple who had met at the old age home, fallen in love and got married. Later, students got involved in planting tapioca saplings after weeding the grounds.
In the evening all the participating schools had to perform their own cultural event. Some schools presented dances, some sang, while we presented a play based on the theme – topic of 'Service.' Every night we had to pen down our experience and our learning which was known as 'Reflections.' This trip has benefitted us as we were in a position to mingle with students of other schools and forge friendships. We made really good friends and have decided talk to each other regularly.
Day 3: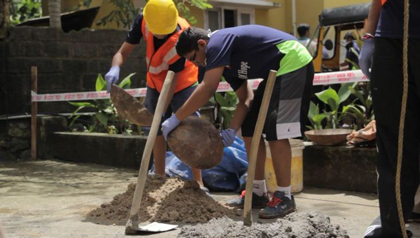 The morning and afternoon activities involved the reversal of roles: Green and Yellow went to Ambedkar home while Blue and Red went to Cheshire home. At Ambedkar home, we cleaned the walls and removed all harmful substances like moss and dirt. Walls were then painted, with white and orange paint. A few of us also transported stones and other materials to aid the professional labourers and masons in their work. All in all, it was hard work but fun at the same time. At Cheshire Home we had to carry saplings to the bus so we could plant them at Cheshire house. We weeded the garden even further than the previous day. Later, we interacted with the many patients in the home. We also learnt about the history of the Home.
Day 4:
Due to an unfortunate accident in the city, we couldn't go to the worksites, and thus had a free day. In the morning due to rains we played indoor games like improvisation, personality games and bursting the balloons. Post lunch we basked in the pleasure of outdoor playtime. There was a basketball court, a volleyball court and a football field. Playing outdoors was an amazing experience and it was a great break from the hard work. This is the day that brought us all together.
Day 5:
Day Five was the last day of our service project. This time unlike the others, we were not split up. We went to the Cheshire home for the Closing Ceremony of the Beacon of Hope Project. We heard inspirational speeches from the Principal and a fellow Round Square delegate amongst others. After that was one of the most memorable moments of our trip. We went sight seeing in Trivandrum. We visited a museum and a very famous clothes store. We also bought Kerela's famous banana chips and even saw the Padmanabhaswamy Temple. Later Mr. Sreeraman gave us an insight about the diversity of Trivandrum and took us to a well-known South Indian restaurant, where we had a lovely meal.
Day 6:
This was a very memorable day. We had to wake up very early and then went to go visit the Chief Minister of Kerela, Mr Oommen Chandy. It was a memorable experience talking to him. We even got to take 'selfies!' Later we returned to our host-home for the celebration of Onam where we learnt about the origins of the festival. We had an Onam feast. It consisted of 3 servings of rice, 3 payassums and 3 pulses along with varied pickles and vegetables eaten on a banana leaf. After the traditional meal we had to leave. Our hearts were heavy as we left the friends we had made, yet we felt a sense of accomplishment and pride, We extended a helping hand and learnt that we must all, truly become Beacons of Hope in whatever way we can.