Round Square International conference 2018
Appleby College, Canada
29th September to 5th October 2018
The RSIC 2018 was hosted at Appleby College from the 29th of September to the 5th of October. This seven-day conference was packed with different activities that stimulated all delegates and related to the six IDEALS of Round Square. Our travel to Toronto, Canada started in the late hours of the 28th of September where we travelled for what felt like eternity, before landing at the Toronto airport.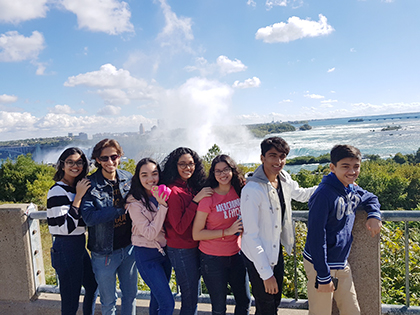 Upon our arrival, we moved to stay at a hotel for our first night. Before crashing into the beds, we made plans to explore the city we were in and managed to roam around in freezing weather to find a restaurant for dinner. With stomachs full of poutine - a Canadian delicacy of fried, gravy and cheese curds - we headed back to our rooms. The next morning saw us rushing to the Niagara Falls. This natural wonder left us in awe, as we travelled by boat to see the American and Canadian sides of the Falls, with us getting drenched from head to toe in the process. Refreshed from our unexpected shower, we then drove to Appleby College to register for the conference. We were welcomed enthusiastically by the student leaders at Appleby and they helped us register, fill out any pending forms and collect our duffel bags and lanyards that we would need during the conference. After eating lunch at the College, we got the opportunity to meet our homestay families whose houses we would be spending the following nights at. The rest of the evening was used to get to know our homestay families and how their daily lives differed or resembles ours.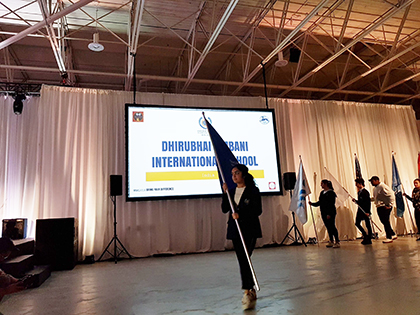 The next day, in school uniforms and duffel bags packed to the brim with three days' worth of clothes, we arrived at Appleby College for the opening ceremony. The ceremony had key note speeches, performances by various Appleby communities, like the Appleby dance crew, orchestra and Appleby Rocks, their in-house band. We then departed for Muskoka Woods, a campsite in the middle of the Muskoka Forest. We were divided into our barazza groups, which were all named after a Canadian animal, like Sockeyes, Caribou and Black Bears. Around 3 hours after boarding the buses, we reached the Woods, where the leaves were changing colour and the temperature was dropping faster. The night was spent getting used to this new environment and mingling with our groups - with whom we would be doing many activities with. Our first activity of the week to come was building a bridge out of cardboard boxes. In our groups, we made certain sections of this bridge before connecting them into a large bridge, which helped us learn to work efficiently by communicating with other groups and helping each other out. We slept in gender-separated cabins, according to our groups, which meant we would be sleeping with 12 strangers, in a cabin in the woods of a foreign country. This definitely intimidated us at first, but as we got to know the people around us, we felt more at ease and even excited to return back to the heated cabins and reflect on the day with our groups.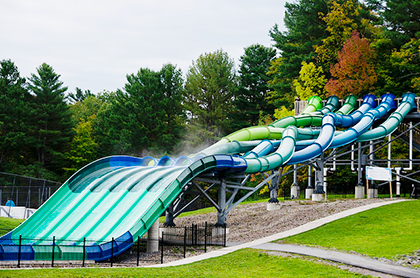 The next three days at the Woods were occupied with many activities and key note speakers. Our activities included the Muskoka Woods activities and Discovery Day activities. The Muskoka activities included physically stimulating work like zip lining, water slide, giant tennis, giant table tennis, climbing blocks, team building, disc golf and hiking. Our own cultural performance was greatly appreciated. The Discovery Day activities, on the other hand, focused on different skills like the ability to meet new people and work together to solve a problem. These included things like Marble Star Challenge, Hansa Challenge, Maple Syrup Tasting Challenge, Blanket Challenge, NASCAR Challenge and others. Not only did we hear inspiring speeches from the two key note speakers - including a Canadian band, Arrogant Worms and comedian and broadcaster, Candy Palmater - but we also had the opportunity to reflect and implement their words in the environment around us. We even got to experience a firework show, conducted by the people at the camp and we were always filled with delicious food like cookies to give us energy for our demanding activities, much to our delight.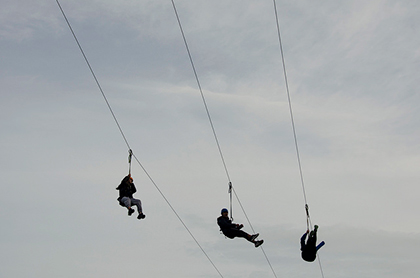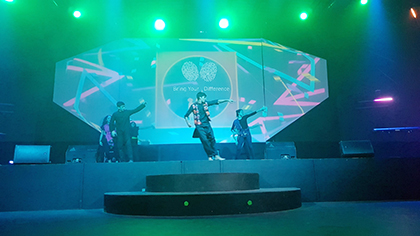 The following day, we drove back to the College and to our homestay houses for a much-needed rest. The next morning, we arrived at the Appleby Chapel for a speech by the pastor of Appleby about the importance of exploration and acceptance of other cultures. Then, we had a Toronto City Chase. The City Chase is a organisation that plans challenges around the city of Toronto that participants complete while exploring different parts of the city themselves. We were further divided into three smaller groups form the groups of our barazzas and set on our journey to document and complete iconic and relevant tasks in the given time limit. After running around, we moved back to the College for a Thanksgiving dinner and dance. The dinner was a great way for us to explore the culture of Thanksgiving and also a place to say our final goodbyes to our barazza groups. The last day was bittersweet; we were reluctant to say goodbye to newly formed friendships yet excited to meet again in the future. As the principle of Appleby College rightly put it, "Say your goodbyes in expectation of your next meeting."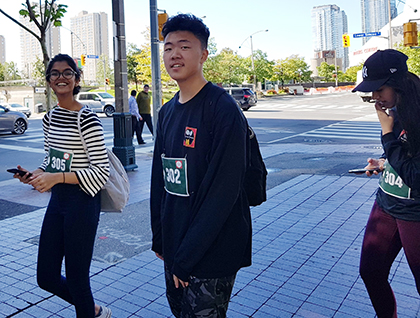 Our trip would have been incomplete without experiencing the iconic Canadian food, Tim Hortons. So, with bags packed, hearts filled memories and stomachs filled with Timbits (mini doughnuts at Tim Hortons), we headed back home.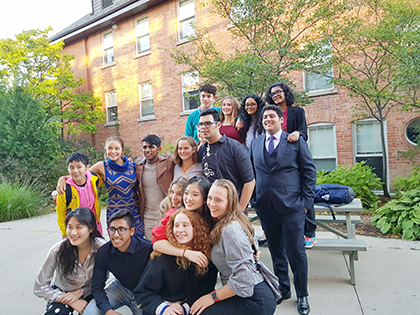 The seven delegates who visited reflected on their trip and had the following to say:
Reflections:
Aman Datta : It was an enriching experience. Over a range of activities, I was placed in collaborative situations with people from all over the world, and shown a unique outlook on what teamwork can mean. In terms of its general approach, this conference was more of an introspection, as opposed to having a material end product. I loved this aspect, and I learned more from this undefined, subjective target than I would have with a set mandate. I made lifelong friends, and had experiences that will shape the way I work collaboratively forever, and for that I could not be more grateful for the experience.
Anoushka Kasliwal : Our trip to Canada was one of the best experiences of my life. Not only did I try new things, but I also made friends with people from all around the world. This conference helped me learn that although we all have our differences, we are bound by certain similarities that connect us all together and this is something that has changed me as it has taught me to be more open minded and accepting, which I think are two extremely important things in today's world. I wouldn't trade an experience like this for anything else!
Apurva Bhandari : It was a great mingling of cultures that impacted me and helped me learn aspects of culture I did not expect to learn. The barazza groups in this conference were diverse and made randomly, which meant I did not know the other delegates. This allowed me to step outside my comfort zone and make new friends from around the world. This conference also pushed me to live in environments that are really different to my own, like the house of my host in Canada and a common dorm that I shared in Muskoka Woods with 11 other girls. My understanding of teamwork, communication and collaboration grew and I definitely learnt the importance of these aspects to my daily life, which is something I will carry forward and implement in life.
Arjun Kejriwal : If I were to be asked to summarise my Round Square experience in one sentence, I would say that the week couldn't have been any better. The activities we did and the sports we played were engaging and well-planned, with the City Chase being the most exciting. The speeches were inspiring and eye-opening while the accommodations, food, transport and overall amenities were impeccable. From learning, how to play golf to holding a live python, I learned a lot of knew things and developed innumerable skills. I greatly appreciate the the opportunity to interact with people from all over the world and make new, long-lasting friendships.
Aryamaan Dholakia : I wouldn't be able to summarise this experience in just one paragraph, but with a gun to my head, I'd say it was nothing less than magical; from soaking in the landscapes of Canada, to exploring multiple cultures and meeting some of the most amazing people from all over the globe. The activities were extremely well planned and taught us about unity in diversity, whether they were Muskoka Woods or running around Toronto during the city chase. Where else would I be able to run around cities finding hotdog vendors to take photos with or hold a live python, all with an amazing group new friend I met only days ago? After being part of a core organising committee of our school hosted Round Square conference, I know how much work goes into planning these conferences and the co-chairs of this conference lived up to every expectation.
Muskaan Ghai : This was an experience I will cherish all my life. I learnt about different cultures, different point of views and the skills of meeting, cooperating and understanding people that are different from you. I came back home with a special place in my heart for all the people I met and bonded with. Those memories will always make me smile and remind me of how I stepped out of my comfort zone and yet enjoyed myself. The experiences and challenges I faced made me a better version of myself. I participated in activities I wouldn't usually take part in. The keynote speakers really inspired me to be proud of the difference I bring to this diverse world and taught me to appreciate what sets me apart. I believe that Round Square conferences are an experience that impacts one's personality and teaches you a lot about the people around the world.
Sakshee Shah : I've been to a couple of regional Round Square conferences, but this was my first international conference and by far the best. I thought it would be hard being so far away from home, but the students and teachers at Appleby College and my host family were extremely welcoming and warm. They made me feel comfortable and at home. What I loved the most about this conference was its theme, 'Bring your difference'; it felt good to appreciate diversity and individuality. It taught me that it is our culture and difference that shapes us as a person and makes us stand out in a crowd. What I took back from these seven days was to respect others and their cultures, and most importantly, to never be ashamed of mine. The one thing I will never forget from RSIC Canada was the amazing bunch of people I met and lifelong friends.
Delegate student: Aman Datta, Aryaman Dholakia, Arjun Kejriwal, Anoushka Kasliwal, Apurva Bhandari, Muskaan Ghai, Sakshee Shah
Teacher: Manisha Nanda