RS MOJ
Judo Demonstration for the NGO students.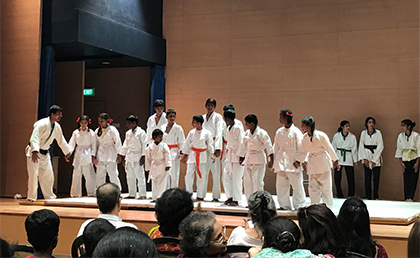 Bal Jeevan Trust children taking a bow after show of spectacular judo stunts and moves in gymnastics. Some of them are on their way to State Level judo tournaments!
The Students of the Bal Jeevan Trust* and EAR NGO** along with their parents alongwith their coach Shashi Sir and Ms Arti Vakil visited DAIS on 8th September 2017. This event was aimed at providing a window to the students of the NGOs as well for the DAIS students to interact with the students who benefitted from the MOJ initiative.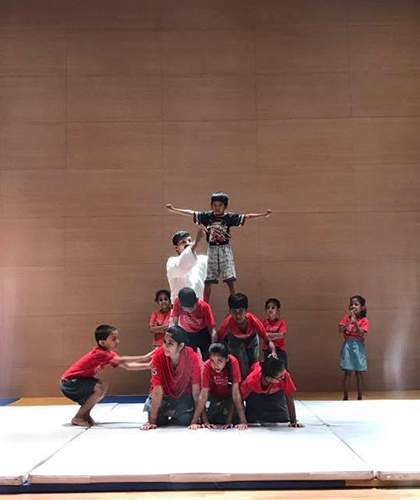 The event began with the groups of students interacting on the common platform of Judo and participating in warm up exercises that helped break the ice and build camaraderie. The Students of the visiting NGO awed the audiences with their well well-choreographed performance. They performed various gymnastics stunts, build a human pyramid and ended the performance with multiple judo moves that left the audience stunned. The energy of the performers was palpable and it was heart rendering to know that they came from difficult and under privileged backgrounds and had physical disabilities. It was inspiring to know how some of these children overcame their handicap lified for the State and National level Judo competitions! One of student had scored 92% in his board exams which was commendable considering his impoverished background.
The event ended with a loud round of applause for the children. A token of appreciation was presented to their coach Shashi Sir and Ms. Arti Vakil, who played a pivotal role in the success of this event.
Ms. Arti was ever thankful to our team and the entire school for donating money to Bal Jeevan and EAR, enabling them to purchase specific sports equipment for their children.
Identifying Students: The schools identified will submit a list of their potential sporting talents. These identified students will interact with the trainers/ coaches and will go through a selection process for further training. Similarly, there will be inter or Intra school competitions to identify the coaching needs of the school.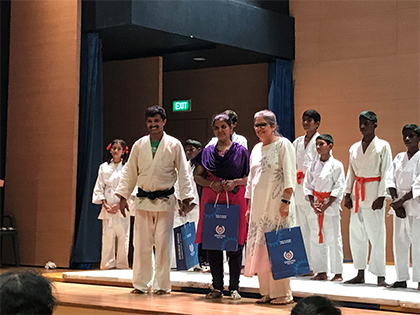 * Bal Jeevan Trust was created in 1994 with the aim of transforming the lives of impoverished, rag picking street children in Mumbai. They work towards preparing students to participate in Judo competition. MOJ has contributed funds to provide Judo gears and training mats required for training for competitions.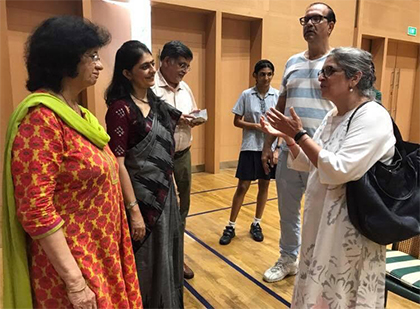 ** EAR- This NGOs educates and empowers hearing impaired students preparing them to participate in JUDO competitions and MOJ has funded purchase of JUDO uniforms and crash mats for practicing the sport.