MOMENT OF JOY
DAIS Student Initiative
Sport forms a crucial and irreplaceable part of every child's physiological and psychological growth. However, while all schools at a fundamental level encourage participation in sporting activities, access to sporting equipment and training is not uniform: this is especially true in rural and underprivileged areas of India. Taking cognizance of this fundamental need, students of Dhirubhai Ambani International School started the Moment of Joy (MOJ) campaign, which aims to support the sporting needs of the less fortunate talent pool. The MOJ initiative is therefore aimed at generating funds through techniques including donation and contribution in order to provide equipment and training to school children and their coaches.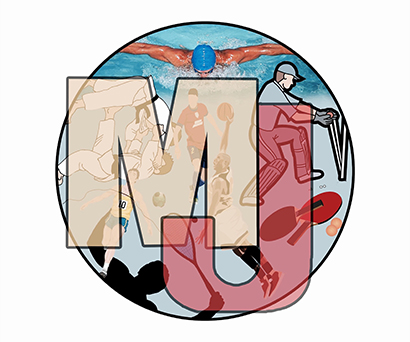 From an Initiative to a Movement:
Moment of Joy launched 2 new events with the common objective :
To support sports at the grass root level!
This was achieved through a SPORTS GOODS DONATION DRIVE and COACH TO COACH event.
1: SPORTS GOODS DONATION DRIVE:
Our Donation Drive "Collecting Moments of Joy", which was held from 4th to 18th August 2017, and aimed to collect old sporting equipment, in usable condition, and provide it to municipal schools to ensure that talented athletes have access to sporting equipment for training. All logistical arrangements for the donation drive, including the pick-up of sporting equipment, as well as promotions for the donation drive was done by the MOJ. Invitations were sent to schools as well as posted on social media to ensure that sports equipment could be collected not only from DAIS students but from people across the city. There were 4 points of contact in different parts of Mumbai to unable people to send their donations. Over 4 cartons full of sporting equipment has already been sent to underprivileged communities.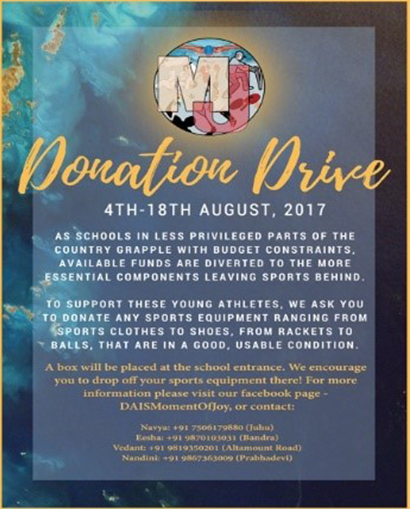 Promotion of this donation drive was done through the use of social media campaigns and posters. These posters were displayed throughout the school and also in nearby residential and commercial complexes by the MOJ Team. The promotion of this donation drive began in July in order to reach a large audience. This form of outreach was effective, since it helped collect large amounts of donation. The effectiveness of the drive was not only evident from the gratitude of the Head of Municipal Coaches Mr. Lohe to MOJ but also from the satisfaction the donors received through the gift of giving.
"It felt amazing to share with someone something that had brought me joy and victory"
Saisha Gupta, Squash Player
2. COACH TO COACH: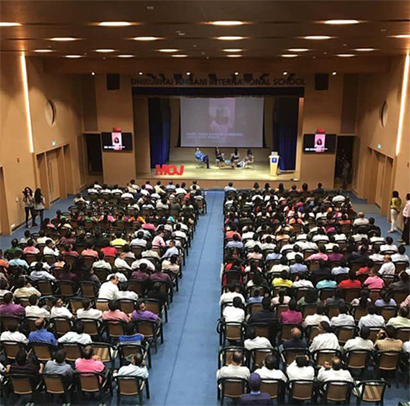 The most important landmark for the MOJ team this year has been the hosting of our first event of the year - "Coach to Coach". Coach to Coach, held on 4th August 2017, helped connect coaches from municipal schools, physical education students from the Mumbai University and athletes and their parents to experts in the sporting field. This was in order to facilitate discussion on training strategies, nutrition and pre-competition preparation. Held from 4:30 pm to 7:30 pm in DAIS auditorium, the event attracted around 200 participants from municipal schools across the state. With speakers ranging from the renowned Nutritionist Ms. Krushmi Chheda to captain of UCL Football Team Leah Poonawala, the Coach to Coach housed a truly informative panel of members.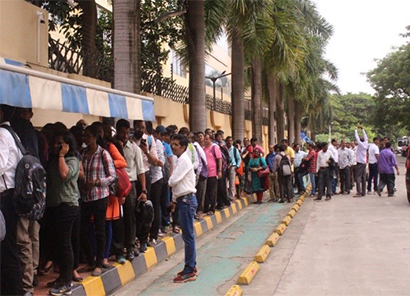 The panelist included:
Dr. Shilpa Agarwal (mental health coach)


Miss Krushmi Chheda (nutritionist)


Miss Aparna Popat (ex-Olympian and national Badminton Champion)


Mr. Cawas Billimoria (Olympian and Asian Games medalist)


Mr. Mudit Agarwal (national Table Tennis player)


Miss Leah Poonawala (Captain of UCL Football Team)


Miss Antara Agarwal (ex-national level swimmer)


Each speaker had about 15 minutes for a speech followed by a common question and answer session to clear all doubts. The event was held in our school auditorium, with attendance being close to capacity. With over 200 attendees at the Coach to Coach event, the event was a resounding success.
"This is an event that provided our coaches with the kind of skills even the government overlooks and fails to provide"
- Mr. Lohe, Head of Municipal Coaches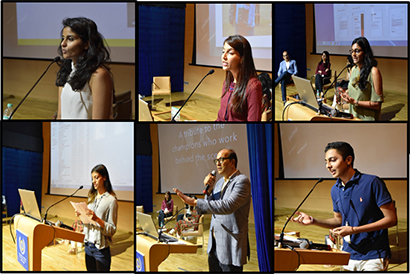 The Event Itinerary:
| TIME | DESCRIPTION |
| --- | --- |
| 4:30 pm - 5:00 pm | Registration of all participants along with snacks |
| 5:00 pm - 5:15 pm | Introductory speech by HOD of Sports and former Olympian Mr. Cawas Billimoria, followed by an audio visual introduction of the athlete-coach relationship |
| 5:15 pm - 5:30 pm | Student Speaker Antara Agarwal, international swimmer and current undergrad at Columbia University, spoke about balancing academics with sporting activities |
| 5:30 pm - 5:45 pm | Renowned mental health coach Dr. Shilpa Agarwal talked about the importance of mental health for competitive sports |
| 5:45 pm - 6:00 pm | Student Speaker Leah Poonawala, captain of the UCL football club, talked about her experiences as a female footballer and her relationship with her coach |
| 6:00 pm - 6:15 pm | Nutritionist Miss Krushmi Chheda talked about healthy diet practices and an ideal dietary requirements for athletes and other sportspersons |
| 6:15 pm - 6:30 pm | Student Speaker Mudit Dani, national level table tennis champion, talked about the impact of sports on his life and the role of his coach as an important mentor |
| 6:30 pm - 6:45 pm | Miss Aparna Popat, former Olympian and national badminton champion, talked about the role of a teacher and the success path for sportspersons |
| 6:45 pm - 7:30 pm | Live Panel-style Question and Answer session to engage with the audience |
3. FUTURE PLANS OF ACTION
As the 2017-2018 endeavor of the Moment of Joy reaches a crucial junction of our journey, it is imperative that we look forward and plan for future events in order to work towards our mission and vision. There are several future events planned for the Moment of Joy. Moment of Joy has been popularized and is known for its squash tournament. From organizing our own 4-star accredited interschool squash tournament to tying up with local NGOs to spur grass root change, Moment of Joy is truly a revolution. With the importance of cricket in India's sporting arena, we aim to use our relationships with NGOs to help give underprivileged kids the opportunity to play with some of the best cricket players of our school in order to spread the love for sports. Lastly, considering the success of the squash tournaments we plan on holding a Judo tournament at the same level. We are also affiliated with another group from our school called "Kick for a Cause" which is an organization that uses Football to raise awareness and spread the love for sports.
But it does not end there. This is a revolution. A revolution to spark change.
Welcome to Moment of Joy.
Facebook Page:
https://www.facebook.com/DAISMomentOfJoy/

Instagram Page:
https://www.instagram.com/momentofjoy2017/