Round Square Service Project
Ladakh Round Square 2016 — Pranav Vaidyanathan
Somewhere at the end of April, I received an email from school telling me about a Round Square program that would involve three students from our school, along with a bunch of students from other schools. It was a trip to Ladakh. It was also one of the best things that has happened to me in a long time.
I'd want to establish, first of all, that Ladakh is beautiful beyond imagination. The spectacular view bowled me over even as I entered into Leh, the capital city, through the airport. No other airport in the world is surrounded by mountains- some brown, some covered by white crystalline glaciers. No other land on earth has a sky so filled with stars that one finds oneself confused as to which way to look. Nowhere else can you stand in a shopping centre, and look around, and lose yourself in the aroma of colors- the amalgamation of green, azure, blue, yellow, purple, maroon. Ladakh is unique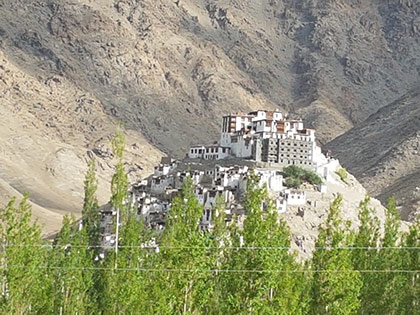 Over the course of 10 days, we got to know the schoolchildren of Lamdon High School in and out- Little Stanzin with his gestures of homicidal behavior towards Arya, Sonam with presents of trinkets and bracelets, and Jigmet with just all-round cuteness. We found ourselves wanting to help these children, and what better way to do so than building dorms for them, so more children like them can educate themselves and propel themselves towards a better future. The work of loading bricks, and making chains to transport cement may have been tough, but with this end goal in mind, we were determined enough to plough through and finish ahead of time.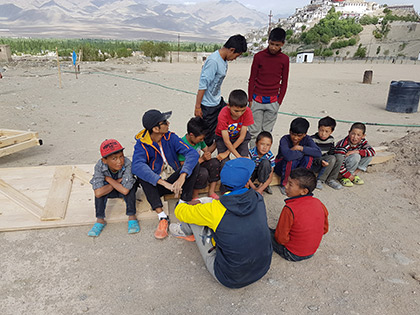 The 3-day trek and the end of the trip, with its seemingly never ending paths through gorgeous valleys and mountain-tops, was an earth-shattering display of the true essence of Ladakh. We saw yaks, bulls, rivers, streams, plants, tents, toilets (holes in the ground) and much more.
I keep talking about what I found in Ladakh. But over the course of this trip, I found so much more in me. I've learnt of my friends' deepest, innermost secrets and insecurities. And I love them all the more for it, because I understand what they're going through. The desire to stick by a friend through it all, no matter what. I realized that I had this desire. The friends I made here will stay with me throughout my life. Especially my friendship with myself and the person I am.
This trip has taught me so much about life, and I'd recommend this trip for future students from our school. The experience is out of this world.
- Pranav Vaidyanathan