Round Square International Service Project
The Big Build 2018 - ECUADOR
Thirty hours of flights and airports, bucket showers, and washing our clothes by hand was definitely worth our two weeks spent in Ecuador. As a part of the Round Square Big Build, 49 students from across the world helped to build a multi-purpose center and a childcare center for a small community in Puerto Rico situated in Puerto Lopez, a fishing village, in Ecuador.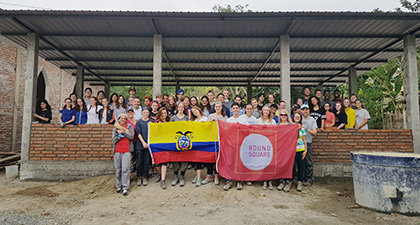 Our journey began from Newark Liberty International Airport on the 9th of July, and began with excitement, anticipation, and joy as we mentally prepared for the life-changing experience that lay ahead. We each had one medium sized suitcase and one backpack with all the essentials we needed for the trip, and a little more. Unsure of what to expect, we couldn't wait to meet the forty-six other students and begin work in the village. Our camp, Camp Costa, was a mere four-hour drive from the José Joaquín de Olmedo International Airport.
This warm, welcoming, and comforting place would be our home for the next two weeks. Our two worksites were very close to the camp as well. The multi-purpose center worksite was a thirty second walk from the camp and the childcare centre worksite was a five-minute walk from the camp. We worked at these sites for a total of 12 days, and accomplished plenty during this time. We worked in teams of eight to ten, allocated to us at the beginning of the trip. Each team would select a leader and a deputy leader for each day to look over the group and make sure that every member is hydrated, healthy, and well equipped for the day. A usual work day would consist of two teams working at one site and the other three working at the other site from 8 AM to 12:30 PM with water breaks in between, after which we would return to the camp for lunch. After lunch the teams would switch sites and work from 2 PM till 4:30 PM after which we would head back to the camp to shower, socialise, and relax after a hard day's work.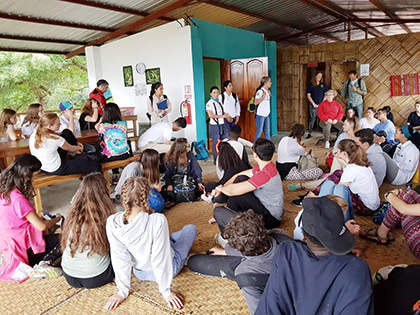 Our work included jobs like making concrete, delivering materials, brick-laying, varnishing, sawing, painting, hammering, and more. Although some of us didn't like some jobs, for example making concrete, we fought through the urge to give up and continued with an undying spirit of determination. Each job taught us a lot about ourselves and about our teams. By working with such a diverse group of people we learned a lot about other cultures, countries, and even our new friends.
Between our work days we had two excursion days. On the first we went to the Machalilla National Park, here we visited the museum and hiked to admire the stunning views, where we had the opportunity to try on mud masks from the lake of a volcanic crater. Our second excursion day included hiking and snorkelling at Isla de la Plata, renowned for its marine birds and wildlife. We were lucky enough to spot humpback whales, turtles, manta rays, turtles and vibrant blue footed boobies.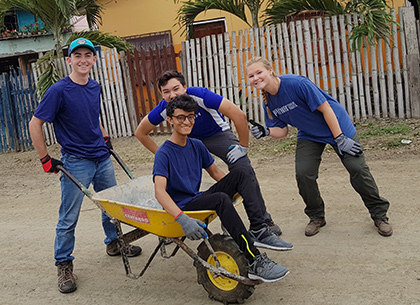 We had the chance to truly be immersed in the culture as we interacted with the local children on a daily basis. On one day we even got a live demonstration of how coffee is made, from the roasting of the beans(interestingly with sugar), grinding the beans in a traditional hand grinder to the brewing of the coffee! The local school also invited us for a few performances they had organised for 'family day'. At the school we got to see a few traditional dances by the children, we got to hear them sing Spanish songs, and a few children even presented a few books they had made depicting their family. We even got to learn a bit of Spanish, as every day the people at the camp would write new Spanish words with English translations on the display board which we often read and used while waiting in the never ending line to get food. The kitchen staff made mouth-watering meals, including some local cuisine and catered to our vegetarian and non-vegetarian palate.
As for our accommodation, we had bunk beds with comfortable mattresses and blankets. The showers were quite challenging as we had to have buckets showers with cold water. Even though the water was freezing, it was extremely refreshing and energised us after our hard day of work.
Working with so many people taught us a lot about teamwork, communication, and tenacity. This work also taught us about the importance of working efficiently and effectively. At the end of our trip we had the opportunity to visit the sites for the last time and take photographs to cherish these memories forever. Our work was visible at the end of our trip but what gave us the greatest satisfaction was the party thrown for us on our last night at the camp to thanks us for our work. The truly heart-warming speech given to us by Mrs. Rodriguez, the cake baked by the locals, and the expressions of joy on the faces of the children made us showed us their gratitude for our work and made us feel like we had done a great job.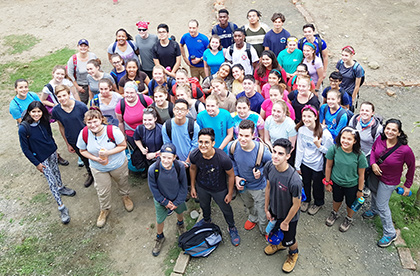 Participants: Anushka Basu, Aryan Jhaveri and Shawn Chauhan
Deputy Leader: Manisha Nanda