Round Square Regional Service Project
Panna Tiger Reserve Service Project – March 14-17 2023
DAIS students of grade 11 embodied the spirit of service as they headed to Panna for a service project to work on the health camp for the local forest community. The project was hosted by Daly College from 14 to 17 March 2023.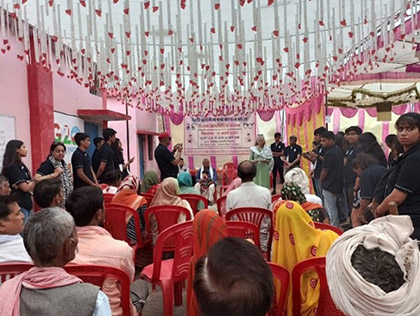 This project aimed at sensitizing the villagers about the need for healthcare and methods of maintaining sanitary living conditions. This community service involved building awareness regarding hygiene amongst women, eye care and cleanliness in the residential area of the local community and beautification of the local school.
In preparation for the health camp, students underwent training for checking eyesight, measuring height, weight and temperature in preparation for the upcoming health camp. In addition, they rehearsed a street play to perform for the village folks promoting the health camp in the village of Basata. The students also did door to door campaigning, urging people to attend the health camp, while also de-stigmatising menstrual cycles, helping the women learn hygienic menstrual practices and handing out menstrual pads. At the health camp students worked various roles like measuring blood pressure, height, weight, crowd management, and conducting the eye check-up. Working tirelessly from 10 am to 4 pm, the students did their best to ensure that everyone who visited the camp was able to receive the help they needed. Interacting with the villagers was truly a humbling experience for all!
The students also got the opportunity to connect with nature in the surrounding forest area during leisure time, as they did a jungle trek, learning about the local flora and fauna.
Here is what the DAIS delegates felt on attending this service project: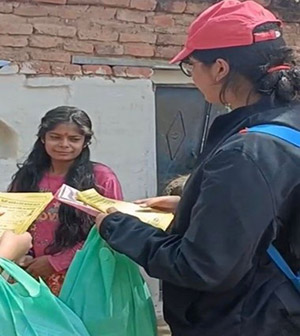 Anya Sharma: "The gratifying experience of volunteering at the eye camp in this service project helped me gain a deep insight into the day-to-day hardships faced by the underprivileged living in rural India. It made me realize why learning is a two-way process as I understood the problems the villagers faced, and they got aware of the health problem and available cures. Campaigning in villages where people spoke a different language, I was amazed to see how we were able to break that barrier and spread an important, yet tabooed, message on awareness of menstruation. Thus, this once in a lifetime opportunity engaged, enabled, and empowered me to help create a change for the better in the lives of the people living in the villages of Khajuraho".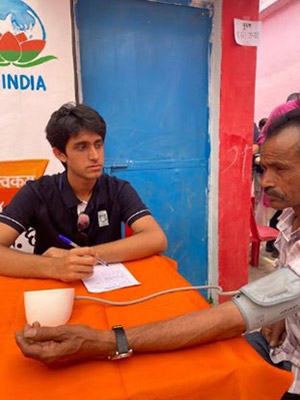 Aryan Datwani: My trip to the Panna tiger reserve started off as just a school trip, but turned into an unforgettable experience for me. Helping the nearby villagers by organising the eye camp enabled me to learn a lot about them. While spreading awareness and distributing flyers around the village I was exposed to their way of life as I explored the quaint and peaceful town of Basata. While working at the camp I was exposed to the plight of the villagers and the various health problems they faced due to the constant stress of work and harsh living conditions. I was fortunate to be able to aid them as it was an extremely enlightening experience for me as it taught me to not take my life for granted.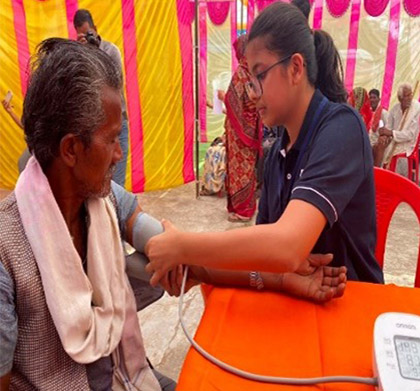 Prisha Goyal: "This project has engulfed me with a sense of gratitude, empathy, and fulfilment as I got the opportunity to interact with rural communities and gain an insight into their challenging lifestyles. Walking through the villages while trying to destigmatize taboos such as menstruation and creating awareness about health was a very rewarding experience for me as I felt like I personally made an impact on the less privileged. Additionally, I feel fortunate that I was able to participate in the health camp by providing healthcare facilities and services myself despite the language barriers and physical discomforts. Overall, being able to touch the hearts of almost 600 people in the course of only 6 hours not only inculcated me in a sense of purpose, accomplishment, and satisfaction but also fostered a sense of community and social responsibility and personal growth".
Reflection Video: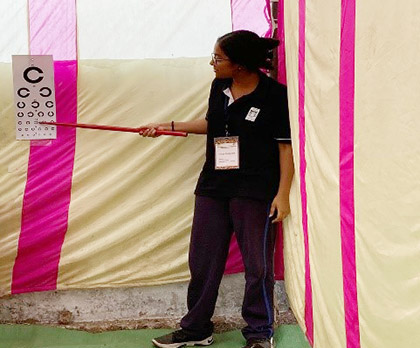 Durga Chatterjee: Volunteering for this camp was an extremely gratifying experience. It made me realize the lack of healthcare in the rural areas of India and how important it is to resolve it. I helped with the eye screening, working together with the villagers to figure out the wellness of their eyes. It gave me joy interacting with them, bringing a smile to their face, and knowing that I am contributing to their welfare. I was also given the opportunity to disconnect from technology and bond with nature. Going on a nature walk, a boat ride in the river and simply looking up at the pollution free sky full of stars.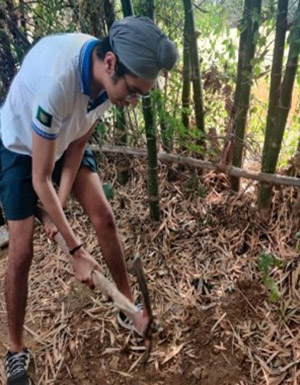 Ishaan: Stepping outside your comfort zone to undergo a multitude of new experiences is something I previously feared, but this service project has entirely altered my mindset. To interact with locals, enter their households, and understand their lifestyle was truly an enriching venture. The grateful glances we received when handing out free eyewear was worth every moment of effort we put into setting up the camp. However, it wasn't all sunshine and rainbows. We heard about their hardships and struggles, and simply having people to talk to and console them seemed to lighten up their mood. Alongside our service work, I made friends from around the country who I'll never forget and had especially memorable safari and boating endeavors.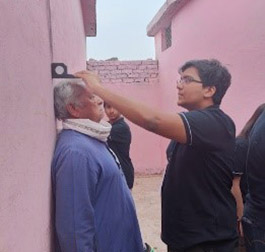 Karan Verma: I view this service project as a great test, not only of my ability to weather conditions outside my comfort zone but also to interact with people, especially with the large numbers I had at the eye camp, and those of a different socio-economic background and mother tongue from me. However, it was worth it just to know that I had played a part in improving the overall living conditions that the residents of Basata village faced and made new friends and experienced new things along the way.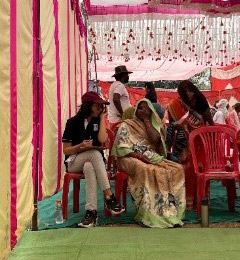 Nysa Agarwal: My experience working at the eye camp, sitting next to the villagers, and assisting them with the eye screening procedure was extremely fulfilling. Understanding the concerns of the people and seeing the relief on their faces when I reassured them that they would get the help they needed made me feel very grateful that I could do this for them. Meeting people of all ages and helping them was a rewarding experience and I was glad that i could aid them in improving their health. This service project was very meaningful, and I am thankful that I was able to provide these services to those who were unable to access them otherwise.