Round Square International Conference
Cape Town
30 th September to 5 th October 2017
A delegation of 7 students and teachers attended the Round Square international Conference in Cape Town South Africa, from 30tht September to 5th October 2017. They immersed themselves into the IDEALS of Internationalism, Leadership, Adventure and Service, creating an enriching experience for all of them. The conference began with an opening ceremony that highlighted African culture as everyone sang the South African national anthem and watched a beautiful depiction of African animals by little dancing gymnasts. The highlight of the ceremony was the well-orchestrated pipe drum musical creation that had everyone from the audience involved in creating an outstanding music piece. Alone, these beats sounded like noise, but together they created a music with the guidance of a music director, symphony was created. The conference was declared open by an emotional speech by King Constantine and Queen Andrea, this was followed by the flag bearers representing each participating school, marching smartly across the auditorium.
Leadership was a strong theme entwined in the first two days, with 4 keynotes speeches given by speakers from various backgrounds that focused on the conference theme of 'Unite to Ignite the fire within.' The session opened with a short and inspiring talk by the Lorne Sulcas, also known as the " Big Cat Guy". In his engaging speech he related each adventure as a ranger to an important life lesson. He explained how it is important to be a risk taker and adapt to the surroundings to make the best of every situation, which is extremely essential for our generation. Another inspirational speech was by Caleb, who was not a Shark attack victim but a shark attack survivor. In his absolutely emotional and heartfelt talk he connected with each delegate in the audience and displayed a true sense of bravery as he taught and inspired everyone to have a more positive outlook towards things in life, and portrayed the concept of being appreciative and thankful for the life that each one of us are blessed with. Lastly, a globally recognized African singer instilled the value of being connected to our roots and knowing what we are. Her engaging speech incorporated small songs each which had a powerful message. Furthermore, she also reintegrated the concept of each person being so similar yet different at the same time and how each one of us should feel proud to have a different story which depicts our lives.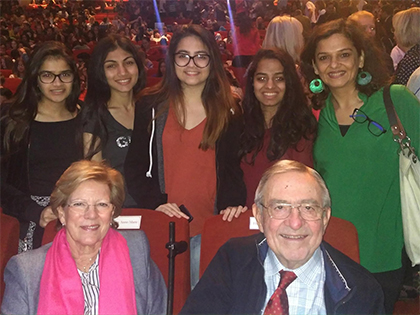 After the first two days, the delegations were divided into 3 schools - St. Cyprian's. St. Georges Grammar and Bridge House, here they were further divided into 20 baraza groups. As an Ice breaker the baraza groups went on an 'Amazing Race' across the Victoria Waterfront where we learnt more about the history and culture of Cape Town itself. At St. George's Grammar, the delegates went about their service and adventure activities. Braving the freezing cold winds with smiles on their faces, the delegates were divided into their pre assigned service activities. Students were divided into 4 locations: Sullivan Primary, Steinberg High, Zeralda Park and Capricorn Primary School. At the schools the delegates were given various activities such as gardening, debating and painting. The delegates worked with the local students toward the completion of their tasks, and by sharing laughter and food they made new friends. Upon arrival at the school, the students prepared for their cultural performances that would lead to a night full of laughter excitement and enthusiasm. The cultural programme had performances from most schools making it an extremely entertaining night.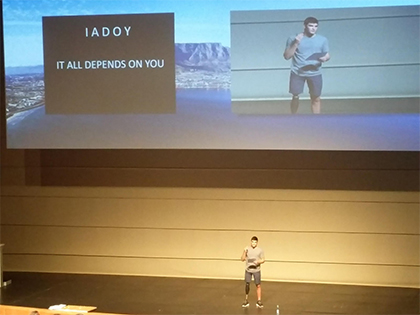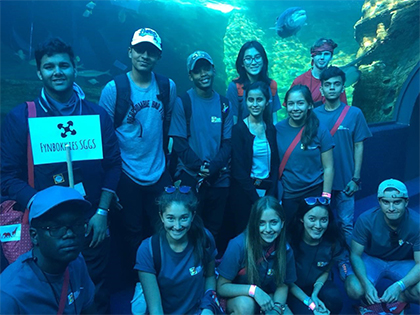 The adventure activities were the most enjoyable for everyone as the delegates ventured out into the sea kayaking with the penguins/mountain biked through the countryside. They went through the activities inspite of the freezing cold and recognized own strengths and weaknesses. They understood the importance of preserving wildlife by seeing penguins in their natural habitat. Furthermore they learnt the importance of teamwork as they kayaked through the headwinds in pairs or wouldn't be able to bike up that hill without any motivation. The closing ceremony saw vibrant performances and an announcement about the schools hosting the Round Square International Conference of 2018 in Canada. The flag ceremonies were performed, after which the CEO of Round Square, Rachael Westgarth, followed by the headmaster of St. George's Grammar School, Julian Cameron addressed the delegates for the final time and declared the conference close. They touched upon the highlights the conference and acknowledged the efforts of the individuals who contributed to its success. To conclude the ceremony, the audience united in reciting the conference statement and singing the conference song.
Don't let your past blackmail your present to ruin a beautiful future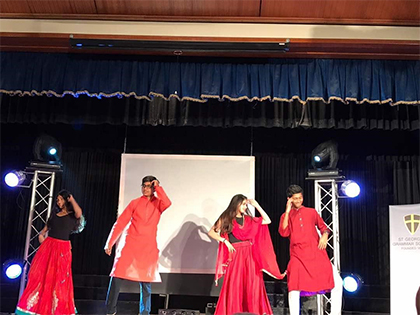 'The service also gave me a sense of satisfaction since it made me feel like I made a contribution no matter how small toward the betterment of the children's lives.'
- Shiv Panchal
'I believe that not only did this opportunity spark a fire in me and inspire me to be the change I want to see, it also helped me find my bearings and gain a greater understanding of who I am as an individual.'
- Isha Valia
'This experience allowed me to make friends all over the world as well as learn from current leaders on how uniting people can create a profound impact on the world.'
-Tanvi Inani
'However different people might look, no matter what their race, religion or nationality, we can all come together to combat and fight against so many different problems around the world as we unite and ensure that as the leaders of the next generation, we leave the world a better place.'
-Yash Shah
'It was the most eye opening conference I have ever been for as it allowed to me to understand the diversity and the importance of intercultural opportunities, and showed me that if we all unite, anything is possible.'
-Shanaia Munim
'This conference enabled me to step out of my comfort zone and explore the array of opportunities that were provided to us. Moreover it taught me the importance of being united to ignite the fire within and in order to make a positive change in our world.'
-Jahnvi Doshi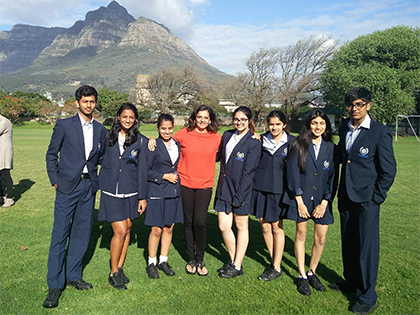 'This conference didn't only allow me to make wonderful memories with wonderful People, but also altered my perspective on life.'
-Nainika Pansari