Round Square Global Conference
WELHAM BOYS' SCHOOL
24th – 30th January 2018
There are a few experiences in life that leave an everlasting impact that cannot be described using words. Attending the Global Round Square Conference, 2018 at Welham Boys' School, Dehradun, was one of them. The theme of the conference was 'Escaping the Ordinary' and all the activities during the conference were integrated to the theme. On the first day the group settled into their cozy dorms. This was followed by a lovely ice-breaking session wherein they were divided into groups with children from around India and beyond, and opened up to them about their life, dreams and feelings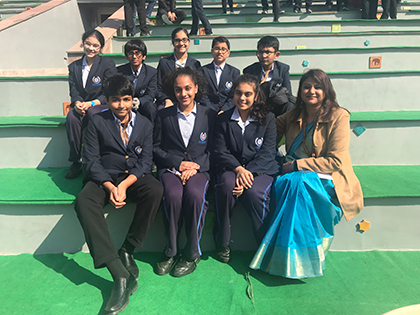 The opening ceremony was very exciting as the memorable journey of their five-day tenure would enfold that day. The chief guest for the opening ceremony was Ms. Dia Mirza. Her addressto the group on humans being a 'Part of nature' and not 'apart from nature', remained etched in their memories. The Round Square flag was unfurled, thereby declaring the 'Welham Boys' Round Square Global Conference 2018 Open!'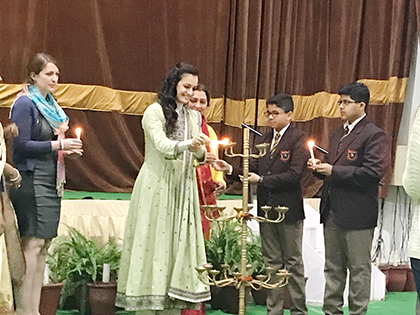 The students were oriented to the Round Square ethos the same evening. In their first baraza session they were given a platform to express their opinions and feelings in the relative comfort of their respective groups. They discussed the true meaning of the theme of the conference in relation to the speech in the opening ceremony. The last event of the same day was Astronomy, where the delegates witnessed some amazing constellations and stars very clearly, something impossible to see in Mumbai.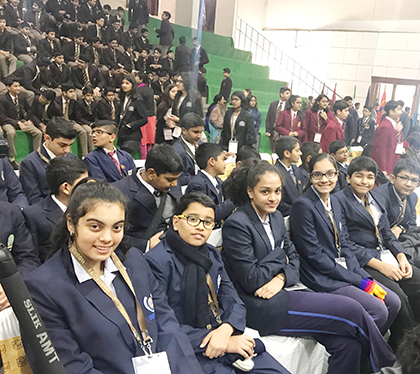 The next day,Republic Day, started with the flag hoisting in the morning. The guest speaker, Dr. AnandGokhani, inspired the student delegates with interesting stories about perseverance, persistence and determination. This was followed by Republic Day celebrations. The stalls were elaborate and displayed the different states of India, their unique culture, food and monuments. Hard work and staying focused on goals was the subject of discussion in the baraza session that followed in the afternoon.The perfect end to this memorable day was a hilarious comedy show by Mr. Anubhav Pal, where he highlighted the serious problems and stereotypes in our country in a very humorous way. The Delegate dance brought together all the students grooving to some popular numbers. The day ended with the Principal's Dinner, giving them time to bond over scrumptious food.
The Service activities included visits to a Mahila Ashram, an old age home and a home for children with special needs. This was a gratifying experience for all the delegates. After having community lunch, the entire delegation set off for their next destination, Rishikesh! After a long but picturesque journey they reached the banks of the Ganga. In their prayers during Ganga Aarti, the students pledged to save all water bodies from getting contaminated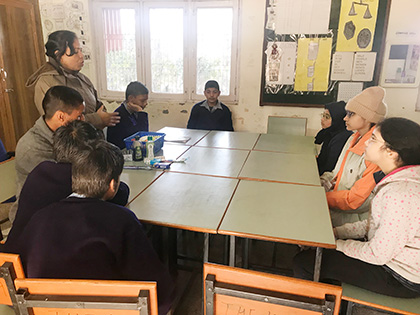 Next came the day most delegates had anxiously waited for - the Adventure Day! The different activities included trekking, cycling through farms and harvesting crops, a treasure hunt, team-building exercises and zip lining, tree-climbing and rappelling.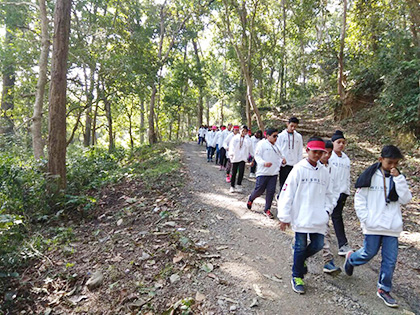 Adventure day was the perfect example of Dr. Kurt Hahn's philosophy - there is more to us than we know.
The same evening as all the delegates participated in the Cultural Performance, it was incredible to see the diversity of different performing schools on stage!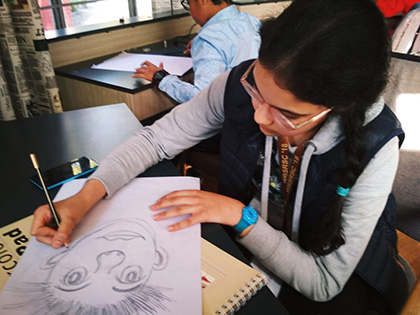 On the last day, the delegates were encouraged in the learning of a new skill. There were various fun skill activities that they could choose from - cartoon sketching, palm reading, motor-mechanics, cookery, baking, mehndi art, kite-flying, pottery, etc. They discovered in themselves talents, they didn't even know existed!
The Closing Ceremony marked an end of this wonderful journey with an inspiring address by the Chairperson of Welham Boys' School, Mr. Darshan Singh, an innovator and engineer. The conference was over, but the friends they had made and the awesome experiences they had gained over these days, would remain etched as wonderful memories forever.
Reflections:
"To put it shortly, this was the best thing I had ever experienced. At the base of it all was the Round Square philosophy: there is more to us than we know. I did things I thought I was never capable of. By nature, I am an introvert, but this conference helped me break out of my shell."
- Madhav Kejariwal 7B
Round Square is based on SIX ideals, and I feel this conference gave us an exposure to each and every one of these ideals. Our experiences and friends we made from around India and beyond will always remain as fond memories. It is amazing how this conference could teach us so much, while being so much fun."
- Kashvee Barjatya 7A
"This conference has made me a much more confident individual and has taught me how to express my opinions. This trip was a great experience and we made many new friends and learnt different things along the way. I am very happy I got the opportunity to go for this trip."
- Danaisha Shetty 7B
"This wonderful trip was one of the most memorable incidents of my life. I made a number of new friends. I also learnt that you should be unique. You don't have to be ordinary to do anything. 'Escape the ordinary, be extraordinary'. It simply means that step out of your comfort zone, try new things, overcome your fears and come what may, never give up in life!"
- Simran Kaur 7A
"I feel this experience was extremely enlightening and insightful to the limits of myself and how I can overcome them."
- Dhruv Bhalla 7A
"It was a great experience overall. I was able to share my views on topics as well learn new ideas and adopt new ways of thinking from other people. I became much more confident and secure of myself. I made some great friends and really learnt how to be independent. It was amazing to meet such different types of people from schools all over the world who had come together and it was a great learning experience!"
- Sanaa Beriwala 7B
"Overall I had a great experience! I made many friends and learnt many new things. The experience was phenomenal and I hope I get such opportunities again."
- Dhruv Bhatia 7B
"This was the experience of a lifetime. I would like to thank all my teachers for granting me such a wonderful opportunity and I hope to attend many more. Let us together, escape the ordinary and make the world a better place!"
- Tarush Mayani 7A
Delegates : Simran Kaur, KashveeBharjatya, TarushMayani, DhurvBhalla, Sanaa Beriwala, Danaisha Shetty, MadhavKejariwal and Dhruv Bhatia.
Teacher in charge: Ms. Niya Arora