RSIC 2022 REPORT
Eager anticipation preceded the 56th Round Square International Conference, with 8 delegates getting the opportunity to represent our school in this prestigious 7-day event. This conference was divided into two parts: first, all 1500 delegates would stay at Oxford University; next, they would visit one out of six schools across the UK.

The first leg of the trip commenced as soon as the delegates arrived at Heathrow Terminal on 19th September 2022, where they were greeted by RSIC representatives who guided them to a coach. On reaching Oxford University, the delegation was shown to their assigned college, Kemble college and were given time to acclimatise to their unfamiliar environment, explore their dorm rooms, read the instructions, and prepare for the following days of the conference. The next day began with a lively and colourful opening ceremony, with performances from some of the six hosting schools, and an award ceremony to felicitate commendable service projects undertaken by the students. To introduce each of the 150+ schools present, students were asked to rise from their seats and call out a greeting from their own country or culture. Standing up in the packed audience and saying "namaste" to an applauding crowd was a special experience. The delegates were astounded at the number of countries being represented; this conference included students from over 35 different countries.

Throughout the conference, Baraza groups were an important form of learning and making new friends. The delegates got to witness a total of 10 different keynote speakers at New Theatre Oxford, each of which was followed up with a discussion in the baraza group. These unique speakers ranged from Ollie Thorn, a paralysed sportsperson to climate change enthusiasts like Lesego Serelong and Professor Sir Dieter Helm, to Ben Fogle, an individual who climbed Mount Everest to Emily Penn, a marine biologist, thus providing the delegates with a multitude of insights and lessons. Each speaker helped explain the RSIC 2022 theme of "take less be more," discussing the different ways it applies to their lives, their connection with Round Square, and the way the Round Square IDEALS (Internationalism, Democracy, Environmentalism, Adventure, Leadership, Service) can be imbibed in one's life. Baraza group discussions on these phenomenal speeches enabled insights and ideas from diverse cultures and lifestyles to be shared.

Of course, there was time for recreation with the delegates' new friends. An Alice in Wonderland themed treasure hunt across Oxford in the students' respective baraza groups provided a wonderful opportunity for team building and exploring one's surroundings. Additionally, one of the nights an Irish dance (ceilidh) took place in the townhall after dinner - here, the delegates greatly enjoyed the lively music and learned some Irish steps. Both these activities cemented the friendships already formed and helped to create new ones.
The first half of the conference ended with cultural performances from the schools present. This included traditional dances, music, costumes and even plays which helped break certain stereotypes. Overall, every single performance received a standing ovation from the supportive audience, as this helped them experience a small part of different cultures across the world. Students of DAIS also put up a performance themselves: a unique yoga performance that embodied symbols of India followed by a lively dance on a Bollywood song. Though the delegates were not ready to leave behind the wonderful campus, this was a perfect way to end the first leg of the trip.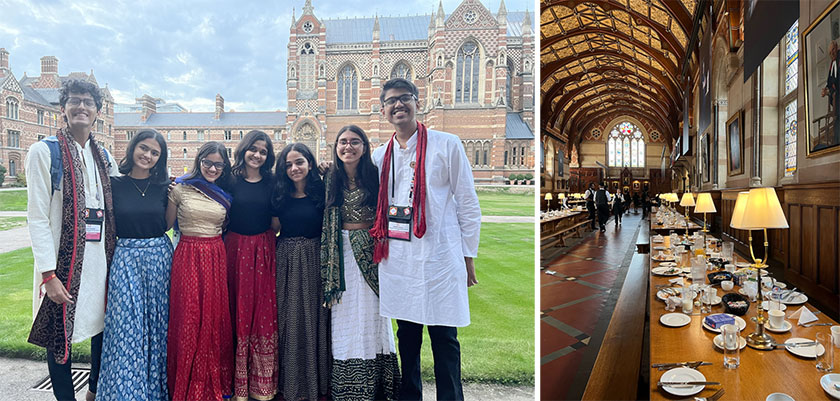 Next, the delegations were split into different schools. The DAIS students used a coach and a ferry to journey to Ryde School with Upper Chine, located on the Isle of Wight. After arriving, the delegates were given a chance to observe their lodgings at Kingsworth, and subsequently welcomed to the school with an interesting keynote speech on the role of the government when it comes to energy and global warming. A Baraza discussion and a tour around the school followed, both of which helped students to learn about different perspectives, opinions and cultures. To draw the lively day to a close, 'Ryde School Carnival' was held. Here delegates took part in enjoyable (as well as environmentally friendly) activities: a silent disco, bouncy castles and tasting locally sourced food. This was a wonderful experience for the delegates, who enjoyed themselves with their new friends.

For the last two days of the conference, the delegates were fit into four different groups and embarked on an activity carousel, performing the following on a rotational basis - a visit to Osborne house, water sports, a service trip to an animal sanctuary and a hike to the Needles. The visit to Osborne house was filled with historical artefacts, displaying the opulence of the British monarchy and architectural wonders. Water sports were met with enthusiasm from all students, and included raft building, kayaking and paddle boarding. The service trip to the animal sanctuary was an eye-opening experience, with lions and tigers rescued from unsafe environments. The students aided the sanctuary in four separate ways: using recycled plastic to create jellyfish for the installation, picking up invasive weeds, identifying plants and making enrichment toys for monkeys and lemurs. Lastly, the hike to Needles was a picturesque walk as well as a rigorous and enjoyable physical activity, where the delegates worked to encourage and motivate each other to complete the hike.

Lastly, the days ended with either a formal dinner or campfire and games (once again, on a rotational basis). The formal dinner was an exceptional opportunity to mingle with new people from different cultures. The campfire was a nostalgic incident, with delegates reflecting on their 7-day trip and saying goodbye to new friends made - of course, not without exchanging phone numbers and Instagram IDs to stay in touch! Overall, RSIC 2022 was a phenomenal learning experience for all the delegates.