Round Square International Service Project
Ladakh - July
Before I went to Ladakh for RSIS 2013, I had no idea that I was capable of climbing over 600 steps in 20 minutes (and that too at around 3000m above sea level!). This service project has undoubtedly been one of the most thrilling experiences of my life. Spending 3 weeks in an environment completely different from that at home is no easy task, but it is exactly what made the trip so memorable.
Those 3 weeks were divided into 3 main phases- the acclimatization phase in Leh (10th to 12th July), the project phase in Thiksey (13th to 26th July) and finally, the trek phase from Shang to Rumbach (27th July to 31st July).
The project phase consisted of helping with the construction of a dormitory and the second storey of a building for the Lamdon Model School in Thiksey. Some of the school students have to walk for several days to get to a road before getting on a bus to the school, so you can imagine how important a new dormitory is to the school community! Our tasks involved normal construction jobs like- loading bricks from the brickyard onto a truck, forming long chains to move the bricks from one point to another, mixing and moving buckets of mud, picking up rocks, cleaning up the worksite and other general manual labour. Word of advice: take LOTS and LOTS of sunscreen, and wear full sleeved tops and long pants as far as possible. You will get very, very tanned.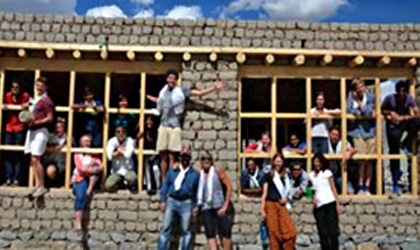 The project team comprised of 16 students and 6 adults, representing the countries of India (obviously), China, Korea, England, USA, Canada, Germany and Peru.
There were three work periods each day- each of which was 2 hours long. The whole group was split into four sub-groups and one of these sub-groups took on domestic duties each day in rotation, where they were responsible for tidying the camp and helping the kitchen staff. There was certainly a great deal of work, but also a great deal of personal time for other activities. For the most part, we used our personal time sleeping under the shade of a tree, reading books, cleaning up and washing our clothes.The toilets and washing facilities at the camp were, as expected, primitive.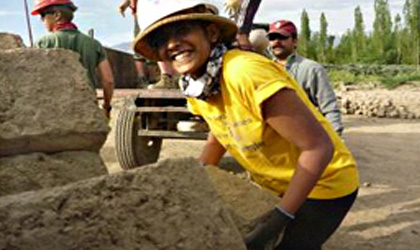 To bathe, we took one (or at the most, two) buckets of ice-cold water and went into a tiny tent with no lighting. Doing our own laundry using soap-cakes and buckets was possibly the only part of the trip that was not…fun. That being said, I still think it was an experience worth having.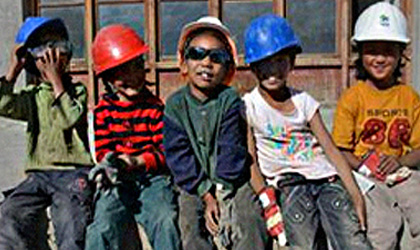 The best part of the work sessions was when we would take small breaks and the little school kids would come play with us. I was both enraptured and shocked by the immense joy and energy of the kids. They lived in such bleak conditions, yet somehow they managed to turn that bleak place into one bubbling and bursting with energy and life. As a group, we decided that we wanted to do something special to leave our mark on The Lamdon Model School, and so we decided to paint murals on the walls of the existing dormitory.
Our campsite was located right next to the Thiksey Gompa (monastery), which is the largest gompa in Ladakh. On one of the mornings, we climbed up all 12 stories of the monastery so that we could watch the sunrise above the mountains. On another morning, we attended the prayer ceremony that is held there on a daily basis. We were very lucky to have had the opportunity to converse with one the young monks there, who told us all about Buddhism, and what it's like to live in a monastery and be a 21st century monk.
We had a one-day break mid-Project (on 20th July) during which we visited the Pangong Lake, a stunning high altitude site! The day trip to Pangong Lake was a very long day of driving (5 hours one way), but we got to go over the third highest motorable road in the world!
The trek phase was 5-days (4-nights) long, from Shang to Rumbach. It was a truly breath-taking trek, with views across the Karakorum mountain range! We went over some very high passes (at approximately 5000m), and crossed quite a few rivers. We had the option of sleeping out under the stars at night, but on most nights it was too cold to do so. On the one night that we did sleep outside, the night sky was absolutely beautiful- we saw so many shooting stars!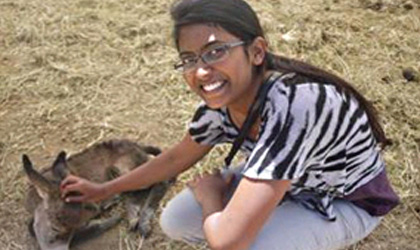 At the end of the trek, we spent two more days in Leh. We spent most of this time shopping in the Leh market and the Tibetan refugee markets! On one afternoon, we even visited a donkey sanctuary, which was quite a strange but wonderful experience.
In summary, this trip allowed me to make new friends, get exposed to new cultures, face new challenges and learn new skills. I am now so much more aware of my strengths and weaknesses! Words cannot express how grateful I am to the school for giving me this opportunity. Although I missed the first 2 weeks of IBY12 because of this trip, it was quite easy to catch up with the work. I strongly encourage my juniors to go on the RSIS trips in 2014!