Art and Artist - Sai Art
The Sai International School conducted an 'Art and Artists' activity in two sessions held on the 17th and on the 24th of June 2020, where students from all over India presented artists from a country of their choice. Ten students of Art from DAIS attended these sessions. The goal of the activity was to cultivate young artists and evoke a sense of love for art and create fruitful conversations amongst fellow students.
Prior to the session, each school created two presentations each on an artist from their chosen country. The first session started off with DAIS presenting their country of choice - France, where they elaborated on the prominent artists Niki De Saint Phalle and Claude Monet.
Post this, the session had presentations made by the other schools and a fun game of "Match the art piece to the artist". The students were then given a week to choose and recreate a piece with their own interpretations. Students came up with unique and beautiful ways to interpret their chosen pieces while maintaining the essence of the original work. The session ended with an extensive discussion about the parallels between traditional versus modern art and the evolution of art over the centuries.
Through this journey, the students learned a great deal about the History of Art through the ages and one of the attending DAIS students quoted , "It felt refreshing to have fruitful discussions with such talented and knowledgeable artists". Overall, this was a wonderful experience that was not only educational but also gave students from around the country a chance to get to know one another from the luxury of their own homes.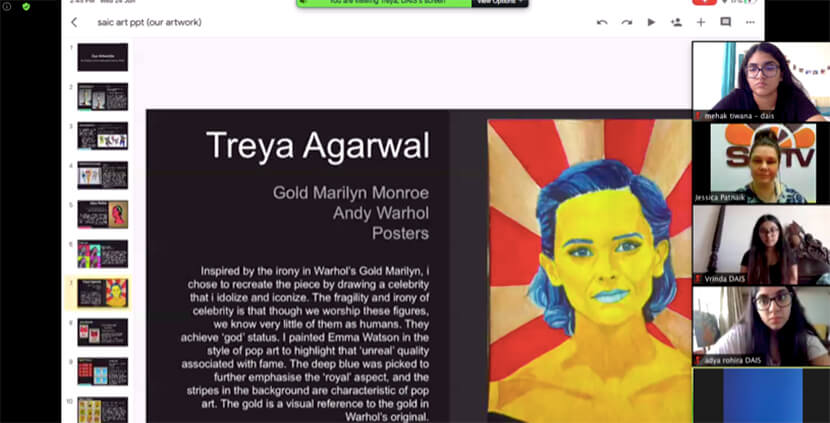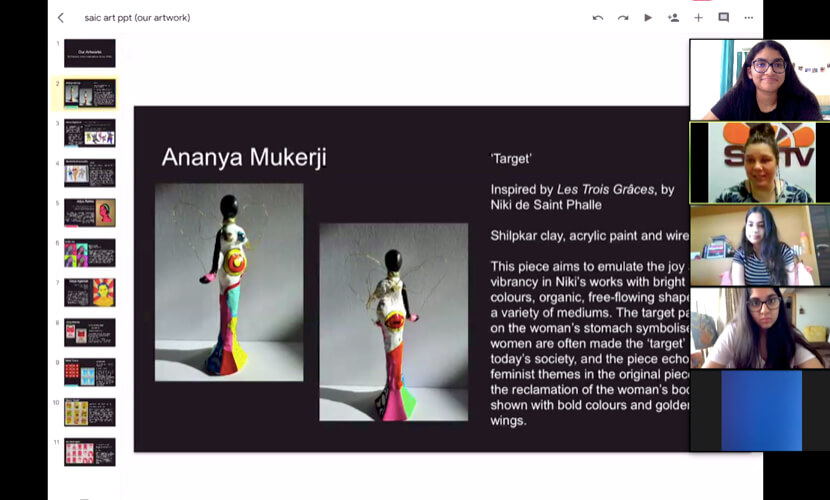 DAIS Student Delegates
Mehak Tiwana, Adya Rohira, Treya Agarwal, Vrinda Das, Dhaniti Parekh, Arzoo Usgaonkar, Nandini Krishnamoorthy, Tanay Bhandari, Sia Harisinghani and Ananya Mukerji
DAIS Adult Delegates
Ms. Manisha Nanda