Co-curricular activities– Sporting and Non-sporting
It is mandatory for all students to participate in one sport and one non- sporting activity as part of regular Time Table from Classes I to XII.
The School offers a wide variety of non-sporting activities to students from Class I onwards. Classes I to IV are engaged in co-curricular activities once a week, while for classes V to X it is offered twice a week.
Non-Sporting Activities
Students are selected to participate in the core activity groups based on aptitude, effort and commitment. Participation in core activity groups is voluntary but students are expected to commit to regular attendance. Participation in core activity groups would entail students spending extra hours of practice beyond regular school hours. The 'core' activity groups for non-sporting activities' are Robotics, Indian and Western music (both vocal and instrumental), Dance, Drama and Model United Nations.
Art Animation
Art Animation is a thoroughly enjoyable co-curricular activity where children are taught how to create short films. It is very interesting and brings out the creative side in people. Students opting for this activity learn a wide range of creative arts such as collage, drawing, painting and comic storyboards. Scanning and digitalized processes are explored along with dabbling with Graphic illustration techniques. The building up of whole stories block by block is a holistic artistic experience which amalgamates the use of traditional art of drawing and coloring with use of technology.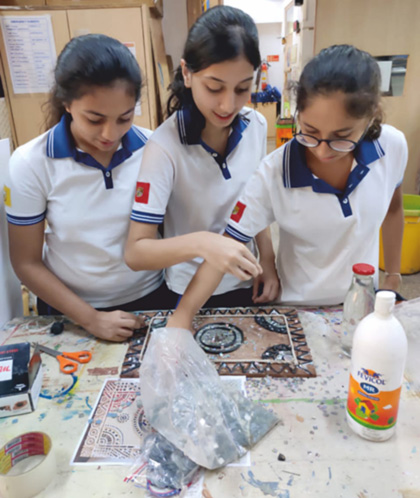 Cookery
Basic concepts of cookery, cooking different dishes, safety aspects in the kitchen and nutrition. Use of basic kitchen implements, identification and utilization of seasonal vegetables and improvising recipes are done through group and individual work under able teacher supervision. Both local and international recipes are used and care is taken to ensure all students are given a chance to get a hands-on experience. Food is inescapable: no matter where it is you are, you always need to eat! However, the ability to turn this necessity into something enjoyable is a true skill and one that students master through the Cookery class.
GK and Quiz
General Knowledge is an important tool to perceive, analyse and understand the world. It adds value both in cultural and academic terms and plays a significant role helping people connect in vibrant multicultural hubs. Quizzing adds the fun quotient in this activity.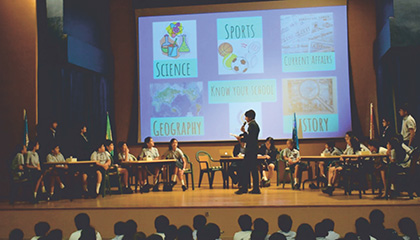 Indian Music & Dance
The objective of the 'Dance and Music Club' is to create an exchange of different cultures related to dance, across India. The aim is to learn different dances, understand the music of each kind of dance, appreciate every form and learn to choreograph our own pieces, using the required skills.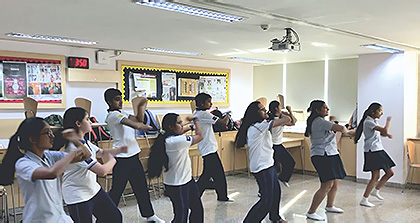 Needle work
Good basic needlework is not just an activity but a life skill. In the context of an age ruled by technology, teaching handwork ensures that the country's rich tradition of culture is passed down from one generation to the next. The skills required in these creative arts not only bring about a renewal of interest and pride in our culture but also develops focus and concentration, hand and eye coordination and enhances critical thinking and math skills.
Pottery
Students who take part in pottery learn how to use different clay building and making techniques. They are encouraged to think creatively and independently and produce original and exciting works made from clay. Students develop their understanding of clay by producing a slab pot; they create original designs informed by their own research and then build their work. They learn how to add different decorations and how to carve patterns successfully. The products which are later displayed include varieties like clay shoes, Tea light holders, sliced fruit /vegetables and various kinds of flowers. Works of expert Ceramists like Kate Malone are used to demonstrate simplification of tasks.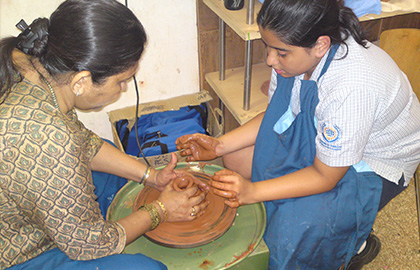 Scrabble
Scrabble is not only about building a community of wordsmiths but also about stimulating the memory and the art of strategy building.
Theatre
Basic techniques of dramatization and script writing, improvisation. Starting with general introductory games, the students are exposed to a whole gamut of activities which vary from producing TV commercials, devising scenes from popular novels through group work, exploring the nuances of converting fairy stories into film trailers of different genres. Group and individual work under qualified Drama teachers impart quality as well as fun to this club.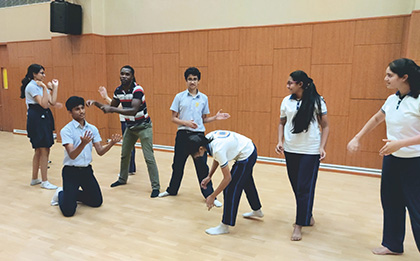 Western Music Vocal & Instrumental
Learning to play an instrument involves much more than the voice or fingers playing an instrument; it taps into multiple skill sets, teaches one to be organized, enhances perseverance and coordination as well as a host of other benefits.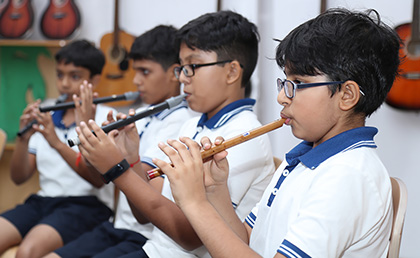 Caligraphy
Calligraphy is equivalent to scholarly cultivation. Apart from a good handwriting, it aids students in improving their concentration and in expressing themselves more artistically.
Wood Work
Children learn basics of curing and construction with wood / ply to make objects like toys, boxes etc… Creating wooden models which may vary from aircraft to guitar involves planning elevating and section drawing, transferring the actual image graphically to the appropriate size, cutting filing and shaving of wooden blocks to finally using diverse tools like saws, chisels clamps, hangers and angle grinders. Dexterity of hands, artistic values and strong visualizing techniques are essential learning outcomes.