Future of Jobs
With the increasing involvement of automation and AI in various fields, Paradis International College in Romania hosted an online Round Square Conference - "Future Insights: A Propulsion into the Future of Jobs". The three hour conference aimed at discussing the future of jobs, sharing information on jobs that may not exist in the future, new jobs that might get created, and new skill sets needed for jobs in the future. The conference for students aged 15-17 was attended by participants from 29 schools in 13 countries representing Argentina, Rwanda, South Africa, Colombia, India, Dubai, Ghana, Tanzania, Peru, Canada, Australia, Thailand and Oman. Every participant provided a unique insight into the key discussions.
School Tour & Research Presentation:
After introducing the agenda of the conference, students of the host school gave the attendees a virtual tour of their school, campus, sharing their culture and values. Subsequently, they presented a report on the future of jobs based on their research into this topic. Many important points were brought up in this preliminary presentation itself.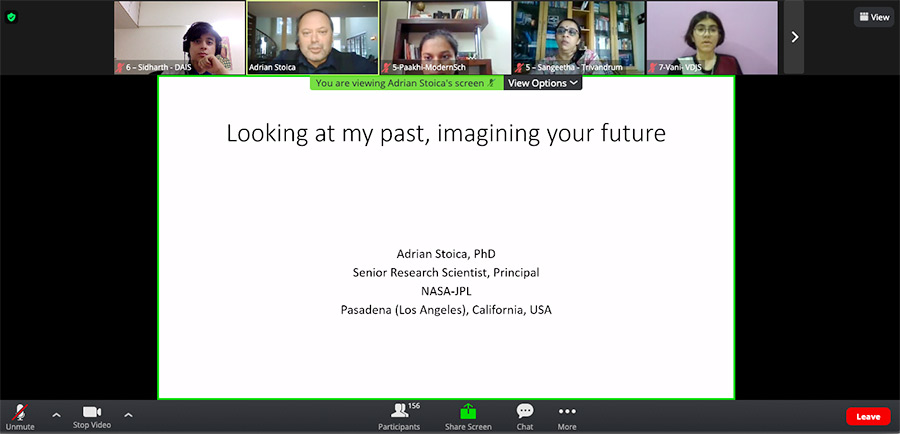 Speech by Mr. Adrian Stoica:
Keynote Speaker Dr. Adrian Stoica, from NASA Jet Propulsion Laboratory, California Institute of Technology, provided insights into changes in Space Science by sharing his personal experiences on applications of changing technology. In addition, a Q&A session was conducted in which attendees could ask Mr. Stoica questions about the future of jobs and on his presentation in particular. This questioning helped all attendees further explore the agenda and provided valuable insights into future careers for the student participants.
Speech by Mrs. Anurupa Ganguly:
Mrs. Anurupa Ganguly, the founding CEO of Prisms VR, gave a presentation on the future of Virtual Reality and Augmented Reality in the context of jobs and education in particular. This allowed students to better understand the future of education, as well as the possibility of working in the field of VR and/or AR. After this presentation, in the Q&A session, Mrs. Ganguly elaborated on the role of technology in education.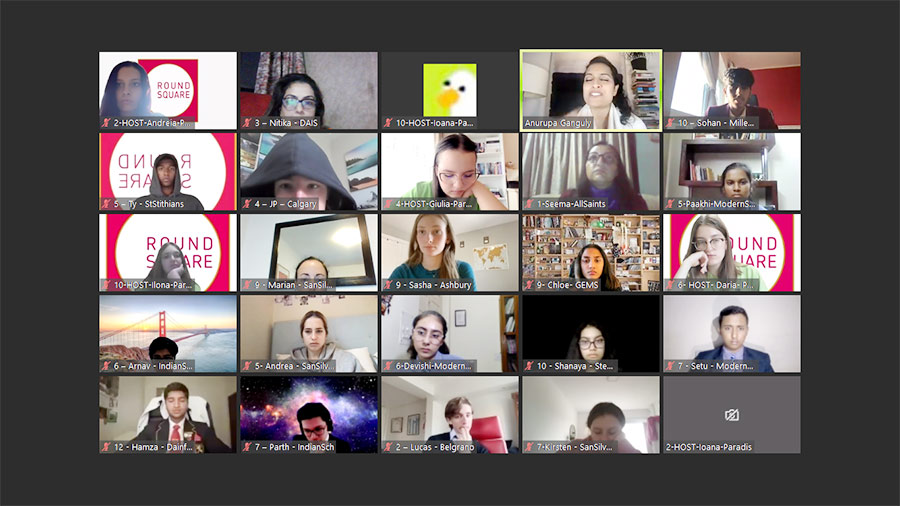 Barazza Groups:
Participants had interactive sessions in breakout rooms with introductory icebreakers and discussions on the main questions of the agenda on a more individual scale. They were engaged in games designed to evoke interesting questions about the agenda that they could then later discuss. Each breakout room collated responses on questions like "What jobs would be most useful in an apocalyptic scenario?" and "What jobs do you want to have in the future?" Each participant would share their input on the question, and often a friendly debate would break out among two or more participants, which helped the breakout group develop greater insight into the current question.
Overall, it was a very enriching experience and exposed the participants to several interesting questions to reflect on regarding the future of jobs.
Reflections:
"The conference was on a very interesting and relevant topic. The discussions were illuminating and the games made the experience fun and supper interactive!"
"The conference was an enlightening experience that featured passionate discussion and interesting questions." - Sidharth Wagle
"Evolution of jobs is a pertinent global and local issue in our time. Listening to keynote speakers and discussing this theme with like minded individuals was a highly enriching experience for me." - Aditya Bhargava
"I enjoyed the stimulating and thought-provoking discussion on how human, industrial, creative and technological elements will transform our future." - Tanmay Arvind
Delegates:
Tamanna Sanghvi, Sidharth Wagle, Aditya Bhargava, Tanmay Arvind
Accompanying Teacher: Ms. Nitika Thakur