Virtual School
Against the unprecedented backdrop of the COVID-19 pandemic, schools world over have moved to the virtual mode of teaching and learning and at DAIS this transition has been well-planned to give our students an engaging educational experience.
In designing the virtual school model, we have been diligent and thoughtful by opting for a safe, secure and robust teaching and learning platform, while being fully mindful of our school's education philosophy and practices all along. Ever since we launched the virtual school in April 2020, it has been an enriching and transformative experience for all, with students seamlessly transiting to this new mode of learning and parents sharing their encouraging feedback.
Glimpses of DAIS Virtual School
The Microsoft Teams application on the Office 365 Education suite, which has emerged as one of the most sought-after and effective online teaching-learning solutions across the world, serves as the platform for DAIS virtual school.


The School has invested significant resources and time in training and mentoring our teachers to become proficient in effectively and meaningfully making use of the many education-focused features and tools of Microsoft Teams.


Our teachers, through high-quality lessons and resources, provide students a blended learning experience every day – a fine blend of synchronous instruction, asynchronous resources support, and assessment practices.


Teachers have put in tremendous efforts in preparing and also collating and curating various resources like videos, web-links, PDF documents, tasks, activities, assignments, and projects to enhance students' learning experiences.


Teachers have curated and placed a huge repository of digital teaching and learning materials on OneNote Class Notebook for students to refer and reinforce their learning.


The virtual school platform has been an excellent avenue for teachers to design and offer a wide variety of creative and interactive teaching techniques and activities to enhance students' level of engagement and understanding.


On-going and personalised feedback is being provided within the online environment, as part of the School's goals to ensure authentic and valid assessment practices. The formative and summative assessments are conducted using Microsoft Forms and www.exams.net


All the sessions are recorded for students to revisit and learn at their own pace from the comfort of their homes.


True to DAIS educational ethos and pedagogical practices, teachers focus on providing students personalised learning experience, and students with special education needs continue to be supported through the virtual mode.


The School counsellors support the social-emotional health and well-being of our students through specially designed sessions and reach out to the individual needs of students as required during these uncertain times.


The holistic development of students is focused on through a diverse range of sessions covering Physical Education, Drama, Music, Dance, Art, and Yoga classes, which have a positive impact on their physical health and mental well-being.


Our specially designed activities as part of the PE programme ensure the necessary physical activity, apart from serving as the required breaks for students from the strain of ongoing screen time.


Online virtual after school/co-curricular activities that encourage social interaction are also being offered.


The virtual school has been instrumental in making the teaching and learning processes more collaborative and participative, while also preparing students to effectively navigate and thrive in the digital world in the future.


Apart from the core teaching and learning activities, the Microsoft Teams platform is being effectively used to conduct Orientation for Parents, Parent-Teacher Meetings, conferences between parents and teachers, and many such interactions.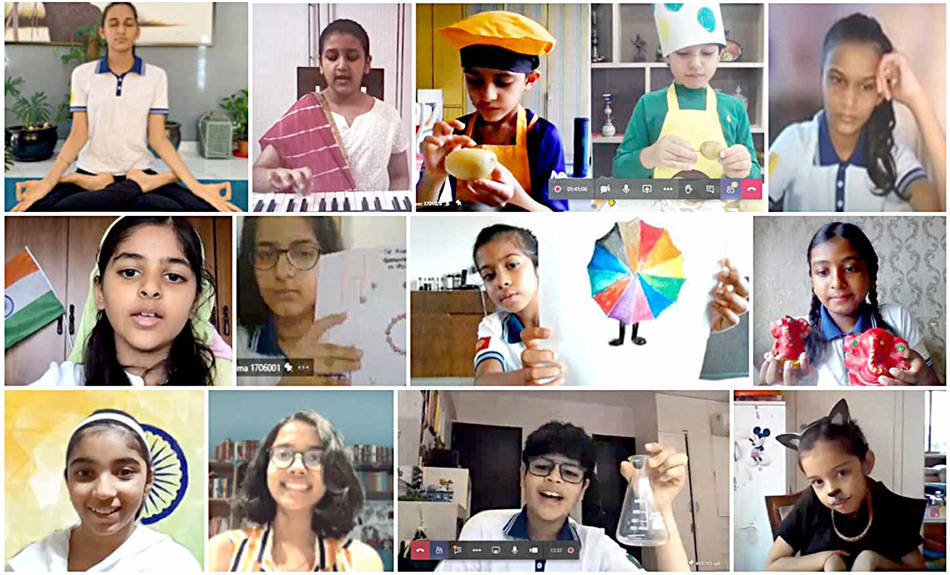 ONLINE SCHOOL VIDEOS