"I Love my India" by LKG students of DAIS
Learning about alphabets is not restricted to knowing what sound it makes and how the letters form. Children of LKG took the concept of learning to a different level when they were learning about the letter 'I'. Letter 'I' is for 'India' and so they celebrated the diversity of India, by dressing in the local costumes of each State and learning and sharing information about its food, culture and customs.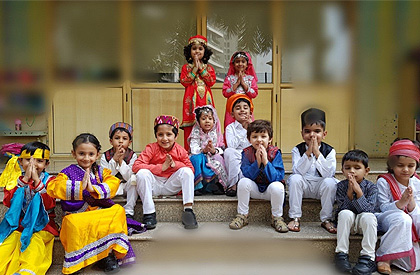 Day 1: Children came dressed in traditional costumes of the States of Jammu & Kashmir, Himachal Pradesh, Punjab, Haryana, Uttarakhand and Uttar Pradesh. They shared information about the state they represented. The school canteen served 'Aloo de Parathe' with Dahi and Jalebis as part of the North Indian cuisine for that day!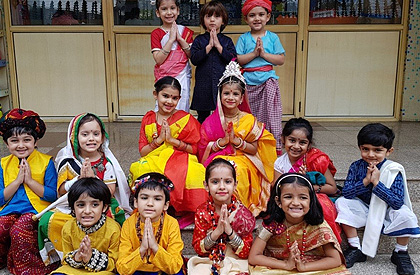 Day 2: Children represented Odhisha, Jharkhand, Assam, West Bengal, Chhattisgarh and Madhya Pradesh and shared facts about each state. The menu for the day was 'Choler Dal' and Puri, followed by 'Mishti Doi'!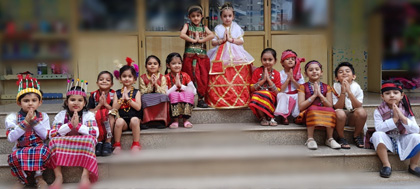 Day 3: Children dressed in traditional costumes of North Eastern States Sikkim, Meghalaya, Tripura, Manipur, Arunachal Pradesh, Nagaland and Mizoram. They relished a meal of 'Thukpa' and Banana Fritters!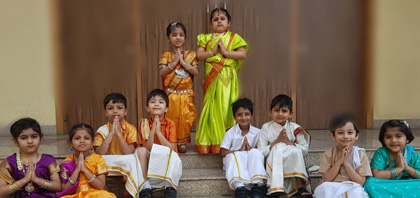 Day 4: Greetings of Vanakkam, Namaskaram, Susvagata and Vandanalu echoed through the class, as children came dressed in traditional costumes of Southern States of India. They shared information on the food, costumes, festivals and dances of Tamil Nadu, Kerala, Karnataka, Andhra Pradesh and Telangana. The menu added to the South Indian flavour with 'Idli', 'Chatni' and 'Payasam'.
Day 5. The India week celebrations concluded with highlights from the States of Gujarat, Maharashtra, Rajasthan, Bihar and Meghalaya. The menu of 'Pav Bhaji' and 'Sheera' added flavour to their presentations.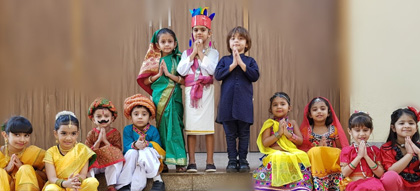 By the end of the week children had been able to recount most States of India, and understand the diversity of culture, food, costumes and dance forms. This riot of colours and cultures concluded with the children singing the National Anthem, recognising and relating to the States, as mentioned in the anthem.
This week was a truly enriching experience, not only for the LKG students, but also to the students of UKG ,who witnessed all the presentations and learnt from them!! Jai Hind!