Kindergarten Programme
Classes LKG and UKG
Dhirubhai Ambani International School, Mumbai, offers a curriculum which is uniquely designed to be developmentally, culturally, linguistically and socially relevant to early learners. It inculcates in children the qualities of curiosity, exploration and discovery in a fun-filled, safe and happy learning environment. Our curriculum considers the need for all children to be exposed to all domains of development – physical and motor, language, cognitive, social and emotional – so no single domain takes precedence over any other.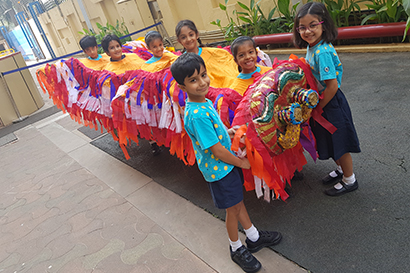 At the school, the emphasis is on developing in students, self-confidence and the ability to effectively communicate in English.
We are mindful of children being allowed to develop at their own pace, with an advanced pedagogy and curricula that enable children to direct their own learning.
Teachers ensure this through effective use of language and by encouraging children to express themselves freely.
Children are active partners with their socio-cultural environment, interacting with teachers and peers.
Our curriculum is a well-balanced curriculum that contributes to early care and education, helping the young minds to integrate their learning across subject areas. Rather than adopting a didactic, school-based approach, subjects are not taught in isolation, but the learning is integrated across domains. This makes Dhirubhai Ambani International School the top International school in India.
The emphasis is on exploring, knowing, understanding and forming their own ideas. The principles of learning applied in Kindergarten include Holistic Development and Learning (Aesthetics and Creative Expression, Language and Literacy, Numeracy, Self and Social Awareness); Integrated Learning; Active Learning; Supportive Learning; Interactive Learning and Learning through Play. The curriculum prepares children for a smooth transition to a more formal Primary curriculum.
The Kindergarten Programme makes use of a range of individual and group activities which create a lively and positive learning environment. These activities are designed to focus on building concepts and strengthening competencies and skills. Children are provided opportunities to demonstrate curiosity and creativity to learn new concepts and build on existing ones.
Games, songs, creative projects, story-telling, role-play, drawing, and painting help develop children's foundational skills in literacy and numeracy.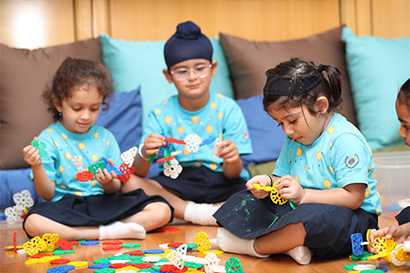 Singing, rhyming and reciting are some strategies employed in the Language Arts and the Phonics Programme. Activity areas or learning centres are set up in the classroom, with resources that actively engage children to learn about particular themes or topics.
They provide opportunities to create, draw, manipulate, discover, explore, learn new skills, and to make mistakes.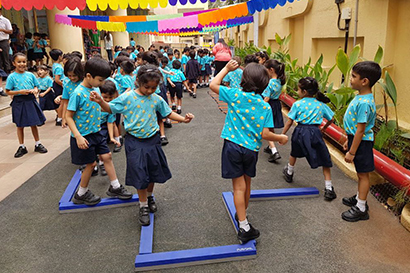 Math is an important component of our early childhood education.
The use of manipulatives, pictures and symbols, which are a great way to make math fun and engaging, connect abstract concepts to real-world objects and help to reinforce preschool math concepts in the classroom.
Besides the academic platform, we include non-academic subjects as a vital part of our curriculum. The children are encouraged to play, explore, discover and communicate through P.E, Dance, Music, Art and Craft.
Sports activities help in strengthening coordination and motor skills, and instil enthusiasm for health and fitness.
The Fine Arts programme at our pre-school level, gets the children interested in a variety of activities and expands their interests. It initiates imaginative, intellectual and aesthetic concepts within young children.
Picnics and field trips enhance students' understanding of their immediate surroundings and beyond. The teachers have frequent, meaningful interactions with children on these trips and outings.
Celebration of festivals is a regular feature at our school. Children cherish every festival and adorn every culture. These celebrations, which are innovatively conducted through colorful displays, dramas, art and craft, dances, musical activities and other creative ways, teach our preschoolers essential morals and values, and sensitise them to diverse traditions and cultures.
Our curriculum is an effective balance between a clearly defined structure that impacts all children, and a flexibility that allows for individualization for children, within the classroom.

School Timing