THE INDO-FRENCH EXCHANGE PROGRAMME
Genesis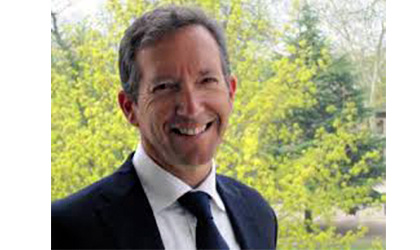 Christopher Hunter

The Indo-French Exchange programme took off as a CAS service initiative in 2003 and was led by Shaun Mcinerney, an IB Diploma teacher at DAIS, in collaboration with Christopher Hunter, a pioneering founder member and now the Head of Ermitage International School of France. It's been a decade since we have been a part of this longstanding association which has now blossomed into a multi-dimensional exchange programme that is not only service oriented but also educational and cultural in nature
Ermitage International School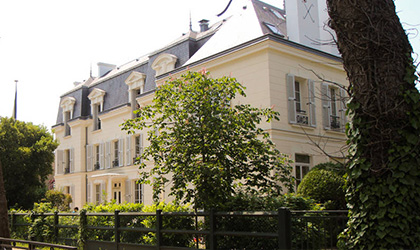 Ermitage, a very unique institution firmly committed as a member to the Round Square IDEALS, is located in the historic suburb of Maisons-Laffite on the outskirts of Paris, a town with a significant international population and a horse riding hub. Ermitage was born out of the rubble of World War II in 1941 and now offers bilingual education with emphasis on an intercultural ethos through the activities it undertakes. In addition to the French baccalaureate programme based on the French National Curriculum, Ermitage also offers an International Studies Programme, including the IB Diploma Programme. Accredited as an IB World School, its French Diploma programme follows the American Section curriculum where History and English/American Literature classes are held entirely in English.
Maisons-Laffite is a thriving, historic town located just 17km west of Paris. A variety of team sports, activities and festivals are offered throughout the year and the weekly farmers' market is a must for locals and tourists alike. Whether living on campus or at home, Maisons-Laffitte offers students the opportunity to get involved, such as with riding lessons, theatre, tennis, rowing, swimming and more. A variety of specialty boutiques and restaurants are available throughout town, with very quick access to Paris via the train or bus.
Maisons-Laffitte is well-known for being the "birthplace of horseback riding" and for the national monument Château de Maisons, Louis XIV's hunting lodge.
For the slide show on Maisons -Laffite
http://www.ermitage.fr/page.cfm?p=401
The Programme
Service Initiatives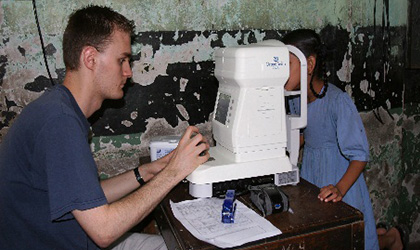 This Exchange Programme has met with phenomenal success, with about 40 teachers and over 400 students from India and France having participated in it over the past 10 years! Its initial focus was the ICU2 Eye Camp Project, also supported by Orbis International, the Flying Eye Hospital of international acclaim, doctors from the optometry school of Paris and the Lotus Eye Hospital in Mumbai. As a part of ICU2, French and Indian students and teachers have been involved in screening thousands of underprivileged children and adults for eyesight, ensuring provision of glasses and follow- up care where required. Over the years, we have moved on to work with local NGOs as a part of the DAIS community service as well as the DAIS Village Service projects that enable Indian and French students to work on improving infrastructure and providing basic amenities to the people of our school's 2 adopted villages-Hasachipatti and Kumbharghar.
Such initiatives are now being achieved in increasing collaboration with other Round Square schools in Mumbai as well. Our recently held Round Square dental camp along with Singapore International School, Mumbai was one such example.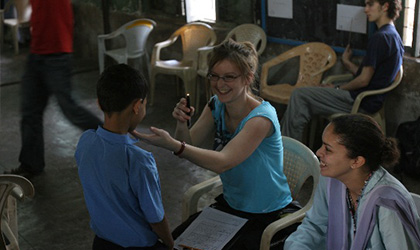 The 'Immersion' Experience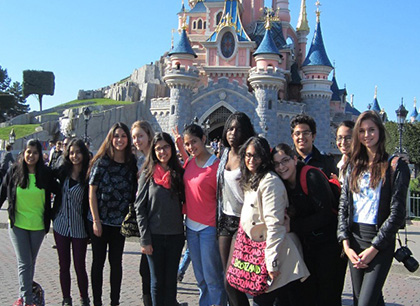 Apart from community service, intercultural understanding is also being fostered in a valuable way through week long home stays in families of both Indian and French students, in the month of February in Mumbai and in the month of March in Paris every year. Along with exposure to typical Indian and French culture and cuisine, they discover each other's city through bilingual guided tours that aim at enhancing their art/historic knowledge along with linguistic skills as students learning English and French as foreign languages. This "immersion" experience is extremely crucial to 2nd language acquisition as it also involves attending classes and interactive activities such as debates, interviews, surveys in the target language with native speakers.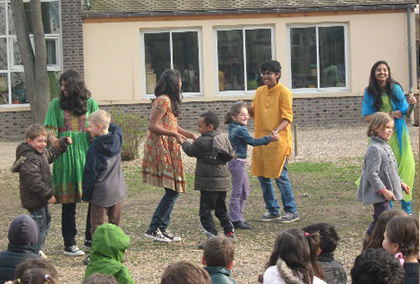 Students also put up an assembly at each other's schools to present their culture, festivals, dances, songs and so on to their hosts. In France, we have had fun activities such as treasure hunts to familiarize students with the History, Art and Architecture at the Palais de Versailles, French cuisine workshops, Visits to the local fish and cheese markets, Food Halls, Quizzes on The Eiffel Tower, Cruise on the River Seine, for example!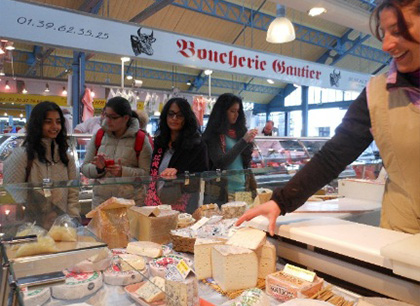 Reflections
Thus the Indo-French Exchange Programme is an opportunity for students to not only get to see a completely different school in action but also to understand each other better and get on with others better, only to realize that though they may be so different and have different sets of problems, they are finally so similar and dealing with similar situations in so many ways. The community service experience is gratifying and rewarding to say the least. Students on both ends are not only motivated to learn and master a 2nd language in the future, but also, to appreciate other cultures, respect each other and serve humanity with renewed passion. Through such a holistic educational and cultural exchange programme, they begin to understand that in order to be true international citizens of the world, they not only need to excel in their respective fields but also contribute to their community in concrete ways in the future and make a real difference.