Since the dawn of humanity, darkness has been a sign of danger: when the sun descended, the creatures of the infernal thrived. But had we forever been afraid to venture into the depths of darkness, would we be where we are today? Our understanding of physics would have been incomplete without Einstein exploring the shadows beyond Newton's theories. Our appreciation for modern theatre would not have emerged without Ibsen traversing beyond Shakespeare's romanticism. Our fight for equality would not have materialised without young change-makers championing the cause of those hidden behind the veil of inequality. With the fervour to explore the obscurity that lies beyond the haven of the light, the theme for TEDxYouth@DAIS was chosen to be Beyond the Spotlight!
We were extremely excited to bring TEDxYouth@DAIS back to the CPA after 2 years of virtual events. The room was buzzing with energy as students and teachers came together to hear our 7 speakers talk about topics ranging from the Arts, psychology, sports, education, diplomacy, entrepreneurship and culture. As always, we even had our very own student and alumni speaker and, for the first time, a teacher speaker as well! At TEDxYouth@DAIS, we strived to create a platform to share Ideas Worth Spreading and journey into the world that exists Beyond the Spotlight!
Student Heads
Dhruv Bhalla and Trayi Ajit
---
Arzan Khambatta: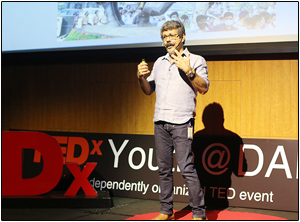 Mr. Arzan Khambatta is an architect-turned-sculptor who found his love for sculpting at a young age and has been creating sculptural masterpieces for the last three decades. He specialises in using his creativity to reuse and reimagine scrap found in junkyards, inspired by the tradition of other local sculptors. Mr. Khambatta's talk was truly inspiring for the audience as he urged them to plunge into new opportunities headfirst, and "Leap and then look". He left our audience enamoured by the scale, medium and the underlying playfulness of his sculptures.
Vasundhara Kaul: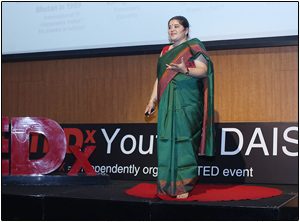 Mrs. Vasundhara Kaul is an expert trainer, mental health practitioner and well-being coach with over 16 years of experience in the field. She is the founder of Capediem EdPsych Consultancy, a female-led organisation that aims to destigmatize mental health and promote well-being. She is passionate about empowering people to communicate better, be future skill-ready, and become life-long learners. Her talk captivated the audience with stories from her life and she focused on the spotlight effect - a phenomenon where people tend to believe they are being noticed more than they really are!
---
Sujata Sahu: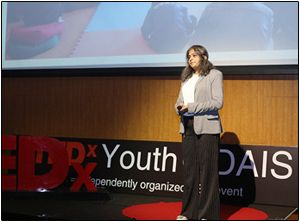 Mrs. Sujata Sahu is the Founder and Director of the 17,000 ft. Foundation, an NGO that works to improve education access in the mountainous regions of Ladakh and Sikkim. Her organisation has impacted over 50,000 students in 1,000+ government schools by providing libraries, playgrounds and DigiLabs. She was awarded the Nari Shakti Puraskar and the Women Transforming India Award for her contribution to the community. Her talk truly embodied the fact that anything is possible - even in the harshest geographies of the Himalayas!
Rehan Poncha: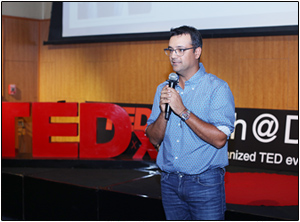 Mr. Rehan Poncha has represented India in swimming at the most prestigious championships including the Beijing Olympics, Commonwealth Games and the Asian Games. He started his own academy called SwimSmart with Rehan Poncha to train competitive swimmers and give back to a sport that means a lot to him. Despite being a sportsperson, all students, from artists to scientists, were inspired by his call to finding a purpose. His talk highlighted the importance of surrounding oneself with positive influences and he encouraged the audience to chase their dreams!
---
Alumni Speaker - Aditya Jhaveri: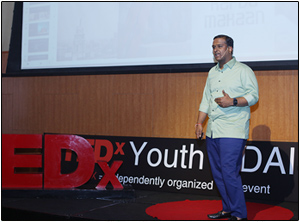 DAIS Class of 2008 alumnus Aditya Jhaveri is a serial entrepreneur with 12 years experience in building businesses across industries. He is a pioneer in creating technology infrastructure for real estate and is the Founder and CEO of Blox - India's first and only home buying platform that is fully integrated with technology. Mr. Jhaveri's talk inspired the audience with his entrepreneurship journey and presented his novel application of artificial intelligence to the field of real estate.
Teacher Speaker - Julian Vera Aguila: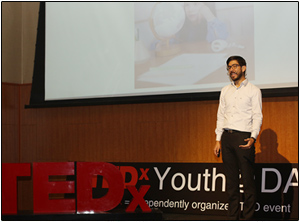 Mr. Julian Vera Aguilar has been a Spanish teacher in India for the past seven years and is a beloved member of our school's faculty. He was born and raised in Mexico and moved to India for his further education in 2008. He is an avid reader and is passionate about understanding different communities, especially Hispanic and Indian cultures. In his talk, Mr. Aguilar shared lessons he learned from his experiences as a Mexican in India. He urged those venturing into a new life in a new country to "let go of the concept of normalcy, and embrace differences."
---
Student Speaker - Ahaan Jindal: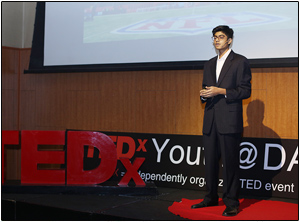 17 year-old Ahaan Jindal is currently in Grade 12, pursuing the IB Diploma programme at DAIS. In his talk, he combined his interests in sports and foreign relations to explore how sport has helped open diplomatic channels between nations and promoted social and cultural movements around the world. Titled "The Game Beyond the Game", his speech explored examples like the normalisation of US-China relations thanks to Ping-Pong Diplomacy and the reduction of poverty in Afghanistan due to the popularisation of cricket.
---