The Services
Cafeteria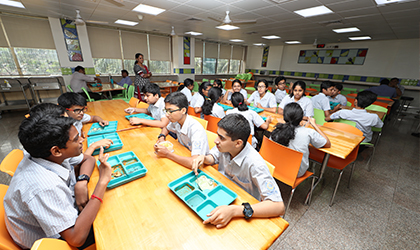 The two dining halls, conforming to the highest standards of modern catering, serve balanced and nutritious vegetarian snacks and lunch in an air-conditioned environment. Drinking water is available throughout the day on each floor of the campus.
Medical Centre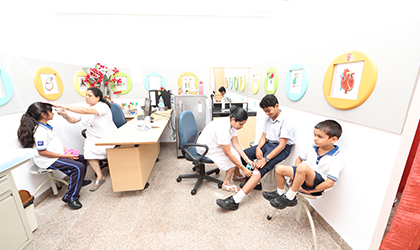 The school places great importance on the health and safety of students. Suitably qualified nursing staff keeps the medical centre open throughout the school day, while the school doctor is available two days in a week and for any emergency. In its modern and child-friendly setting, the medical centre maintains high standards of hygiene and a well-documented system of students' health records. The medical staff arranges for routine medical treatment as well as health promotion activities such as an annual check-up, and dental and ophthalmologic camps.
School Transport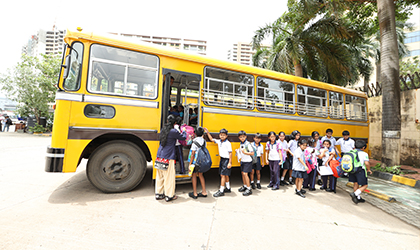 The School operates 24 Bus Routes as listed below. The details of bus routes, pick-up and drop-off points, time schedules, and bus charges will be provided by the School at the time of admission of students. The School does not have any plans to extend the bus routes, at this time.
Click here for Bus Routes


Isolation Room -
Covid Preparedness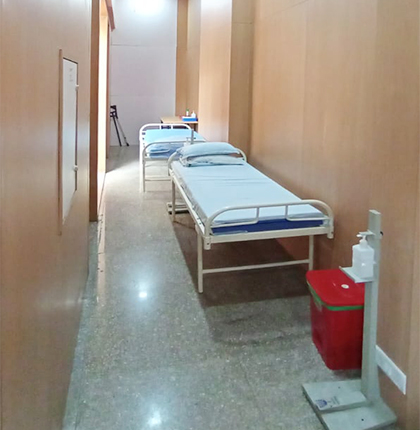 The school has established regular testing and covid protocols. Every classroom and office space has air purifiers with UV controls to keep the air decontaminated. Hands free drinking water fountains, taps in basins and sanitizers all over the school. Age wise sizes for masks bearing the respective House logo have been distributed to the students and staff. Covid isolation room with 3 beds has been created. A full-time school doctor and 2 additional nurses have been added to the medical team. All staff and students have been fully vaccinated upto to booster doze level ( where applicable)