Art Workshop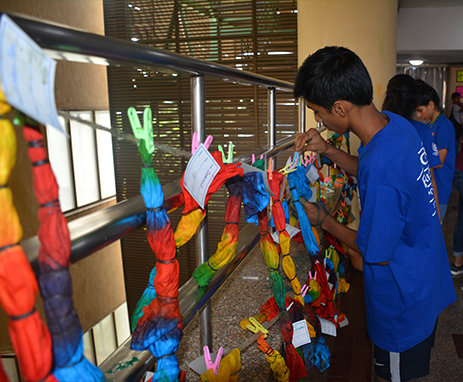 The Art Workshop was a great opportunity to bring out the delegate's inner urge to express their thoughts creatively, using the medium of shapes and colors. The Workshop was divided into 3 segments: Making Paper Bags, Marble Painting and Tie and Dye. The delegates were divided into 3 groups with every group taking turns to participate in each activity – a perfect way to unwind after a hectic morning of beach cleaning.

To make Making Paper Bags course the delegates were briefed about using origami and old newspapers. Each bag was designed around the basic Round Square logo with a red square and a blank inner circle. The circle could be customized which gave a variety of different patterns (including an inversely colored Round Square logo!), representing the diversity of the conference itself.

The Marble Painting activity was conducted in the pleasant weather brought by 'Bombay ki Baarish'. Undeterred by the drizzles, the delegates lost themselves in creating abstract multicolored compositions. The activity itself seemed intricate as each delegate, no matter how clumsy they were, delicately lifted their art pieces from the water tubs. Much to their surprise each piece was unique and magical!

The Art Workshop was one of the many highlights of Day 3 of Round Square Conference as the delegates finished 'painting' the town (and some bags) red!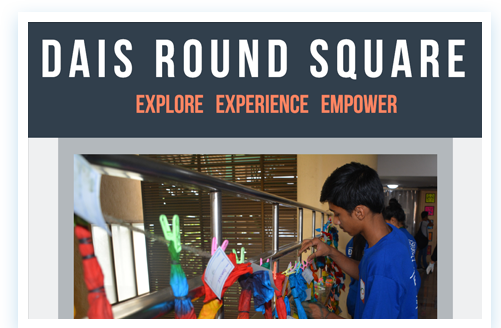 Newsletter
The service component of our school's conference was the beach cleaning activity; which took place at Mumbai's very own Versova beach. Bleary-eyed delegates shook themselves awake in the wee hours of the morning to attend, as buses transported the entire strength of the DAIS 2018 Round square conference to what was, only days before, the site of the city's Ganpati festivities.
Keynote
Mr. Om Dhumatkar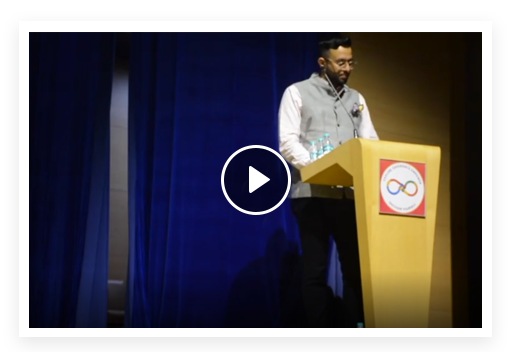 Om Dhumatkar is an applied strategist for the banking sector in the UK and Europe. He is currently the Senior Manager at Lloyd's Banking Group UK's largest consumer bank -where he heads a small team working on innovation in distribution strategy. He graduated from the prestigious London School of Economics near the top of his class, reading International Relations and History. Mr Dhumatkar was valedictorian of the first graduating class of the Dhirubhai Ambani International School, in addition to serving as its first Head Boy and the founding editor of its school magazine, although he admits to having been somewhat less successful as the school football team's first goalkeeper.

He currently lives in London, and is a hobbyist painter in his spare time. He is also a keen runner, having completed the London Marathon in April, and has his hands full with two half marathons in the next month - the Oxford Half on 7th Oct and the Wimbledon Half on 14th October.
Event Gallery