Round Square International Service Project
Cambodia : 6th - 27th December 2014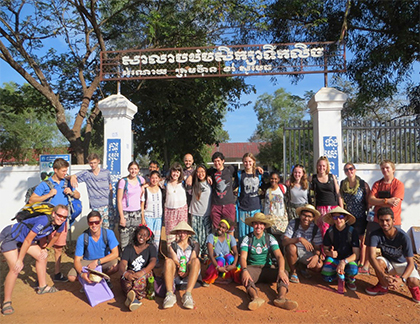 Project Overview
Our Round Square International Service Project in Cambodia was a very successful and culturally enriching experience. Our powerhouse team of 24 consisted of 3 adult leaders and 21 students from 19 Round Square Schools around the world. The project work was divided between two villages where we lived and worked for the duration of the trip. Our first, Beng Pae in the Kampong Thom province and second at Beng Mealea situated just outside Siem Reap.
Team List
Students and staff came from Round Square schools in Australia, Canada, Columbia, England, Germany, India, Kenya, Peru and South Africa. The students were:
| | |
| --- | --- |
| Santiago Concha | Anglo Colombiano, Columbia |
| Linda Kamau | Brookhouse School, Kenya |
| Lydia Hemson | Bunbury Cathedral Grammar School, Australia |
| Alex Lee | Ballarat Grammar, Australia |
| Marisha Agarwal | Dhirubhai Ambani International School, India |
| Finn Wiesner | Louisenlund, Germany |
| Carl Illies | Louisenlund, Germany |
| Nasir Khan | Mayo College, India |
| Shreyan Goyal | Mayo College, India |
| Jordan Gambirazio | Markham College, Peru |
| Virgil Sum | Markham College, Peru |
| Sarah Ross | St Clements School, Canada |
| Emilie Morin | St Clements School, Canada |
| Ella de Nicola | St Cyprian's School, South Africa |
| Jerome Brutus | St Georges Grammar School, South Africa |
| Lachlan Saunders | St Philips College, Australia |
| Nathan Kirby | St Philips College, Australia |
| Arjun Singh | Daly College, India |
| Louis Sloper | Trinity Anglican School, Australia |
| Hannah Sanders | Westminster School, Australia |
| Gemma Trueman | Westminster School, Australia |
| | |
| --- | --- |
| Sonia Christian (Project Leader) | Dainfern College, South Africa |
| Huw Jones (Deputy Leader) | Inter Community School, Switzerland |
| Vicki Hutchinson (Adult Leader) | St Philips College, Australia |
| Bunlay Tong (Country Manager for Camps International) | Cambodia |
| Sunny (Local Assistant) | Cambodia |
| Han (Local Assistant) | Cambodia |
| Sofan (Local Assistant) | Cambodia |
Project Work and Community Involvement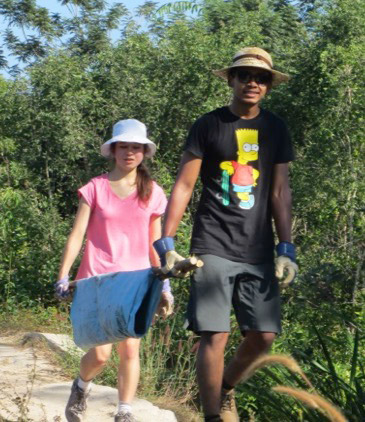 In association with Camps International, our Round Square group was set for a successful project. The team worked alongside Cambodian local workers, and were given clear direction and instructions throughout the project.
At the first school in Beng Pae, our jobs varied from building a boundary fence for the school, to laying a pipe to the ablution block and painting the front wall of the school.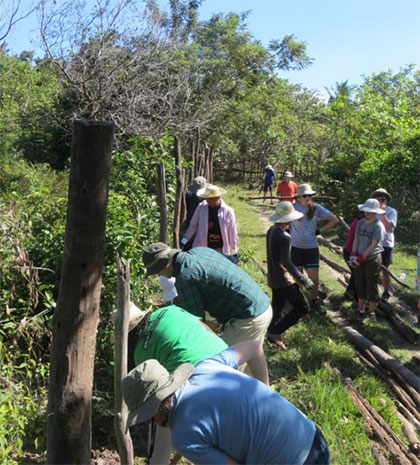 At Beng Mealea we were involved at the local community centre building a bench and with the completion of the outside wall. In the school grounds we paved a brick pathway for the children to walk on and make it easier to get around. The group learnt a number of different working skills and life lessons on the worksite and the main tasks included painting, digging, carrying materials, mixing cement, bricklaying, rendering, building cement pathways and reinforcing the local dam wall.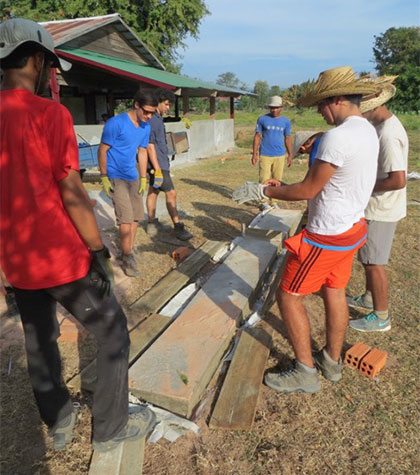 The groups work rate and attitude on the work site is to be recognised and applauded.
Additional project
In addition to our work at the school sites, the group contributed to the Jungle Garden at the Beng Mealea camp. The focus of the garden was to plant and nurture various medicinal and tree species for the future generations.
Our local project leader Han was exceptionally passionate about the development of the garden and the group were more than happy to assist him in making his dream garden a reality.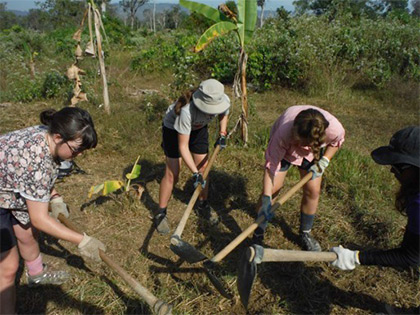 The group assisted in digging, weeding, planting and watering the plants. He also gave the group some lessons on organic farming and the challenges presented by the Cambodian climate.
Every member of our team also had time to experience some of the delicious Khmer cuisine and assisted every day with preparation of meals in the kitchen with the camp kitchen staff.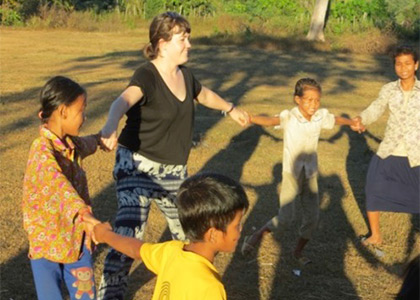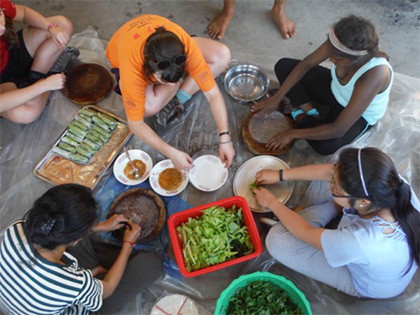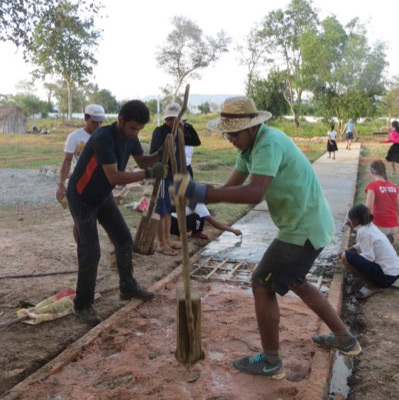 The group also thoroughly enjoyed their many hours spent entertaining and interacting with the local school-­‐goers, playing sports, braiding hair and making traditional Khmer bracelets!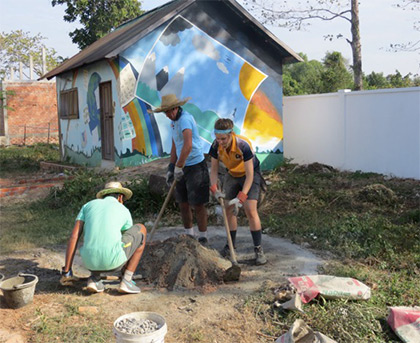 Cultural experiences and other activities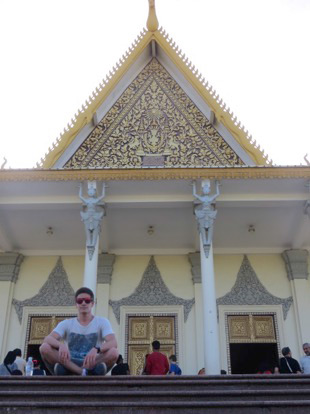 The group had a jam-­‐packed itinerary filled with various local and cultural experiences integrated into our daily schedule. It was wonderful to see the group engage in these opportunities and grow personally as they learnt more about Cambodia's history and the Khmer people.
While in Phnom Penh, the group visited the gruelling Killing Fields, S21 Genocide Museum, The Golden Palace and spent time enhancing their bargaining skills in the Russian Market!
When we reached Siem Reap later on the in project, the group enjoyed a boat trip around the floating villages and more shopping in the markets, discovering temples and attending an amazing Cambodian Circus evening.
Mid project hike and Christmas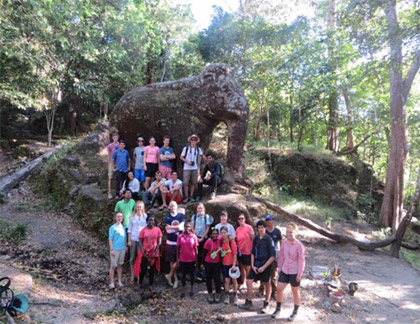 Our three day mid-­‐project hike was through the beautiful Phnom Kulen National Park. We hiked through rice fields and jungle; slept in hammocks, were given cold water lessings by the local monks, and explored the hidden temples and bat caves. On the hike down on the last day we stopped at an incredible waterfall for a refreshing swim and were amazed at the incredible power of the water. This was an amazing experience which will remain with us forever.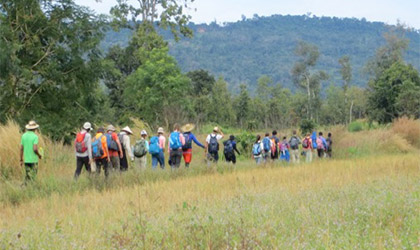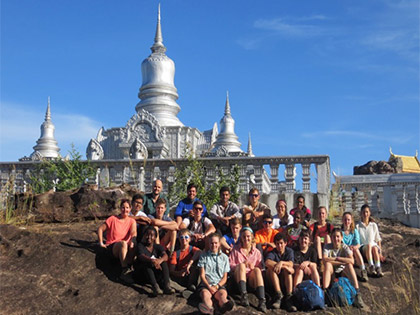 For our final days as a group, we spent three wonderful days in the city of Siem Reap. This is in the most prosperous region of Cambodia and gateway to the heritage site of Angkor Wat. On Christmas morning we rose very early to enter the Angkor Wat site to witness a spectacular sunrise over the five towers of the country's most famous landmark. The entire day was spent exploring many of the temples in the area and marvelling at the architectural magnificence of these ancient structures.
The overall feedback from the students was hugely positive with a great deal of important life lessons learnt, opportunities to experience Cambodian culture, and strong friendships made along the way.
As a group, we made so many beautiful memories in our time together and grew as a family each and every day as we shared such special times together.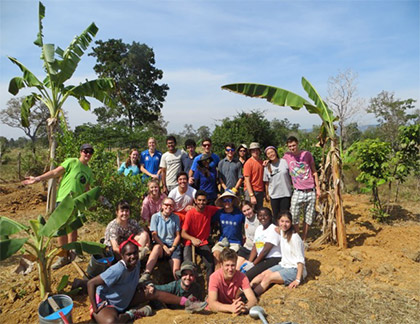 Student comments and life motto's
"A great learning experience. One that I will never forget"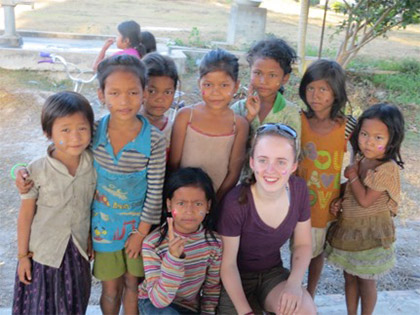 On the final day, as we took the students out to the airport for their departing flights you could see the realisation dawning on their faces – a growing understanding of the significance of what they had achieved, seen and experienced. They worked so hard on the building site, constantly on their feet and submerged in the culture, so it was only at the end with a sense of finality that they could take stock of the Project.
They will always have the memory of this trip with them, a time where they formed new friendships from people around the globe and gave their all to help a community.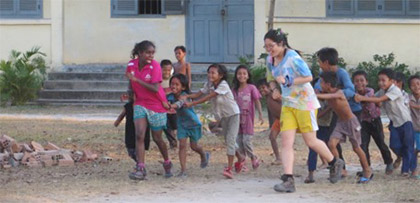 Making a difference in other peoples' lives was no longer an idea or concept for the students, but something real and possible. Hopefully they will continue to strive to do their best in their future endeavours.
"I cannot express my gratitude enough for this trip. I have gained and benefited so much from giving back, learning about Khmer culture, and meeting some of the most amazing people I have ever met, including the students and Khmer people. I will continue to give back and try to make a difference not only locally but globally. I am not afraid to be who I am and as cliché as it may sound I have found my purpose and it is to create reach-­‐out programs like these in order to provide people less fortunate than myself with some of the opportunities I have been given such as education and a home".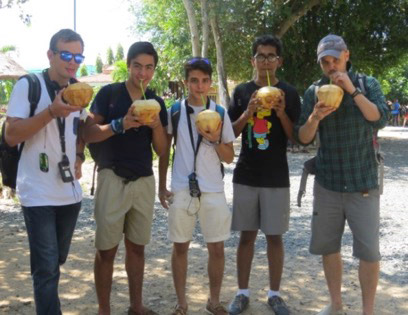 "Best experience of my life! An unforgettable 3 weeks with lots of excitement. I can only recommend it – better than I could have ever expected!" (student)
"I will never forget the children of the locals and the maturity of the school children. I feel like they put a lot into perspective for me in my life, and I learnt and grew a great deal in myself". (student)